As Congress prepares to get started on a new calendar year of legislation, it looks like the much anticipated health care bill will fail to live up to its promises. That's not necessarily bad news as the original plan for the bill could have been devastating to the American taxpayer due to its cost and the inefficiency of most government programs. Despite the strong rhetoric and elected officials propensity to pat themselves on the back, the final outcome for this bill will likely lack the teeth its original authors intended.
Investors have been watching healthcare reform developments carefully as regulations could have a strong impact on companies from drug makers, to insurance companies, to hospitals and physician services. Many of my clients in Sound Counsel Investment Advisers have been invested in Amedisys Inc. (NASDAQ:AMED) which is up more than 30% from when it was originally purchased in our aggressive growth model. As expected, there have been plenty of winners and losers as a result of the expected healthcare reform.
Many healthcare stocks have seen their price fluctuations improve as the healthcare bill has become bogged down and less potent. This is likely because investors are expecting a free market system to prevail (or at least survive) which is certainly a plus for shareholders. I could argue that this is good for patients and taxpayers as well because a free market system leads to more efficiencies and better service, but that is a discussion for another day. Today I want to look at a heath care related stock that has traded in line with the positive trends, but appears to be getting ahead of itself.
Athenahealth Inc. (ATHN) is a billings, collections, and medical record keeping company that stood to benefit from a strong health care reform approach. The company has some excellent products that allow physicians to manager their practices and allows patients to quickly review and transport their medical records between practices. The current administration had vowed to make electronic medical records a priority which has caused stocks like ATHN to capture investors attention.
Now I must say that I am extremely impressed with the product suite that ATHN offers its customers. The Software as a Service (SaaS) model allows practices to keep all records digitally stored and securely available online. But since there are no paper records necessary, practices do not have to deal with storage and retrieval headaches. Athenahealth can save many physicians a significant amount of money in overhead expenses so it's reasonable to expect this company and industry to continue to grow.
The cause for concern comes from two different factors
Athenahealth faces mounting competition from technology companies with much broader resources. Even if Athena offers the very best product, major cloud computing companies can develop a competing product and use their deep marketing budget to outsell Athena's reps.
The stock price is at a valuation that can only be categorized as speculative. The company is expected to earn 95 cents a share this year and the stock is trading near $47. So even assuming the optimistic 58% growth expectations for this year are correct, investors are still betting on the company continuing to grow at an astronomical rate.
Now shorting runaway stocks like Athena is a very dangerous proposition. Athena looked extremely overvalued back in October before running another 18% higher. It is difficult to just pick a stock that is expensive and short it on principal.
But for traders who are willing to use patience and wait for the right opportunity, ATHN could offer significant rewards. The best approach for this position is likely to set an alert a few dollars below the current stock price and wait. Once investors begin to back off health care stocks, Athena will likely be one of the biggest losers. But until that happens you don't want to commit your capital short.
Investors could also consider buying longer-term puts which will rise in value once ATHN begins to give up its gains. The puts allow you to limit your potential losses (you can only lose what you pay for the puts) and could return a much higher return on investment. But at the same time, puts have a limited time frame and lose value in a process dubbed "time decay." If you are trading options, you need to make sure that you understand these concepts before committing your hard earned capital to a trade like this.
At any rate, Athena is a name that I am stalking and will likely add as a short position to our Absolute Return model this year. If you would like to know how Sound Counsel's investment models are performing, sign up to the ZachStocks Newsletter and you will also receive the monthly commentary from Sound Counsel. In the mean time, keep a close eye on health care stocks as changes in the reform bill could have lasting effects on stock prices.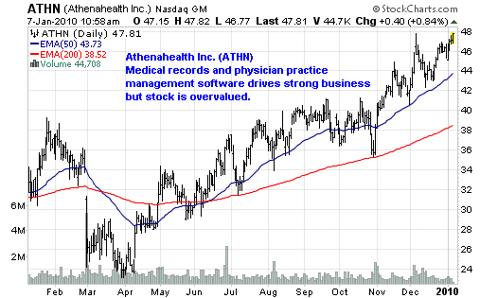 Click to enlarge
FD: Author has a long position in AMED in Sound Counsel client portfolios.