By David Russell
Delta Air Lines (NYSE:DAL) has been screaming higher since Thanksgiving, and now one trader is positioning for it to come in for landing.

OptionMONSTER's Depth Charge monitoring system detected the purchase of 25,000 March 11 puts for $0.70 and the sale of a matching number of March 9 puts for $0.20, resulting in a net debit of $0.50. Volume was more than seven times open interest in both strikes.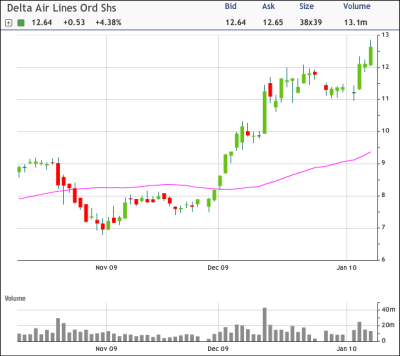 DAL rose 5.38 percent to $12.64 in afternoon trading and is up 55 percent since the beginning of December. Airline stocks have been exploding higher as investors price in an improving economy and the industry recovers from years of restructuring and cost cuts.

Today's put-spread options strategy will earn a maximum profit of 300 percent if DAL closes at or below $9 on expiration. The trader implemented the bearish position as the stock struggled to break through the $12.70 resistance level established in January 2008.

DAL, which emerged from bankruptcy protection in May 2007, today reported a 7.5 percent decline in December traffic. However its load factor, a measure of revenue generated per available capacity, rose 0.4 percent. The news was another sign of better pricing power in the industry.

Our tracking programs also detected selling of the March 13 calls and January 5 calls, although volume was below open interest in both strikes.

Overall options volume in DAL is six times greater than average today. Puts accounted for 76 percent of the activity.

Disclosure: I own DAL shares.
(Chart courtesy of tradeMONSTER)