Introduction
A friend of mine recently blessed me by letting me invest a small capital of €10,000 in his name. Our deal was very simple: The money stays in the investment account at all times for a longer period of time (a few years) and if at the end of our cooperation the amount in the account would be lower than the original €10,000, he takes back what is left. If the amount in the account is above the original €10,000 (in other words, if I've made profit) I get 50% of the profit and he would get the original €10,000 plus the other half of the profit.
At first sight, this deal seems very easy and very much in my favor. If I mess up, I wouldn't lose a single dime. If I do great, I get 50% of the profit. However, there are a few downsides to this deal.
1. I have to make huge returns before this deal becomes really interesting for me.
2. Even if I beat the market, there is a chance I still won't get paid.
3. Most high quality stocks are expensive/fairly-valued
Let me explain.
Imagine after 2 years that I would have made a return of 25%, which is a lot, then I would have made €2,500 profit of this, €1,225 would be for me and €1,225 would be for the lender. This means that I would have earned €51,04 per month during that time, and this will probably not reflect the effort I've put into this project.
Furthermore, what if I make no profit at all? Imagine that my portfolio is on a 5% loss, while most indices have gone down at least 15% (by yet another crisis). Then I will have worked for two years, trying my very best to make the portfolio profitable but by general market conditions I still would not get any reward despite that I did 10% better than the market.
Thereby, let us not forget that the stock market has gone up a lot and thus that most equities are expensive. Finding bargains is definitely not as simple as it was a few years ago.
I believe that most of the above mentioned "problems" could be solved if I were able to invest a larger sum. For example: If I had €30,000 I would earn €150 per percent profit I'd make. Now I will earn €50. This makes me want to take more risk as more risk normally indicates higher returns.
In my opinion I only had two options:
1. I put all my eggs in one basket.
=> Day trading: going 100% long on a stock, see it climb a few percentage points and sell.
=> Very risky and not my type of investing.
=> Time consuming and stressful activity.
=> I like multiple companies and therefore like to invest in more than one.
2. I spread.
=> The obvious question is: how much can I spread while having only 10k?
Starting my mini-fund experiment
Well, I decided to start my own mini-fund and thus, spread a lot. My plan was to buy +-20 stocks and invest €500 in each stock. Because of this huge spread, my general risk on actual capital loss remains moderate while having the ability to invest in 'more risky' stocks who are able to give me above average returns.
This what the portfolio looked like a few days ago: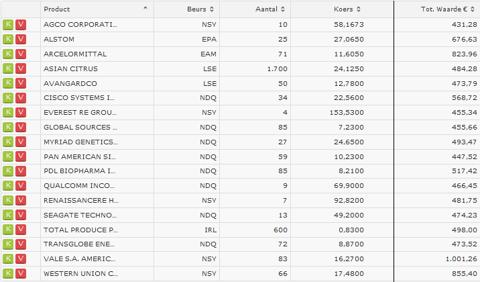 As you can see, the portfolio holds 18 stocks and had a total value of € 10.078,66.
I picked these stocks for very various reasons. Some were chosen for the short run, some for the long run, some because they are really cheap, some because I really like their business, some because they are cash cows.. But they all have one thing in common: I find them relatively undervalued/cheap.
Scanning trough the portfolio: Part I
The more experienced investor might notice immediately that I've invested a lot in basic materials, mining and other capital intensive businesses (Arcelor Mittal (NYSE:MT), Vale (NYSE:VALE), Pan American Silver (NASDAQ:PAAS) and Alstom). These positions take up almost 30% of the entire portfolio for the simple reason that I expect these industries to perform very well the coming months/years as they have been severely punished in the past and are still too cheap if you keep in mind that the world economy is improving.
(I can imagine that most American investors are frowning when they see the name Alstom. Alstom is a French company specialized in the world of power generation, power transmission and rail infrastructure. More information can be found here.)
I expect to see more than above average returns on this part of the portfolio during 2014.
In huge contrast with the above mentioned companies I also bought a few (re)insurance and casualty/property insurance companies like Everest Re (NYSE:RE) and Renaissance Re (NYSE:RNR).
Both companies are almost quoting at all time highs but still seem cheap. Both have a P/E ratio beneath 10 and have achieved splendid profitability figures the last couple of years. Their free cash flow is high and their payout ratios (around 10%) and debts are very low. I expect dividends to be raised year over year and an a significant amount of share appreciation if business continuous to go well.
*Small difference between the two:
Renaissance Re's profitability is twice as high as Everest Re's as they write more high level catastrophe business. Everest Re consequently has lower margins but a higher credit rating than Renassance Re.
I expect proper returns of 10% annually on these two.
Moving on...
I've always liked farm/agricultural companies as they still are - in my opinion - the most simple and important companies of our society. Even in our modern world filled with iPads and iPhones, you won't survive without food at the end of the day. This might sound very simplistic, but simplicity is often better than complicity when it comes to investing.
I bought several companies who operate in different stages/areas of the food-industry at reasonable valuations:
1. Agco Corporation (NYSE:AGCO) => a global leader focused on the design, manufacture and distribution of agricultural machinery.
2. *Asian Citrus Holding (OTC:ACTFF) => A large Chinese orange plantation owner and operator which was affected by a severe citrus cancer outbreak. Fundamentals remain sound and I expect massive better financial results the coming years. The defeat of the citrus cancer and the return of profitability could be huge catalysts for the stock. The stock is also quoting around its cash/share base so you actually buy the cash and get the company for free.
3. *Total Produce (OTC:TTPPF) => Total Produce is Europe's premier fresh produce provider. Growing, sourcing, importing, packaging, distributing and marketing over 200 lines of fresh fruits, vegetables and flowers. Adjusted EPS compound annual growth rate of 6,10%.
Revenue compound annual growth rate of 7%. And a year over year rising dividend.
4. *AvangardCo (OTC:AGVDY) => A global leader in the production and processing of chicken eggs based in Ukraine. (Produced 6.3 billion eggs in 2012). (Current P/E of 3,70)
*If you're also interested in one of these companies, I suggest you not to buy shares from the American OTC Markets but from their original Stock Exchanges which can be found on their official websites.
Conclusion Part I
In Part II of this Fund Experiment I shall discuss the performance of the portfolio so far and will give a review of my tech-picks. I hope you spotted some interesting investment ideas and enjoyed reading my article. Feel free to leave a comment and discuss how you would've invested the €10,000.
Disclosure: I am long OTC:AGVDY, OTC:ACTFF, RE, RNR, AGCO, MT, PAAS, VALE, OTC:TTPPF. I wrote this article myself, and it expresses my own opinions. I am not receiving compensation for it (other than from Seeking Alpha). I have no business relationship with any company whose stock is mentioned in this article.