A couple months ago I wrote an article detailing Anadigics (NASDAQ:ANAD) comeback story and why I believe it is a good investment at current levels. Following, the earnings call on November 4th I continue to see significant potential for returns and further growth opportunities for Anadigics as they continue to execute on their plan towards profitability.
Most investors realize that turn-around stories do not happen overnight, especially in the semiconductor industry. For the last two years Anadigics has tried to recover from the steep decline in Research in Motion (RIM) cellular products, which previously accounted for nearly a third of revenue, and increased competition and cellular pricing pressure from RF Micro Devices (RFMD), TriQuint (TQNT), and SkyWorks (NASDAQ:SWKS). The road has not been easy, but it does appear there is light at the end of the tunnel.
Steady Improvement
Over the last six quarters Anadigics has continued to improve on all financial aspects. This is especially evident when comparing 2012 quarters with 2013 which allows one to take into account quarterly seasonality. Total Revenue has increased 23% from Q3 2012 to Q3 2013, spearheaded by significant growth in WiFi business, accounting for over $20 million in revenue the last two quarters compared to about $1 million in all of 2012.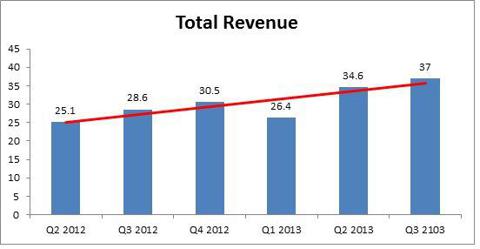 Looking forward to Q4, Anadigics provided guidance that revenue would be flat to slightly down, in line with what other companies in the cellular space have seen. However, Anadigics strategy to become profitable is not primarily focused on growing revenue, although this ultimately needs to occur. Instead, they are focused on increasing gross margins with a more favorable product mix. It is well known that the cellular power amplifier business typically is lower margin business. For example, recently investors have been trying to sway TriQuint to sell off its mobile power amplifier business, which accounts for 65% of revenue, due to the low margins and focus on higher margin products within its network and defense businesses. In accordance, Anadigics noted in their conference call that they turned down some revenue generating power amplifier business as there was no money to be made even though it would have increased revenues for the quarter. With higher margin WiFi beginning to make up a big chunk of revenue, Anadigics gross margins and therefore earnings have been gradually getting better the last several quarters.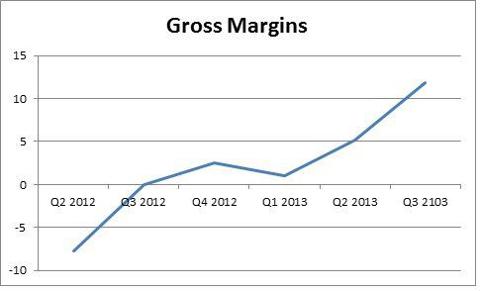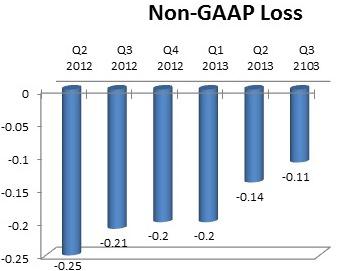 As discussed on the earnings call, Anadigics will continue to increase gross margins going forward by continuing to increase manufacturing efficiency and shifting product mix towards high margin WiFi, WiFi infrastructure and CATV infrastructure. Therefore, although revenue guidance was flat to slightly down in Q4, they will continue to see an increase in gross margins next quarter further decreasing loss per share and the gap to profitability.
Financial Outlook
Big concerns for investors are when Anadigics will achieve break-even and if they will run out of money before this occurs, making them dip back into the stock dilution honey pot. Management didn't do investors any favors by first predicting break-even next quarter then delaying until Q2 2014. Currently, management is sticking to their guns that the ~$42-45M quarterly revenue with ~20% gross margins model will get them there in the middle of next year and that they can do it without raising more money. At the current rate of gross margin improvements due to the shift in product mix, this appears to be a realistic goal. However, it will be close as revenues will need to climb about 20% in the next three quarters. Considering Q4 is going to be relatively flat and Q1 is historically ~15% lower in cellular, they will need to have healthy infrastructure and WiFi numbers to further improve earnings. Increased revenue in CATV infrastructure should also absorb some of the cellular seasonality as it is currently down about $2-3M a quarter compared to 2012. This will undoubtedly rebound as vendors begin to upgrade to the newest products in the coming quarters. No doubt, Q2 2014 will need to be a significant revenue quarter to reach their goal if the ~$45M quarterly revenue model for break-even is correct. With $32M currently on hand, $16M in accounts receivable, and ~$23M in inventory it seems they will be able to weather the storm for 3 more quarters if need be.
Hot Products will Fuel Growth
Anadigics has always been well known for their cellular power amplifiers and CATV products. However, their white hot products currently are their front-end integrated circuit (FEIC)and power amplifiers for WiFi connectivity, specifically for the new 802.11ac standard. Anadigics is clearly the leader in 802.11ac FEIC and power amplifiers right now, winning the majority of reference designs in flagship phones and tablets including the Samsung Galaxy Note 3, Galaxy S4, LG G2 and the recently announced Samsung Galaxy Note 10.1. In addition, Anadigics has been designed into 9 new leading reference designs. In my opinion the most important WiFi win for Anadigics is the FEIC for the new Murata WiFi module for 802.11ac. Arguably the biggest critique of the new Apple (APPL) iPhone 5 and iPads are that they do not support this new standard, instead opting for the older, slower 802.11n technology. No doubt, to keep up with Samsung's competing Galaxy phone and tablet product lines, which support 802.11ac, you should see this feature in the iPhone 6. We all know once Apple selects a vendor for the iPhone it typically keeps them for subsequent versions. So why is the Murata win so big for Anadigics? Because Murata supplied the module for WiFi connectivity in the iPhone 5 coupled with the Broadcom chipset for the older 802.11n. Don't be surprised to finally find Anadigics in the next iPhone via the Murata module.
Conclusion
Although Anadigics flat revenue guidance for Q4 evidently did not sit too well with Wall Street, the important factor is that they will continue to shrink their quarterly loss by continuing to increase gross margins. As management continues to execute on shifting product mix to higher margin products, I think we will see the financial improvements continue going forward. Investors should take advantage of the current weakness in the stock. As management continues to inch towards profitability in the next several quarters this is could be an easy 2-3 bagger with little risk at current levels. You can't find this kind of investment with these kinds of potential returns with other cellular product suppliers. At this point it really is not if Anadigics will reach profitability, it's when.
Disclosure: I am long ANAD, SWKS. I wrote this article myself, and it expresses my own opinions. I am not receiving compensation for it. I have no business relationship with any company whose stock is mentioned in this article.