The 'buy the rumor, sell the news' phenomenon happens more than you think in the markets. Investors around the world buy stocks based on what they believe will happen in a given earnings report, new product release or other types of events.
Of course, after the report or event is released, investors dump their positions and shares fall. This usually happens for two reasons. First, the news or product release is not what investors envisioned or expected. Second, the run-up in stock price moved so quickly that investors wisely took profits.
Two weeks ago, I wrote an article titled Facebook 2013 Q3 Earnings Preview: What You Need To Know. In that article I talked about Facebook's earnings history and what investors would likely see on earnings day.
Here is an excerpt from that article:
I like Facebook from a consumer standpoint; however, from an investment standpoint, I would be very cautious at this point in time. ...Given the explosive run that Facebook has been on since mid-July, I would be somewhat hesitant going into earnings. I feel there is definitely more downside risk than upside potential in this stock. With Facebook continuing to make new high's I feel that this earnings report is a classic case of buy on the rumor, sell on the news event.
So what happened with Facebook on earnings day, and where does the stock go from here? Today I would like to share my thoughts and explain where I believe the stock will be over the coming months.
Facebook Reports Earnings
According to my calculations, Facebook (NASDAQ:FB) was going to beat earnings by at least $80 million. When Facebook released its earnings report we can see that they beat by $110 million [$2.02B vs $1.91B].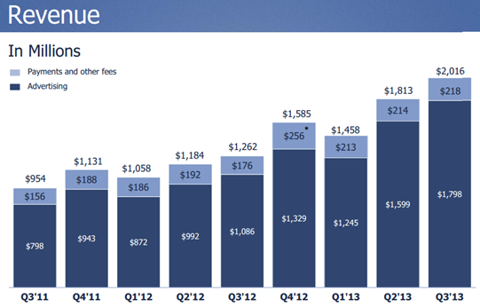 I know what you are probably thinking right now. Well you were still off by $30 million. You're right, but at the same time, I came closer than most analysts predicted and expected.
So what happened to the stock price after Facebook announced another quarterly earnings beat? The stock popped briefly before dropping like a rock. Here is a chart after the announcement was made.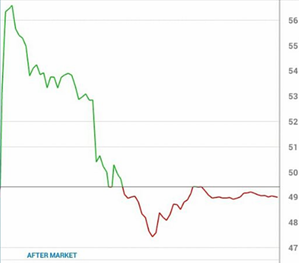 As we can see, shares of Facebook were very volatile during after hours. While I expected shares would sell-off, I didn't see this type of move in the works. So what caused the stock to pop and then drop?
Shares of Facebook jumped right out of the gate after posting better-than-expected earning results, particularly in the mobile department. Here were some of the key takeaways from the report.
Mobile revenue (approximately $881M) grew to 49% during the third quarter versus 14% in 3Q 2012.
Daily active users were 728M (up 25% year-over-year)
Monthly active users were 1.19B (up 18% year-over-year)
Mobile active users were 874 million, (up 45% year-over-year)
Revenue from advertising was $1.80B, (up 66% from last year)
Average revenue per user, went up to $1.72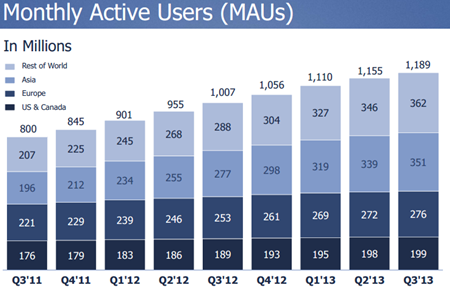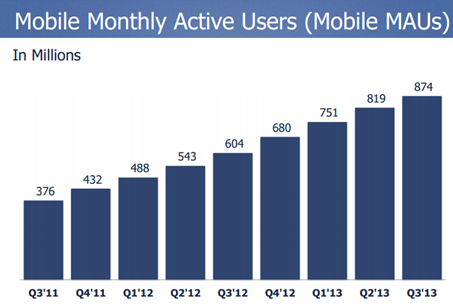 * Images taken from Facebook's 3Q 2013 earning slides
Even after those positive results, shares quickly tumbled as Chief Financial Officer David Ebersman admitted that the Company saw a decrease in daily users, specifically among younger teens. It seems as though Facebook is losing its cool factor with teens as they move on to the next "cool" thing.
On October 10, 2013, Piper Jaffray Completed its 26th Semi-Annual "Taking Stock with Teens" Market Research Project. The survey found that the popularity of Facebook among teens is dropping. 23% of teens cited that Facebook was the most important, down from 33% six months ago and 42% a year ago. This is definitely not a trend that investors want to see or admit.
Twitter for the first time edged out Facebook for the top spot as the go-to social media site. This comes at a great time for Twitter (NYSE:TWTR) as it goes public on November 7, 2013, and shows investors why they should buy into their company.
Conclusion
Like I've said before, I like Facebook from a consumer standpoint; however, from an investment standpoint, I would still be cautious at this point in time. Investors should remember that just because you like a certain company doesn't mean it will translate into the greatest investment. Don't let emotion get in the way of doing your due diligence.
Looking at the technical indicators, we can see that Facebook is at a crossroads. Either shares will bounce off support around $46-$47 and head higher, or Facebook will head south for the winter and fall around $35-$40. Remember, just as fast as shares exploded higher, they can come down just as fast as well.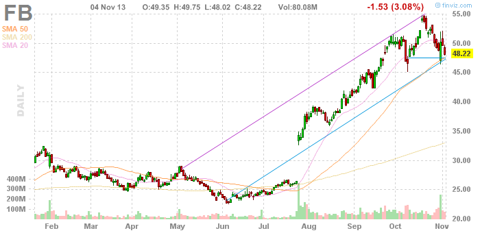 *Image taken from Finviz
Looking at the chart, we can see that Facebook has been on a very explosive run since mid-July. As we come to the close of the year, there will be end of year profit takers, cleaning up portfolios, which in turn, will put some pressure on the stock.
Daniel Salmon, an analyst at BMO Capital, downgraded Facebook from Outperform to Market Perform with a price target of $50.00 (unchanged). Salmon expressed his disappointment about the lack of visibility on Social TV advertising. He said:
We believe the opportunity for the first two catalysts (expansion of video ads, Instagram advertising) has largely been reflected in the stock as it has moved to the $50 level. To go to the high $50s, we feel a new story is needed to support the multiple.
After I wrote my article about Facebook's 2013 Q3 Earnings Preview, I had many investors tell me that I was flat out wrong, that I didn't understand Facebook and that this was not a classic case of 'buy on rumor, sell on news.' Some people told me Facebook was going to $100, and that earnings would propel the stock even higher.
To those of you I would like to say that the market has spoken as shares are down almost 10% since I warned investors. With Facebook's closing price of $48.22, the Company currently trades at higher premium than most stocks with a P/E of 123, and a forward P/E of 43. As we can see, Wall Street has certainly priced a lot of growth into the company.
While Facebook trades at a higher premium compared to most other stocks in the market, Facebook has delivered results and looks poised to continue delivering results into the coming years. I think short term Facebook has more downside than upside potential, however over the long term, I see Facebook as a real winner as they continue to connect the world.
Investors are always reminded that before making any investment, you should do your own proper diligence on any stock mentioned in this article. Have a great day and as always, I look forward to hearing your thoughts or questions that you might have.
Disclosure: I have no positions in any stocks mentioned, and no plans to initiate any positions within the next 72 hours. I wrote this article myself, and it expresses my own opinions. I am not receiving compensation for it (other than from Seeking Alpha). I have no business relationship with any company whose stock is mentioned in this article.