Chinese software firm CDC Software (CDCS) just announced what at first glance looks like a pitifully low offer to buy Cupertino, CA-based competitor Chordiant Software (CHRD) for a "21% premium" over the past 30 days clsoing stock price.
Well, somebody had some lose lips, as the stock traded up big in the couple days leading up to this offer: (Click to enlarge)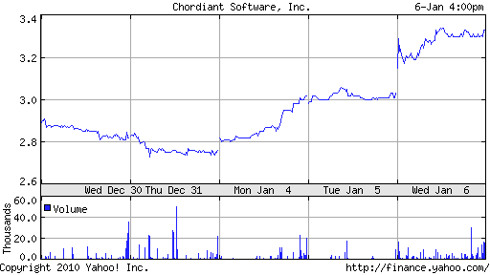 Click to enlarge
That's not the main point though. CDC Software is offering $105 million for the company, or $3.46 per share. Trouble is, Chordiant has $50 million in cash & equivalents, per its recent 10k. So take that out of the offer and CDC is offering $55 million for Chordiant, or about 0.6 times annual revenues. Compare that to CDC's own valuation (also netting out its sizable cash hoard) of about 1.3 times sales, and Chordiant shareholders should be very skeptical.
The thing is, Chordiant isn't in a position to argue that things are improving. For starters, despite its name containing the word "software," the most recent quarter's software license revenue declined 74% from the 2008 period, to make up only 13% of revenue. The rest is service revenue, which is still respectable in terms of margins but will collapse if they cannot get license revenue going again.
CDC is offering very little for Chordiant. Maybe this insulting price will light a fire under Chordiant management to improve the business. If not, Chordiant shareholders could take the offer, of which 50% is in cash and 50% is in CDC stock, which trades at a (net of cash) PE of 6.3 times 2010 estimated earnings... maybe that could be the upside that Chordiant didn't give them.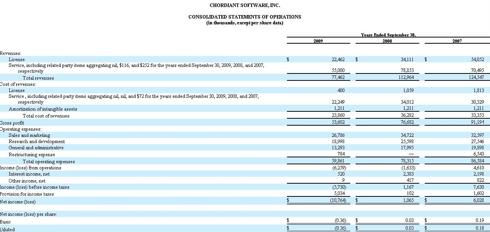 Click to enlarge
Disclosure: no position