Many retailers on Thursday morning provided December sales figures that topped Wall Street expectations and allowed some of the companies to boost fourth quarter earnings forecasts. The better-than-expected results were achieved despite weather-related impacts, as online sales and after-Christmas shopping seemed to compensate for slow sales caused by pre-Christmas blizzards on the East Coast.
Among those reporting better-than-expected sales were The Children's Place Retail Stores (NASDAQ:PLCE) and Ross Stores (NASDAQ:ROST).
Children's Place announced net sales of 224.6 million for the five-week period ended Jan. 2, a 10% increase from the same period a year ago, when the company reported net sales of $204.6 million. Shares in the company rose up to 5% on the news in morning trading.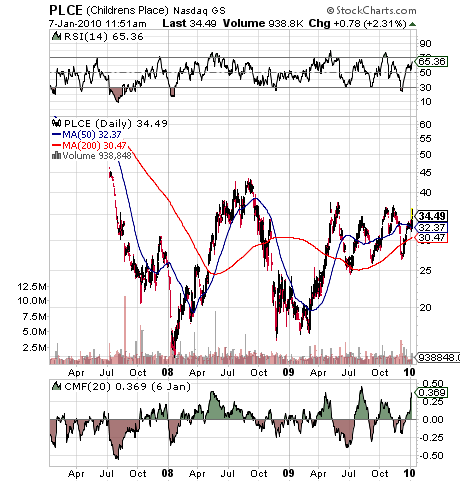 Source: Stockcharts.com
Ross Stores reported a 16% year-over-year sales increase for the period, $934 million for the recent period, compared to $802 million for the year ago one. The company also raised its fourth quarter earnings forecast range from $0.88 to $0.94 per share to $1.14 to $1.16 per share, which represents a 50% to 53% increase over the year ago quarter. Shares in the company rose up to 5% on the news in morning trading.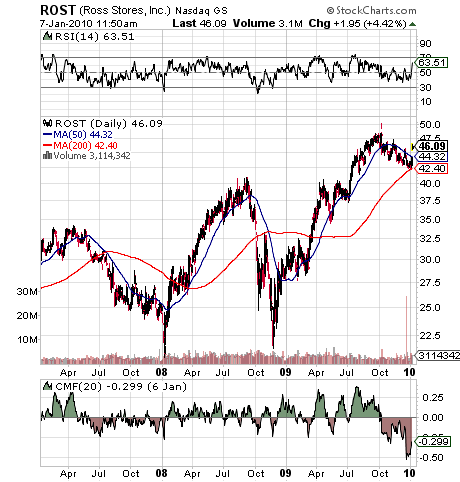 Source: Stockcharts.com
The Gap (NYSE:GPS) also reported an increase–5%–in sales for the period; however, sales in stores open at least a year only rose 2%, short of analyst expectations for a 2.6% rise. Shares in the company declined by about 2.5% in morning trading. We sold our model portfolio's position in Gap this morning at a small loss due to the missed expectations, and because we believe there is better value in other companies in the retail sector–or, to put it another way: "Cut your losses early and let your winners run."
Other retail companies reporting increased holiday sales included Target (NYSE:TGT), Costco Wholesale (NASDAQ:COST), American Eagle Outfitters (NYSE:AEO), Macy's (NYSE:M), T.JX Company (NYSE:TJX) and Sears Holding (NASDAQ:SHLD).
We maintain an overweight position in the consumer discretionary sector within our model Beacon Master Portfolio due in large part to the demographic power of the emergent Generation Y. We are attracted to value-oriented retailers, and in particular teen and children's retailers, as the economy dictates a return to value oriented shopping and because Gen. Y has displayed a propensity for seeking bargains.
In examining potential positions within the sector we look at price to sales ratios as the primary determinant of valuation. Children's Place has a favorable trailing 12-month P/S of 0.57, while the P/S for Ross Stores is at 0.79.
Disclosure: No positions, but ROST and PLCE are featured in our model portfolio.