Annaly (NYSE:NLY) presented Q3 results yesterday which weren't encouraging but not as bad as the numbers released from American Capital Agency Corp. (NASDAQ:AGNC) or ARMOUR Residential (NYSE:ARR). The core developments, which bulls will find it hard to argue against, are as follows:
mREIT book values continue to erode: Annaly's Q3 book value per share stood at $12.70 compared to $13.03 in the second quarter (a minus of 2.5%). AGNC's book value declined 1% compared to the second quarter 2013 and ARMOUR Residential's book value 3.1%. Over the last year many companies in the mREIT sector posted massive, sequential declines in book values per share (interesting charts regarding book value per share declines and shareholder value destruction since Q3 2012 can be seen here). Bottom line is that book values keep declining across the board and Annaly isn't an exception: Since Q3 2012 Annaly's book value per share has declined more than 23.5%.
Annaly reported Q3 2013 GAAP net income of $192.5 million ($0.18 earnings per share) which compares to GAAP net income of $1.6 billion in Q2 2013 or $1.71 per share. Net income per share has therefore decreased 89% since last quarter. In the third quarter 2012, which was a weak quarter for Annaly as well, the largest mREIT managed to earn $0.22 per common share. Annaly now earned 18% less than in last year's third quarter.
Annaly's Q3 2013 core earnings stood at $282.3 million or $0.28 per common share compared to $294.2 million or $0.29 per share in Q2 (minus 3.4%) and compared to $306.3 million or $0.30 per share in Q3 2012 (down 6.7%). Core earnings do not include unrealized gains and losses on interest rate swaps, gains/losses from trading assets or impairment losses.
Annaly's average interest rate spread for the third quarter stood at 1.01% which seems below-average for the mREIT sector. The net interest spread, however, increased from 0.98% in the second quarter of 2013.
The constant prepayment rate stood at 13% in Q3 2013 compared to 16% in Q2 2013 and 20% in Q3 2012.
One good aspect of Annaly's Q3 results is that the mREIT focuses on reducing leverage. Annaly's leverage ratio for the third quarter stood at 5.4:1 which compares to 6.2:1 in Q2 2013 and 6.0:1 in Q3 2012. The deleveraging process in itself is an admission that yields will be harder to earn in the future and bodes badly for prospective dividend payments as well.
Share performance
Annaly has lost 22% over the last year, 29% over the last two years and 13% over the last five years. In light of toughening industry conditions (higher interest rates, pressures on the values of mortgage portfolios) Annaly shares are now approaching their 5-year low marked in August 2013 at $10.66. Annaly shares have declined in two big waves: From October to December 2012 and from April to August 2013. While Annaly shares have some room to recover I think shares will eventually move lower to reflect decreasing industry profitability and further anticipated book value declines.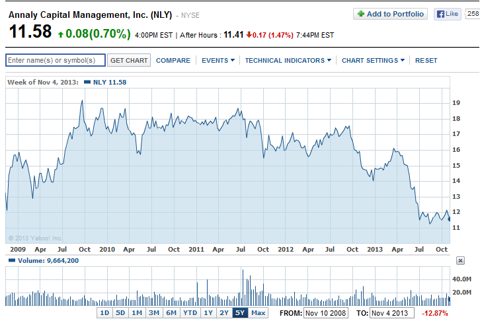 Click to enlarge
Other companies in the sector (AGNC, ARR) have done worse than Annaly in terms of results and share performance. However, the bigger picture of eroding profitability and a very shaky dividend outlook is still intact.
As can be seen in the following chart, mREITs exhibit massive declines in share price which is a reflection of substantial declines in their book values. ARMOUR Residential, AGNC and Annaly presented book value erosion in the range of 20% since Q3 2012.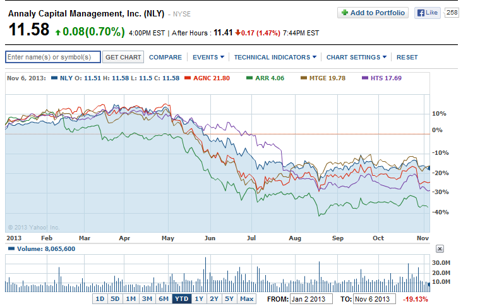 Click to enlarge
Dividends and yields
Annaly currently pays a dividend of $0.35 per share which equates to an annualized distribution of $1.40. In After Hours trading Annaly shares are down 1.47% to $11.41. At $11.41 per share Annaly presents investors now with an annualized distribution yield of 12.3%. I estimate that Annaly will pay an average quarterly dividend of $0.2525 in FY 2014 or a total dividend of $1.01. This would imply an estimated forward yield of 8.9% which is substantially lower than the 14% dividend yield that Annaly fetched just a year ago. I predict that a lower forward yield will put downward pressure on the shares. I also estimate that Annaly will decrease its Q4 payout to $0.30 per share in order to reflect lower earnings and challenges coming from the interest rate environment. A continued focus on reducing leverage will have a negative earnings impact down the road.
Conclusion
The key takeaway from Annaly's Q3 results is that the sector-wide erosion of profitability continues. Annaly's book value decline of 2.5% is in good company with AGNC which lost 1% and ARMOUR Residential which lost 3%. The reduction of leverage utilized by the company indicates that the company braces itself for lower profitability in the future. MREITs utilize large amounts of debt and rely on short-term funding to earn a spread for their business. Lower leverage ratios (Annaly reduced its Q3 2013 leverage ratio to 5.4:1) and higher funding costs squeeze margins. As such, I expect that Annaly's below-average net interest spreads will persist and likely decline with immediate effects on dividend payouts. The overall trend in the mREIT sector points toward deleveraging, lower profitability, lower net interest spreads and ultimately lower dividends. In my opinion, lower payouts will be the main reason retail investors will sell their shares or avoid mREITs altogether. Since the operating environment remains challenging, Annaly shares are approaching their 5-year Low and facts point toward substantially lower yields in the future, I reiterate my Short rating after Annaly's Q3 results and my target price of $7 per share.
Disclosure: I am short NLY, AGNC. I wrote this article myself, and it expresses my own opinions. I am not receiving compensation for it (other than from Seeking Alpha). I have no business relationship with any company whose stock is mentioned in this article.