It's really tough to appreciate what you've got when you're busy thinking about what you don't have, and I believe that Intel (NASDAQ:INTC) is viewed by investors in this way. Indeed, while it is easy to rake the company over the coals for missing the "mobile revolution" (and it's probably justified, too), the bottom line is that Intel's business is still in a pretty good place and mobile really does represent an attractive growth opportunity.
The PC Isn't Dead - Really!
But it's also hard to forget just how much the PC business is really worth. The bottom line is that PCs (read: high performance computing devices) aren't going away and while tablets and phones are very nice devices, it's tough to imagine that the need for higher performance, more productivity oriented products will simply vanish. I dare any one of my readers to get rid of their PCs (this includes MacOS products, by the way) entirely and move all of their work to an Android or iOS tablet. You can do it, but it'll be painful.
Does that mean that the traditional PC is going to be much of a growth market? No, probably not. I expect that what we saw in 2012 and 2013 was a "reset" of the PC demand profile and that from here, particularly as PCs become more portable/tablet-like and more attractive across the gamut of price points (thanks to lower power Core processors and lower cost Atom-based laptop chips), the "PC" segment will see a very slow and steady growth (think very low single digits).
Datacenter Group Is Interesting
People also forget about Intel's beautiful datacenter group. This is $11B+ in annual sales at 50% operating margin. While the media tends to be in love with the notion of ARM (NASDAQ:ARMH) servers, I'm going to need more than Powerpoint slides to be convinced that these will be competitive enough to take meaningful share. While companies like Applied Micro (NASDAQ:AMCC) beat their chests day and night about their mythical "Xeon Class" X-Gene processors (but hey're not going to let anybody publish performance/power numbers), and while Samsung (OTC:SSNLF), AMD (NYSE:AMD), and Qualcomm (NASDAQ:QCOM) are likely to make pushes in the ultra low power server space, too many larger, more enterprise focused players have been crushed by the Intel/X86 rampage.
What's going to make this time any different, especially as Intel's products are VERY competitive and cover just about every sub-segment? While everybody else was talking about 64-bit ARM microserver chips, Intel unleashed an entire suite of highly integrated 64-bit microserver parts that offer exceptional performance per watt. Next year, Intel's next attack wave in this space with no less than two parts - one based on its lower power "Airmont" core and the other based on its big "Broadwell" core. It's going to be tough to fight that, especially as Intel brings to bear all of its architecture and process leadership here.
Mobile Is All Upside
That being said, Intel is a tech company and tech companies can't really afford to not grow; otherwise you end up with a dead money stock at best. So, Intel needs to be in the mobile devices space. That means tablets and smartphones at every pricepoint. While doing a low power CPU core or a low power GPU core that is as good (or better than) everything else out there is certainly part of Intel's DNA, rapidly developing and bringing to market highly integrated system-on-chip solutions is not something that has traditionally been Intel's strong suit. Intel also isn't a leader in cellular modem technology.
Of course, Intel is throwing plenty of money at this problem and has been ramping its efforts for years: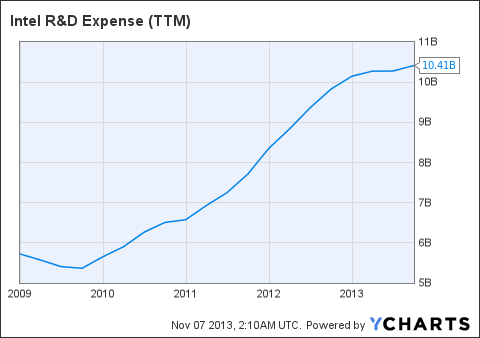 TTM) Chart" _fcksavedurl=" >TTM) Chart">
INTC R&D Expense (TTM) data by YCharts
Unfortunately, this stuff takes time. Intel just announced its first LTE multimode modem, the XMM 7160. It's by no means going to make Qualcomm shake in its boots - it's still trailing in a number of key features compared to Qualcomm's currently shipping LTE-Advanced modems. Intel's next modem, XMM 7260, looks to be a worthy competitor to whatever Qualcomm is likely to have during 1H 2014, but it's not integrated with the apps processor so that means it's restricted to the mid/high end of the smartphone market. But, for the first time, Intel will be seen as a legitimate leadership player in comms.
Of course, Intel still needs to figure out how to build its modems on its own manufacturing processes in order to integrate them onto the same die as the apps processor, but this will come probably by the end of 2014/early 2015 in the 14 nanometer generation (I wouldn't bet on seeing it at the 22 nanometer generation). However, once Intel does this, then the floodgates to the entire merchant smartphone market is open. Intel will be able to leverage its manufacturing prowess to build products at every price point and participate meaningfully here.
In tablets, Intel is already doing a great job. It's flooding the Android market with cheap, 32 nanometer parts, and it's enabling some interesting designs with its very good "Bay Trail" system-on-chip. Intel will be selling "Bay Trail" chips into the Android market soon, too, although it'll likely be by the end of the year/early next year that these designs become visible. Did I mention that Intel is on track to be the #4 supplier of tablet apps processors in the fourth quarter of 2013?
Several Challenges Still Loom
There are plenty of challenges Intel needs to deal with, however. First and foremost, Samsung is becoming an increasingly painful competitor, particularly as it holds captive much of the smartphone market, as well as the bill-of-materials for a much larger share of the computing market (DRAM, NAND, displays, etc.). I am in complete agreement with Mr. Russ Fischer whom in his recent article suggests that Intel should simply buy Micron (NASDAQ:MU) in an essentially all-stock deal. The more like Samsung that Intel can become and the more of the computing world that Intel can control, the better for Intel, especially as semiconductors become even more highly integrated and as Intel will need to grab more content share of mobile devices as the actual SoC prices aren't all that high.
Intel also faces fierce competition from Qualcomm, which has been spending very aggressively to defend its mobile turf. While Intel is certainly a formidable competitor, Qualcomm is still the world expert in modems and is a strong player in connectivity, meaning that it'll be tough to wrangle away meaningful smartphone content share (tablets are an entirely different matter).
The bottom line is that Intel faces plenty of competition from all angles, and it's no longer a big fish in a small pond (Samsung is several times bigger by revenue/net income/headcount, and Qualcomm is nearly at parity with Intel on a net income basis). To deny that Intel's long term growth and silicon leadership will remain unchallenged would be to deny reality.
Conclusion
Intel can double its business at the very least over the next five years. While absorbing Micron would be a good way to gain more broad exposure to the computing market, and while the custom foundry initiatives could be very interesting, the truth is that a lot of bold, difficult decisions need to be made. How can Intel transition from a company with $54B in annual revenues to $100B or more? If Intel can figure out a way to do it, then shareholders will be very handsomely rewarded in both share price appreciation and very likely a massive boost in dividend yield at the current price. There are several paths that the company can take - let's see which ones it chooses.
Disclosure: I am long INTC, AMD. I wrote this article myself, and it expresses my own opinions. I am not receiving compensation for it (other than from Seeking Alpha). I have no business relationship with any company whose stock is mentioned in this article.