Overview:
Qualcomm sl

id in after hours trading after reporting earnings for the company's most recent quarter. Even though the company's earnings fell within guidance and would have been above if it had not been for a ten cent litigation expense. Qualcomm did hike estimates for 3G/4G devices moving forward, and did not report bad earnings. As such, Qualcomm's recent earnings does not warrant the after hours bleed and still stands as an attractive long term investment.
Recent Earnings:
Qualcomm (NASDAQ:QCOM) reported earnings after the close that sent shares down roughly 4% in the after hours market. The giant stated quarterly earnings of $1.05 per share that includes a $0.10 litigation charge. Further, revenues reached $6.48 billion that marked a 33% increase from last year's period. Moreover, the company forecasted that 3G/4G device shipments will reach 1.1 billion for this year and between 1.22 and 1.3 billion units for 2014 - about a 15% increase. Qualcomm stated that earnings would have surpassed the high end of their prior earnings guidance had it not been for the litigation charge.
Returns: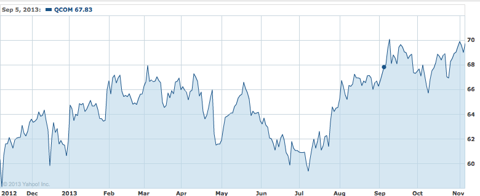 Qualcomm's after hours share price of $67 is only slightly above the year's starting price of $64, following a nice $4 bump from the end of December 2012 to January 2 2013. Other than dividends, Qualcomm's share price has only increased 3.3% for the calendar year. On January 2 the share price was $64.75, and today the share price is edging on 66.92 after hours - portraying only a slight share price move for the calendar year. For the last definitive year, Qualcomm has gained 17% since last November. The latter gain is positive, although below the yearly gain for the Dow Jones Industrial Average's 20% gain since last November.
Fundamentals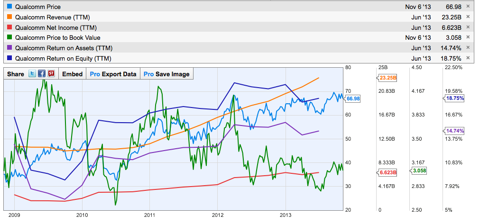 Qualcomm is within the technology sector in the communications equipment industry. This industry does have higher valuations than normal companies, although in comparison to the industry the company competes within Qualcomm is undervalued. To the right are the metrics for the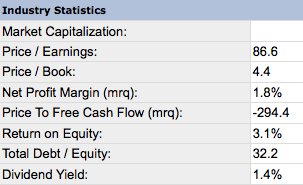 communications equipment industry as a whole. At first glance, it may seem as though Qualcomm is overvalued, although they are not when looked at more closely. With regard to Qualcomm, the company's
P/E (NYSE:TTM) of 18.52 is 4.68X lower than the industry average.
P/B of 3.16 is 28% lower than the industry average.
Net profit margin of 28.48% is 15.82x higher than the industry average.
ROE of 18.76% is 6.05x higher than the industry average.
Total Debt / Equity of 0.05x is 0.016% the industry average.
Dividend yield of 2% is 1.43x above the industry average.
At first glance it may seem as though Qualcomm packs high multiples that would deter investment. Although on a closer look, the company's metrics mark the company as undervalued in comparison to the industry as a whole. Qualcomm not only beats the industry it competes in, the company destroys it.
Technicals: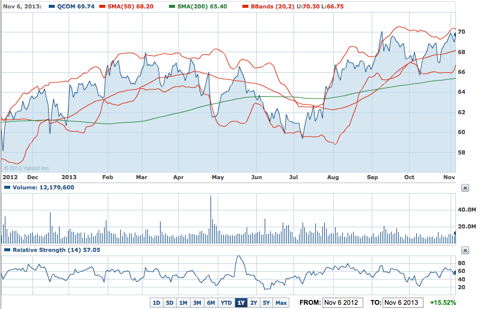 Qualcomm's shares have recently experienced a "golden cross" event, as the 50 day moving average has crossed above the 200 day moving average. This is seen as a bullish event, although it did occur on September 9 so some up the run up can already be priced in. Qualcomm's relative strength of 57 is moderately high, coming off the low of 23 when the golden cross event occurred yet below the 99.5 yearly record for the company's shares back in March. A mid level RSI means that shares can move either way, and with the pullback after hours it may draw as a temporary set back that is due for a recovery. Moreover on the daily chart, the 50 and 200 day moving averages are pointing upwards for the time being.

Technically the stock is not in any danger and is in a neutral to bullish zone, so I do not see the after hours pullback as the start of any danger and see it as a temporary hit due to the litigation expense prices into the company's most recent earnings report.
Insider/Institutional Transactions:
Qualcomm has seen a lot of selling and very little buying in the past six months. This is usually not a good sign as management with their skin in the game is better than management that is simply acting with other people's investments. Institutional investors are acting in the same manner.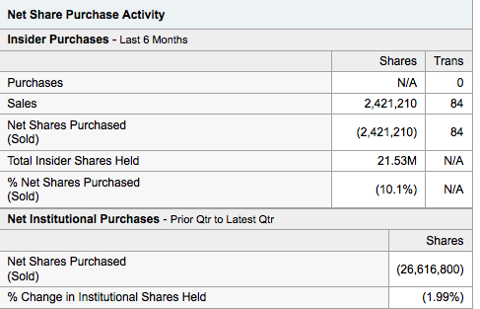 Qualcomm has seen 2,421,210 shares sold in the past six months with no purchases by insiders. Moreover, institutions have sold 26,616,800 shares. For the latter, this amounts to a near 2% decrease in the amount of shares institutions are holding . I see the sales by institutions and insiders as a negative, although they can just be taking profits before the end of the year as Qualcomm is up 17% from past November.
Keep in mind the trades for insiders is based upon the last six months, and for institutions it is a quarter over quarter basis.
Analyst Estimates

Qualcomm is in between the range of analyst estimates for the time being. Roughly $25 above the low target and $25 below the high analyst target. Although they still are roughly $10 below analyst's mean target - demonstrating that analysts see profits to be made in the future on Qualcomm by an average of $10 per share.
Moreover, the latest upgrade and downgrade was a buy by Stifel as they initiated coverage. Before Stifel, Northland Capital initiated the company as an outperform back on April 3, 2013.
The Company's Statement:
Qualcomm stated that they are well prepared for the next onset of LTE or long term evolution. This stands for 4G LTE-Advanced or 3GPP release 10 and is the next standard in the mobile market that is upon us. Qualcomm's snapdragon 800 chip is 4G LTE-A compatible and the company is well prepared to profit from the future of communications. Moreover, this chip is the first phase of 4G LTE-A and that is carrier integration, launched in June of 2013. (I bolded for emphasis)
"Looking forward, we expect continued strong growth of 3G and 3G/4G multimode devices around the world, particularly in China with the anticipated launch of LTE," CEO Paul Jacobs said in a statement. "Qualcomm remains well positioned from a growth standpoint, and we expect double-digit compound annual growth rates for both revenues and earnings per share over the next five years."
The company's website offers a very descriptive page with regard to 4G LTE-Advanced. These advancements are the future of communications, and Qualcomm is set to profit. As stated in my other article "4G-LTE Adavanced Is Impending, Who Is Set To Profit?" I go into detail on the changes that 4G LTE-Advanced will have, and how other companies will profit such as VirnetX (NYSEMKT:VHC)
Conclusion:
Qualcomm slid after hours as investors were disappointed with the company's litigation expense hit that impacted earnings. Investors have to keep in mind that enforcing their intellectual property in the courtroom is a key aspect that Qualcomm has to take part in - so any legal expense impact should not be a major surprise. Although the hit sent shares lower, Qualcomm is still an attractive investment moving forward as the future is bright, the technicals do not signal any negative downtrends, guidance on device shipments has been increased, the company did report within it's guidance even with the litigation expense and analysts estimates do signal gains. The only wary part is the sales by insiders and institutions - that will be put more into perspective when we see next quarter's sales data.
Disclosure: I am long VHC. I wrote this article myself, and it expresses my own opinions. I am not receiving compensation for it (other than from Seeking Alpha). I have no business relationship with any company whose stock is mentioned in this article.
Additional disclosure: This article is informational and is in my opinion. Always do your own research and contact a financial professional before executing any trades.