Let's start with a question: which builder is the top performer of 2013?
It has 110,000 single-family lots in prime locations, $1BL in liquidity; 28% gross margins, and is growing total net assets by 20% a year.
If you said Brookfield Residential (NYSE:BRP), you answered correctly. In 2013, it has outperformed Toll Bros (NYSE:TOL), DR Horton (NYSE:DHI), Pulte Homes (NYSE:PHM), Meritage (NYSE:MTH), Ryland (NYSE:RYL) and Richmond (NYSE:MDC).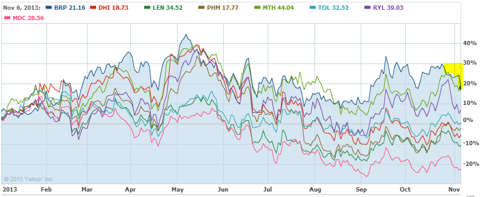 But there's more.
Brookfield doesn't just build homes. It entitles, develops, and sells lots it bought in CA, CO, AZ, DC, TX - some of them from a decade ago - plus huge suburban tracts of land near the Canadian Oil Sands it recently acquired - to builders who come calling (crawling?) for new properties in high-demand geographies.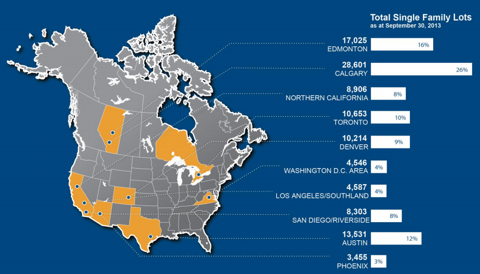 On a conference call, May 8, 2012 (and later in a letter to shareholders), Brookfield's CEO, Alan Norris, stated that investors could expect $4.5BL in cash flows over the next decade from its land under development. When questioned further, he said, "NET of any incremental capital to finish that development."
For a company of 116ML shares, that's $38.50/share in cash flow for the span of a decade, or $3.85 per year.
What also sets the company apart is its ability to make large deals and joint ventures with stunning results.
For example, in November, 2012, they purchased the Playa Vista Community for $250 ML, a near-coastal development in West Los Angeles.
The company received 2,250 lots in the development. Brookfield immediately flipped 1,500 of the lots to the Irvine Company for apartment building; and sold 195 of the Playa Vista lots to three national builders at a retail cost of $205,000 per lot. (One of these was KB Home).
Brookfield kept 500 lots for themselves (at the same value) for an asset worth $102.5 ML. It plans to build new homes on these lots after the other three national builders have sold through their communities. The deal was described as "cash flow neutral", which means the lots they saved for themselves were basically free - after all the other pieces of the deal were re-structured and re-sold to other buyers.
In the same strategic initiative, Brookfield Residential announced a partnership with the California State Teachers' Retirement System ("CalSTRS") to develop the Bearspaw lands which includes over 2,500 lots in the highly desirable northwest quadrant of Calgary.
Lastly, they were recently in the running for the Weyerhauser home building subdivisions. Tri-Pointe (NYSE:TPH) eventually purchased them for $2.7 BL. And the current buzz is they are now bargaining for Shapell Homes in CA and its inventory of 5,000 lots ($1BL).
These are very large deals with diverse considerations, and Brookfield is comfortable with such "big picture" ventures.
Today's Q3 results give a hint at the growth curve of this company. It made 29 cents/share for this quarter; 54 cents for the previous 9 months. The company guided Q4 income equal to/or above the combined Q1, Q2, & Q3 revenue numbers, or $0.54/share for Q4; and at least $1.08/share for 2013.
Analysts that follow the company estimate 2013 net income at $1.16, or a $0.25 increase (+27%) over 2012 ($0.91). 2014 estimates for BRP are $1.61, a 28% increase over 2013.
As of September 30, 2013, assets totaled $3.4BL, which is an increase of $568ML compared to December 31, 2012.
I've followed the company for almost 3 years, after it was first spun-off by Brookfield Asset Management (NYSE:BAM) in early 2011. I have seen little change in the torrid pace of its development.
Investors were suddenly spooked by Brookfield today. Why? I don't know; but Brookfield Residential is the kind of linear, long-term buy and hold story that investors will return to once they look at the fundamentals and understand their core markets. Every sell-off for the last 2 years has reverted to new highs, and I don't think this instance will be any different.
The company lost 5% today after reporting the same kind of quarter it's reported for the last 2 years: 20% to 28% growth across most of its metrics; followed by forward guidance of 20%. At the pace it is going, Brookfield will double its assets every 3 years.
(For more information on this fast-growing and little-known company, see Brookfield's Q3 2013 Profile).
Disclosure: I am long BRP, TPH, DHI. I wrote this article myself, and it expresses my own opinions. I am not receiving compensation for it (other than from Seeking Alpha). I have no business relationship with any company whose stock is mentioned in this article.