Questcor Pharmaceuticals (QCOR) was founded in 1992 and is headquartered in Anaheim, California. It operates as a biopharmaceutical company which focuses on the treatment of patients with serious, difficult-to-treat autoimmune and inflammatory disorders. I previously wrote about the company here in October. The company's primary product is H.P. Acthar Gel, an injectable drug for the treatment of proteinuria in the nephrotic syndrome of the idiopathic type, or NS, the treatment of acute exacerbations of multiple sclerosis, or MS, in adults, the treatment of infantile spasms, or IS, in infants and children under two years of age, and the treatment of certain rheumatology related conditions, including the treatment of the rare and closely related neuromuscular disorders dermatomyositis and polymyositis. QCOR has been a solid trading stock for several months and has left behind many analyst expectations that still have not caught up to QCOR's long term potential - 19 indications (uses). Most estimates appear to be light. That's ok, because we will gladly welcome the upgrades in the following quarters.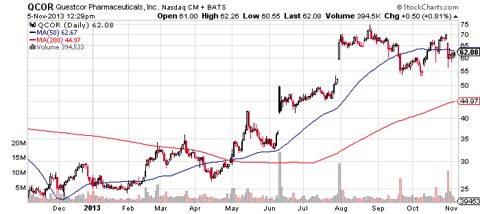 The Foundation Has Been Set
The company continues to report strong earnings growth quarter after quarter. It's apparent that they are doing everything they can internally to build the infrastructure to achieve the goal in becoming a multi-billion dollar company. Talk, as you know, is cheap, so what we need to do is review and analyze the facts and I will do this below. From where I'm sitting it looks like we may only be in the third inning of this ball game folks.
First: Let me say that sometimes investors can be too focused on the noise and they fail to see the big picture. I believe that this may very well be what's going on in the past few days which was evidenced after the release of the last earnings report. This will be addressed in the exhibit below.
Second: What we know is that Questcor's business is solid. The company has 19 indications (uses) and plenty of room to grow. R&D is increasing and more positive developments should come from it down the road. I see no real concern here unless we are presented with serious adverse events (AE's) and this seems highly unlikely.
Third: Don't overlook the experience of the strong management team and board because the trajectory is up and has been since the stock was $5.00. Example: Let's go back and review its new board member Angus Russell from Shire whom I believe can significantly help the company execute more efficiently and avoid making small mistakes and help take QCOR to the next level. See the QCOR Board.
Also, just recently, Forbes ranked Questcor the #1 Best Small Company
Investor Conferences and Meetings:
I suspect more conferences are in the works too:
2013 Credit Suisse Healthcare Conference on November 11-14.
Also, analysts will be digging deep into the abstracts that will be presented at the American Society of Nephrology - Kidney Week 2013 are available on the ASN website. Kidney Week is November 5-10 in Atlanta.
QCOR Valuation is estimated as follows (See The Exhibit Below):
Nephrotic syndrome $769M
Rhematology $693M
Muntiple sclerosis flares $262M
Sarcoidosis $217M
Infantile spasms $97M
Total = $2,038M
Discount values back to Present Value :
$5 for IS, $14 for MS, $28 for NS, $16 for Rhematology and $6 for Sarcoidosis.
Value/Share:
IS $6, MS $16, NS $38, Rhem. $31 and $8 Sarcoidosis= $99/sh
Potential fine of -$16 per share ($1B)(seems high)(may only be $5/sh in reality?) $99 - $16 = $83 for $1B fine
Add in $6.00 cash per share
$83 + $6 = $89 - $90 Product Value Expected
Total Equity Valuation $89 - $90 with 61.3M shares outstanding
If only a $5/sh fine Valuation would be: $99 - $5 fine + $6 cash = $100
Some Recent Upgrades:
OPCO = $90
Ladenburg = $84
Merrill Lynch = $80
Addressing promotional practices in pharma:
Questcor is being investigated (Since Sept. 2012) of unlawful promotional practices (these usually involve off-label marketing) and so far there has been no findings, except for more agencies jumping in to see what they can discover to fine this company, and is not uncommon in this industry. It's much like a citizen being pulled over by the police and it remains to be seen whether or not this company gets a ticket for speeding.
As we look into the history of unlawful promotional practices (usually off label marketing) and fines, here is what has been discovered:
First, from 2010-2012: There were 21 pharma settlements for unlawful promotional practices, total settlements of $5.35 billion. The average fine appeared to be about: $250 million.
Second, from 2010-2012: There were approximately 18 pharma settlements for unlawful promotional practices, total fines of $2.45 billion. Note: this model eliminates the three largest fines, each of which was negotiated with a global pharma and for a multi-year track record of off label marketing and kickbacks often covering more than one drug product--which is probably not QCOR's category. Average fine is estimated at $136 million.
A conclusion with probabilities based on past history: One might assume that if Questcor is charged with unlawful promotional practices in the following 24 months after the investigation is concluded and if they settle, the company might expect the settlement to be in the range of $75 to $150 million based on past cases, but only if they are found to have violated the rules.
Addressing the investigation time frame: From data uncovered online in filings, it is believed that the average timeframe from disclosure of an investigation, then moving into to a settlement process end, would take over 3 solid years. If Questcor follows this same time line and is formally charged with unlawful marketing practices (which it hasn't been to date), you might expect a settlement negotiation and agreement sometime in mid to late 2015.
There were multiple sources used for this research including DOJ and FDA sites, Fierce Pharma, Public Citizen publications, and individual law firms. While this cannot be construed as 100% accurate, some of the data or percentage of settlements could have been overlooked from other sources but this should help in assessing this topic.
There are about 70 investigations and about 40 settlements per year between pharma companies and various investigation entities, covering all charges.
Please try and remember that Questcor has a very strict compliance program in place. All sales go through a compliance process and any employee that does not comply with the rules set forth by CEO Bailey are sure to be fired.
Note: One analyst at Oppenheimer already has accounted for $1B in fines and has a $90 target for what its worth. I don't believe the fine (if guilty) will be that high and will take years.
Michael Mulroy, Questcor's Saavy EVP, CFO and General Counsel has stated for the record that:
"We take our marketing and business practices very seriously. Questcor has a standard compliance program. I am the Chief Compliance Officer and we have another compliance officer within the Company with 10 years of pharmaceutical compliance experience whose sole job is to design and execute our ongoing compliance efforts. We are in substantial compliance with the PhRMA Code on Interactions with Healthcare Professionals. If we become aware of any unacceptable practices from outside parties or our normal ongoing compliance program we will of course deal with any such matters in a responsible manner."
Moving Forward:
As the company continues to educate Wall Street about the huge potential that is staring us all in the face, we should continue to see the shares move into stronger hands. The recent decision to issue a dividend shows us confidence by management too. It will take more investors like OrbiMed, Wellington, and increased ownership by groups like FMR and BlackRock who are not traders. They are wealth builders.
The Future:
CEO Don Bailey stated:
"Our future will be driven by four areas: increased penetration of Acthar in current markets and expansion into additional on-label markets, globalization of Synacthen and Acthar, development of new indications and markets, and the appropriate deployment of cash that we believe will be generated from these activities."
Summary: Stay focused on the facts and not the "noise" and there is a lot of it these days. I think Questcor will drift up to $80 over the next month or so, and this will most likely occur when people least expect it like it usually does. There are many strong followers who think that we are looking at a $100-120+ stock down the road, and it's just a matter of "when" and "not if" because the overall confidence continues to be high. From what I can see, CEO Don Bailey is very focused on building a multi-billion dollar company (a multi-bagger from here). Yes folks, at least a double from here and this may put us in the sixth inning. Do you want to trust a CEO who has taken this company from $5.00 to $60+ or get tangled up with message board rumor mongers? Be smart! This company is in much better shape at $60 than it was at $5.00 believe me. Hitch your wagon to real leadership and a successful company working its "strategic business plan."
Earnings will "Drive Ongoing Success" not rumors and innuendo: The 2013 earnings have gone from $4.80, and $5.80, to now $5.50, and $6.60 eps. We should all know from the $1.65 beat announced from the September Q3 that annualizing the $1.65 qtr without any additional sequential or yr/yr growth, we should be looking at $6.60 eps. Therefore, projecting out, if we know that the $6.60 math is way too low, we are essentially looking at: $6.60 x 15 P/E = $99 per share sometime in 2014. Stay the course.
Disclosure: I am long QCOR. I wrote this article myself, and it expresses my own opinions. I am not receiving compensation for it. I have no business relationship with any company whose stock is mentioned in this article.