Investment bank Jefferies Group (JEF) is emerging from the financial crisis largely unscathed and has been able to prosper at bigger competitors' expense.
A new Special Comment on the firm from Moody's offers a positive assessment. On December 18th, 2009, Moody's changed its rating outlook on Jefferies to stable from negative. Among the primary factors for the outlook change, Moody's noted market share gains in fixed income trading and a more flexible expense profile. Moody's also said that the Baa2 rating reflected Jefferies' low risk profile, including its strong capitalization and a structurally liquid balance sheet.

Along with Bank of America and Nomura Holdings, Jefferies is one of only three wholesale investment banks (WIBs) rated by Moody's with a Stable credit outlook. All the others have a negative outlook or are under review for downgrade. "Jefferies has a lower risk profile than its more complex, levered, and interconnected WIB competitors. As we discuss in this report, Jefferies is a smaller, more straightforward investment bank."
Looking back at Jefferies' performance through the crisis raises one important question. Was it purely a result of management's prudent risk appetite, or a reflection of Jefferies' non-"bulge bracket" status, which did not allow it to compete for certain kinds of business? We think that both of these reasons apply.- Moody's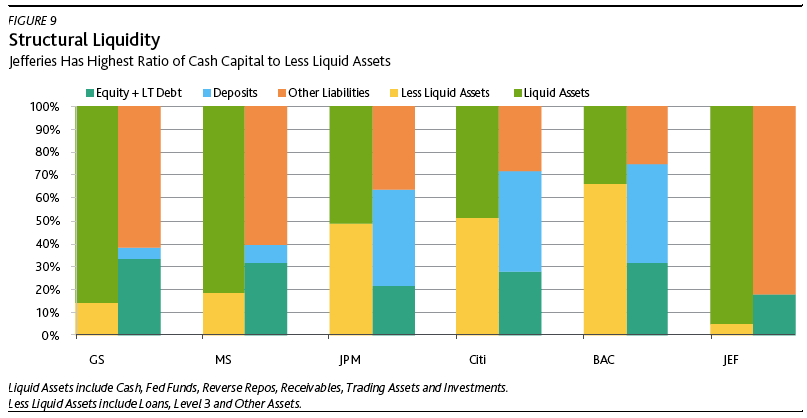 Moody's puts a lot of store in the company's management and culture:
"Jefferies' business model, its risk appetite and ability to nimbly calibrate it based on changing market conditions, are in no small measure a reflection of its long-standing management team and the culture of the firm – both entrepreneurial and ownership-oriented. These assets, which stood the firm in good stead throughout the credit crisis, are intangible and unquantifiable. The entrepreneurial nature of management is once again on display now – the firm is gaining ground and has been actively (though, no doubt, selectively given the recent disarray on Wall Street) hiring sales and trading staff. Whether the other pieces of the puzzle – its long-term ownership culture and the ability of senior management to drive the firm at less than "120 miles an hour" when potentially treacherous road conditions so warrant – stay in place, remains a critical question. If Jefferies' history is prologue, then they should."
Standard & Poor's concurs: It has a Buy rating on Jefferies, with a 12-month target price of $31 compared with a $25 currently.
"Although we believe JEF will continue to face significant competition from larger and more diversified rivals, we think the company has carved out a niche for itself that we view as sustainable. In our view, management's efforts to enhance JEF's equity franchise will help long-term results, and its market share gains in trading businesses are already evident in results for 2009."
With our belief that the company's earnings potential has improved significantly, we think the shares warrant a higher valuation, and our recommendation is buy. - S&P
S&P had upgraded the company's credit rating to Stable in October.
On Dec 29, the New York based brokerage was raised to "outperform" from "market perform" at Keefe, Bruyette & Woods by equity analyst Lauren Smith.
According to Zack's the average broker recommendation on Jefferies is "Hold." Zack's own rating is Neutral relative to the market, with a target price of $29.50.