With a greater global presence, Priceline.com (NASDAQ:PCLN) can find better and bigger growth opportunities. And so far, Priceline.com has begun an aggressive push to farther reaches of the globe and through the key acquisitions of companies like booking.com, TravelJigsaw, and Agoda. In addition with rising wealth and a growing middle class in South America and Asia, travel agencies can expect a huge source of business now and in the future. And so far, Priceline.com has capitalized on that opportunity, putting up stellar numbers abroad. The company is stretching far across the globe and its doing so successfully. In the upcoming earnings report, expect Priceline.com to address its plans to further its expansion overseas and some stellar numbers.
Priceline.com is expected to report FQ3 2013 earnings on November 7th after the market close. The information below is derived from data submitted to the Estimize platform by a set of Buy Side and Independent analyst contributors.
The current Wall Street consensus expectation is for Priceline.com to report $16.2 EPS and $2.208B revenue while the current Estimize consensus from 20 Buy Side and Independent contributing analysts is $16.38 EPS and $2.232B revenue. The magnitude of the difference between the Wall Street and Estimize consensus numbers often identifies opportunities to take advantage of expectations that may not have been priced into the market. In this case, we're seeing a smaller differential between the Estimize and Wall Street numbers compared to previous quarters.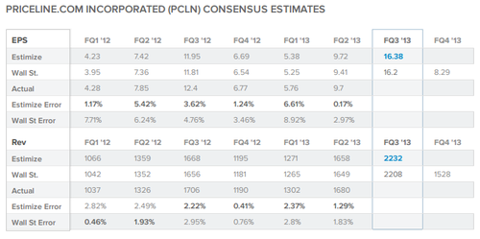 Over the past four months the Wall Street consensus trend for EPS has increased from $9.41 to $016.38 while Wall Street revenue expectations have increased from $1.658B to $2.208B. The Estimize EPS and revenue consensus have surged this quarter with EPS going from $9.72 to $16.38 and revenue increasing from $1.658B to $2.232B.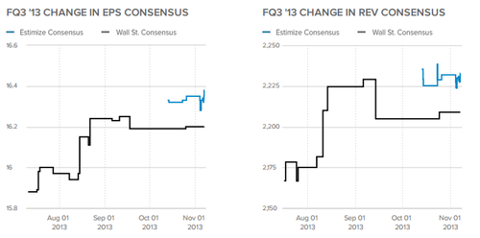 Over the previous 6 quarters, Priceline.com has beaten the Wall Street consensus for EPS 5 times and revenue 4 times. Over the same time period, Priceline.com has beaten the Estimize EPS consensus 4 times and the Estimize Revenue consensus 3 times.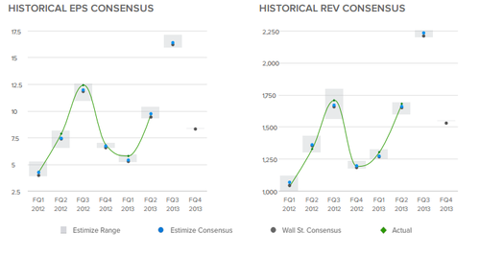 The distribution of estimates published by analysts on Estimize range from $15.92 to $17.10 EPS and $2.195B to $2.300B in revenues. We're seeing a larger distribution of estimates this quarter for Priceline.com than normal. The size of the distribution of estimates relative to previous quarters often signals whether or not the market is confident that it has priced in the expected earnings already. A narrower distribution signaling the potential for greater volatility post earnings, a wider vice versa.
The analyst with the highest estimate confidence rating this quarter is Jorge Sabry who projects a $16.18 EPS and $2.197B in revenue. Estimate confidence ratings are calculated through algorithms developed by our deep quantitative research which looks at correlations between analyst track records and tendencies as they relate to future accuracy.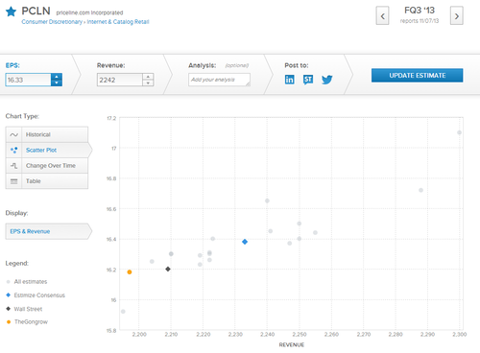 Priceline.com, compared to its competitors such as Expedia (NASDAQ:EXPE), largely was able to escape the economic turmoil of Europe unscathed and has been building a strong international presence. Because of PCLN's tenacity and its strength abroad, it has been able to beat its guidance for the past few quarters. Expectations for this quarter aren't any different and both Wall Street and Estimize analysts are planning on seeing PCLN continue its spectacular growth.
Disclosure: No positions