The Transaction
Yesterday, SM Energy (NYSE:SM) announced an agreement to sell its approximately 58,000 net acres in Anadarko Basin, which spans the Texas Panhandle and western Oklahoma, for $343 million in cash. The assets include SM's interests in the Granite Wash play. The transaction was anticipated: in July, SM announced its decision to divest the asset in the effort to redeploy capital to the company's higher-return opportunities in the Eagle Ford, Bakken and Wolfcamp plays.
The buyer, EnerVest, is a major energy-focused private equity fund and E&P operator.
Production from the divested assets for the third quarter of 2013 was approximately 51 MMcfe/d (75% natural gas), which represents approximately 6% of SM's total production in the third quarter. The transaction is moderately accretive to the company's valuation on a flowing-production basis and results in a slight improvement in the company's overall production mix towards oil and liquids.
SM's Granite Wash activity has been focused primarily on the Marmaton and Missourian (Hogshooter) Wash plays in Beckham, Roger Mills, and Washita Counties in Oklahoma. At the peak of its drilling activity in 2012, the company was running three operated rigs in the area. SM's properties include ~35,000 acres prospective for the Marmaton play and ~19,000 acres prospective for the Missourian wash (slide below). The vast majority of the acreage was held by production by the end of last year.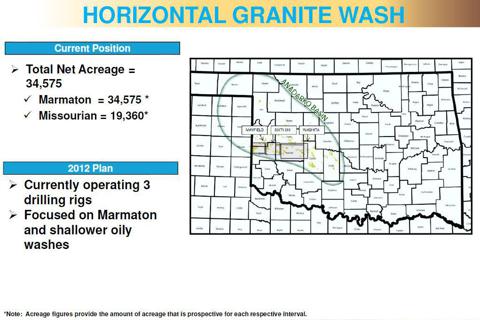 (Source: SM Energy's August 2012 Investor Presentation)
The price received in the transaction is at the low end of my estimate range but is not drastically different from metrics achieved in comparable recent transactions in the area. On the balance, the announcement is a neutral development for the stock:
It brings to a closure the previously announced divestiture and provides SM with meaningful additional liquidity that can be used to accelerate the company's Permian development.
The price received is a bit disappointing but understandable in light of the very challenging divestiture market environment.

Given the rich opportunity set that SM has developed, the company had limited options with regard to its Mid-Continent operations that have essentially been pushed out into the second-tier category.
Precedent Transactions
In a similar transaction earlier this year, Laredo Petroleum (NYSE:LPI) sold to EnerVest its interests in the Anadarko Basin for $438 million in cash. Laredo's properties included 104,000 net acres of leasehold in the region and approximately 58 MMcf/d of production (consisting of ~500 barrels per day of crude oil and condensate and ~55 MMcf/d of liquids-rich natural gas). The assets had estimated proved reserves of about 162 Bcf of natural gas and about 1.5 million barrels of crude oil and condensate. Like SM, Laredo expected to funnel the proceeds from the sale into its projects in the Midland Basin Wolfcamp development in West Texas. Laredo commented in its press release:
The Anadarko Basin has been a meaningful part of Laredo's rapid growth in reserves and production for the past five years. However, the continued success that Laredo is experiencing with its Permian-Garden City properties makes this an ideal time to re-deploy capital from this transaction into what we believe are even higher returning projects in the Permian Basin.
Last month, Forest Oil (NYSE:FST) announced a definitive agreement to sell its Texas Panhandle assets to First Reserve-backed Templar Energy LLC for $1.0 billion in cash. The divested properties have produced approximately 100 MMcfe/d during 2013, generated EBITDA of approximately $180 million for the most recent twelve month period (including an allocation of Forest's G&A expense), and had estimated proved reserves of 517 Bcfe as of December 31, 2012.
The noticeable discount that SM properties are being sold at relative to Forest's transaction is likely attributable to the less strategic nature of SM's acreage position.
Notably, in all the three transactions mentioned above, the acquirers are private equity-sponsored entities who typically have high hurdles in terms of their expected returns on acquisitions (hence relatively low prices received by sellers). Publicly-traded E&P operators have been net sellers in the Granite Wash. Low predictability of drilling results in the play and lack of true "resource play" characteristics may be the deterring factors.
Implications For SM Stock
In the past three years, SM has made noticeable progress in focusing its operations and divesting a significant number of less strategic assets. As a result, the company has essentially re-defined its portfolio, having achieved high asset concentration in few select core plays (primarily the Eagle Ford and the Bakken) and developing an inventory of high-impact, low-cost-of-entry emerging plays (most notably, the Permian and East Texas Eagle Ford).
While SM's positions are not within "core of the core" sweet spots of either the Eagle Ford or the Bakken, the company has been able to achieve solid production growth while maintaining its traditionally conservative balance sheet and ample liquidity.
Given the significant promise of the company's recently announced Wolfcamp position in the Midland Basin, the redeployment of capital, even at a less than perfect sale valuation, will likely be positively perceived by the market.
Disclaimer: Opinions expressed in this article by the author are not an investment recommendation and are not meant to be relied upon in investment decisions. The author is not acting in an investment advisor capacity. The author's opinions expressed herein address only select aspects of potential investment in SM Energy securities and cannot be a substitute for comprehensive investment analysis. Any analysis presented herein is illustrative in nature, limited in scope, based on an incomplete set of information, and has limitations to its accuracy. The author recommends that potential and existing investors conduct thorough investment research of their own, including detailed review of the company's SEC filings, and consult a qualified investment advisor. The information upon which this material is based was obtained from sources believed to be reliable, but has not been independently verified. Therefore, the author cannot guarantee its accuracy. Any opinions or estimates constitute the author's best judgment as of the date of publication, and are subject to change without notice.
Disclosure: I have no positions in any stocks mentioned, and no plans to initiate any positions within the next 72 hours. I wrote this article myself, and it expresses my own opinions. I am not receiving compensation for it (other than from Seeking Alpha). I have no business relationship with any company whose stock is mentioned in this article.