Markets were muted ahead of the key event of the day that was the US Non Farm Payrolls (NFP). Thursday traded with a positive tone after US initial jobless claims were slightly lower than expected and chain stores sales reported better than expected holiday sales, countering early market weakness. But yesterday was in large part marked by a story/rumor regarding a possible surprise in US data to be published today. An article on the web site Zero Hedge stated that problems linked to a too-mechanical deseasonalisation of figures could lead to an unexpected increase in employment of 316,000 people. But the truth is that the deseasonalisation process used by the Bureau of Labor Statistics is somewhat more complex, and adjusts stochastically to the weight of seasonal changes. At all events, this helped the market believe it possible for there to be an unexpected large job creation figure. And please note today's NFP was believed to be boosted by temporary hiring of census workers for the US's census (done every 10 years) e.g. in 1990, 330k temp workers were employed and in 2000 515k were employed to take the census.
Drum roll, and the outcome after all the hype was a disappointing -85k jobs lost, leaving a lot of highly paid forecasters with a lot of egg on their faces. Equally surprising thus far has been the equity markets reaction i.e. to shrug its shoulders. Maybe it's the thought that this means there is no chance of the Fed taking away the punch bowl any time soon?
In more detail, so much for make believe… the market really wanted to believe in a strong payrolls figure. In the run up to the numbers, some have argued that moderately positive figures in December were as reliable as Santa Claus, some have invoked pitfalls in seasonal adjustment procedures to make call for a humongous increase in employment, and at the very least the consensus was for a flat reading. Well, we were all in for a disappointment.
US financial stocks (Goldman Sachs (NYSE:GS), JP Morgan (NYSE:JPM) and Morgan Stanley (NYSE:MS)) may be pressured (for a change) after analysts at Citigroup reduced their Q4 profits estimates due to what they perceived to be a substantial drop in trading.
Today's Market Moving Stories
Crude oil fell for a second day in New York on concerns that investment in commodities may slow after China took steps to curb bank lending. Oil dropped for the first time in 11 trading days yesterday after the dollar rose as the number of Americans filing first- time jobless claims gained less than forecast. China's Central Bank sold three month bills at a higher interest rate for the first time in 19 weeks to control expansion in lending.
Watch out for a potential big move in the Yen on talk of a JAL (Japan Airlines) bankruptcy may trigger liquidation of yards of long USD/JPY positions linked to fuel hedges. This of course would hammer the Nikkei and house exporter name stocks in particular.
The Federal Reserve Bank of New York, then led by Timothy Geithner, told AIG (NYSE:AIG) to withhold details from the public about the bailed-out insurer's payments to banks during the depths of the financial crisis! AIG paid banks, which included Goldman Sachs and Societe Generale, 100 cents on the dollar for credit-default swaps they bought from the firm. The New York Fed crossed out the reference. The regulator decided that Goldman Sachs and more than a dozen banks would be fully repaid for $62.1 billion of the swaps, prompting lawmakers to call the AIG rescue a "backdoor bailout" of financial firms.
There are stories indicating that pressure is building up inside the Federal Reserve to be careful about inflation. One published by the Federal Reserve Bank of St. Louis says price pressure would rise more quickly than thought previously. Another from the Richmond Fed said the Fed's was over-reliant on the output gap in formulating its monetary response. Kansas Fed chief Thomas Hoenig said that the Fed should start tightening earlier rather than later, and return to a more normal level of the Fed funds rate of 3.5% – 4.5%.
Britain will today announce the award of contracts to build and operate wind farms in nine key areas as it prepares to meet European Union environmental targets. E.ON (OTCPK:EONGY) and RWE of Germany, Scottish & Southern Energy (OTCPK:SSEZY), Centrica (OTCPK:CPYYY), Statoil (NYSE:STO), Spain's Iberdrola (OTCPK:IBDRY), EDP Rennovaveis and Vattenfall of Sweden are all bidding for the leases, which will generate about 25 giugawatts of renewable power.
The US Environmental Protection Agency (EPA) has given preliminary approval to Royal Dutch Shell (NYSE:RDS.A) to drill exploratory wells off the coast of Alaska, removing one of the last remaining hurdles facing the company's plans to begin drilling this summer. The company said the EPA's decision to issue a draft air permit will start the clock on a series of events that will determine whether exploration can begin in 2010. The EPA still must finalise the air permit, which is also expected to face legal challenges. The US Interior Department last month approved Shell's plan to drill three exploratory wells.
Some light weekend reading. The Outlook for 2010 from just about everyone!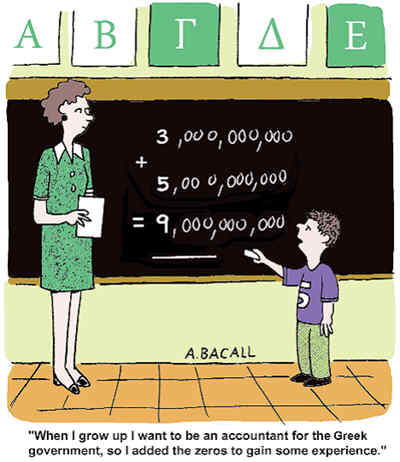 Buy Garlic, Buy, Buy, Buy
What was the best performing asset class in China last year? Forget Gold, forget shares — the answer is garlic, that's price lept from five cents a pound at the start of the year to 55 cents. The price bubble in this particular commodity is in part down to swine flu — the Chinese are convinced that the bulb kills bacteria, despite the urging to the contrary of Chinese government experts. Yes, I know, it's a virus. This hasn't prevented the man in charge of the Jinxiang Garlic Association, in eastern China's Shandong province and the home of Chinese garlic, insisting that it can "definitely help prevent swine flu." The 2003 Sars virus scare saw many Chinese, by contrast, put their faith in turnips. This has meant fortunes for speculators in garlic futures, such as one jobless Shao Mingqing, 22, who borrowed to buy 100 tonnes of the stuff and now drives around in a $26,000 Toyota, according to the state-owned China Daily.
Company News
Hanif Lalani, formerly CFO and head of BT Global services has left to pursue "personal business interests," and has been replaced by Jeff Kelly, who formerly ran the American business of EDS. This is likely to be viewed negatively as a sign that Lalani's attempts to turn around BT Global Services have proved unsuccessful and the unit will continue to drag on cashflow. Global Services was the unit responsible for two profit warnings in FY09. We remain cautious on BT's capacity to implement a quick turnaround of the Global Services business.
Bloomberg reports that Bank of America (NYSE:BAC), Alcoa (NYSE:AA), and Intel (NASDAQ:INTC) will lead companies worldwide to the biggest earning gains since 1993 as industries hardest hit by the recession benefit from job cuts and cheaper loans. Profits of S&P 500 Index companies rose 60% in the three months ended December 31, the first quarterly gain after nine quarters of declines. In 2010, financial, semiconductor, auto, energy and consumer goods companies will probably be the best performers, paving the way for a 25% rise in full-year earnings. Globally, companies eliminated more than 2 million jobs in 2009 as real-estate losses forced banks to rein in lending, hurting industries from cars to consumer electronics. Still, a global recovery in 2010 could be in danger as central banks and governments start unwinding crisis measures implemented last year. Alcoa is the first member of the Dow Jones Industrial Average to report fourth-quarter earnings on January 11. Fourth-quarter gains of many companies will be marked by easy comparisons to a year earlier, when credit markets seized and banks stopped lending.
Auto makers Daimler (DAI) of Germany and France's Renault (OTC:RNSDF) are in negotiations to collaborate on a range of projects. The talks focus on common platforms for future models of Daimler's Smart city car, including an electric vehicle. The cooperation could also involve the exchange of engines and other technologies as well as collaboration on future versions of Daimler's Mercedes A and B Class cars.
Reliance Industries increased its offer to buy a stake in LyondellBasell Industries, valuing the bankrupt chemicals maker at $13.5 billion compared with $12 billion in a November bid. LyondellBasell's board has rejected the latest offer from Reliance, which would entail India's biggest company buying $2.25 billion in stock and backing a $2.8 billion share sale.
Aluminum Corp of China, known as Chinalco, is not considering selling its stake in Anglo-Australian miner Rio Tinto (RTP), Chinalco's Vice President Lu Youqing said. "These are rumors without substance," he said. Reuters earlier reported that Sovereign Wealth Fund China Investment Corp. is weighing a bid for the 9.3% stake in the Rio Tinto.
UniCredit (OTC:UNCIF), the Italian bank with a large presence in Eastern Europe, has announced a €4 billion Rights Issue in the latest move by a European bank to boost its core capital. UniCredit said it would price the issue of more than 2.5 billion new shares – three new shares for every 20 held – at €1.589 a share, a discount of about 29% to its ex-rights price. The size and pricing of the offer met market expectations and the bank's shares rose 2.5% to €2.39.
Microsoft's (NASDAQ:MSFT) Robbie Bach, head of the division that makes mobile-phone programs, said Google (NASDAQ:GOOG) will have a hard time attracting partners to its wireless software after introducing its own handset. Google started selling the Nexus One phone this week. The company also provides its Android operating system to other handset makers, rivalling Microsoft's Windows Mobile. Because Google now sells its own phone, handset makers may worry the company will prioritize its own product over theirs, Bach said. That could push some to stop using Google's software, he said.
And Finally… Steve Ballmer's Speech At CES

Disclosures: None