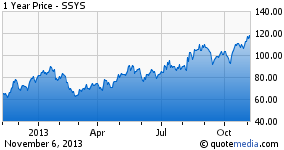 Stratasys (NASDAQ:SSYS) reported third quarter earnings that beat analyst estimates. The company's revenue growth accelerated in the last two quarters, as global demand for 3D printing products increased. MakerBot contributed with $11.6 million in revenue in the third quarter, which is a great accomplishment, since MakerBot's revenue represents the period following the transaction's close on August 15, 2013. Stratasys is also investing heavily into sales, marketing and research and development, in the same manner as 3D Systems (NYSE:DDD), in order to take advantage of the growing demand for 3D printing products and services.
Q3 highlights
Stratasys reported adjusted earnings per share of $0.45, ahead of analyst estimates for $0.42, and 12.5% higher than in Q3 2012. Revenue increased 38% to $125.6 million, ahead of analyst estimates for $117.13 million. This was the second consecutive quarter of revenue growth acceleration. Organic revenue growth in the quarter was 26%. Revenue growth accelerated as a result of increased synergies from the Objet merger and increased demand for the company's products and services.
MakerBot's third quarter revenue was $11.6 million, and this was for the period following August 15, 2013. This compares to 3D Systems' third quarter consumer solutions revenue of $13.5 million, which is more than double the revenue in the first six months of 2013. The consumer segment is evidently gaining traction, and is the fastest growing segment for both companies.
Stratasys introduced two new systems in the quarter, the Solidscape 3Z MAX 3D printer and the MakerBot Digitizer Desktop 3D Scanner. The company also introduced two new materials for MakerBot platform, including flexible filament and a dissolvable support material.
Stratasys continues to invest heavily into sales, marketing and research and development. R&D expenses increased 51%, while SG&A expenses were 53% higher compared to Q3 2012. R&D expenses accounted for 9.5% of total revenue in Q3. The level of R&D spending is higher than 3D Systems' 8%, although 3D Systems increased R&D spending 95% in Q3.
Stratasys is expanding aggressively in the Asia-Pacific region. The company opened a local sales office in Singapore, acquired the remaining holdings from Fasotec in Stratasys Japan, and signed a distribution agreement with Aurora Group in China. You can read more about my view on China expansion here.
Profit margins were down sequentially and year-over-year on increased spending, and by the fact that MakerBot's margins are generally lower.
Management raises revenue guidance, earnings guidance remains the same
Management increased full-year revenue guidance to $470 million to $490 million, up from a previous range of $455 million to $480 million. The mid-range of the new revenue guidance is $15 million higher than analyst consensus estimates. This translates to 55% revenue growth in the fourth quarter, which would be the third consecutive quarter of revenue growth acceleration.
On the other hand, non-GAAP earnings guidance stayed the same. The company improved its outlook by $0.06, but this was offset by the September share offering, which resulted in earnings dilution of $0.06.
The increased revenue guidance is a significant improvement, since the company did not raise guidance in the first quarter, while the increased second quarter guidance was the result of the MakerBot acquisition. The absence of real guidance improvement was my main cause of concern in the previous months.
Conclusion
This is by far the best quarterly result for Stratasys this year. The company beat both top and bottom line estimates, and raised revenue guidance. The latest quarter was the second consecutive quarter of revenue growth acceleration, with the expectations of further growth acceleration in the fourth quarter. Stratasys is on track to capitalize on growing demand for 3D printing products and services. Margin pressure and earnings growth are not a reason to be concerned, since Stratasys is sacrificing short-term profitability to increase its market share.
Note: All of the numbers and comparisons are based on the company's Pro Forma Non-GAAP Results.
Disclosure: I have no positions in any stocks mentioned, but may initiate a long position in SSYS, DDD over the next 72 hours. I wrote this article myself, and it expresses my own opinions. I am not receiving compensation for it (other than from Seeking Alpha). I have no business relationship with any company whose stock is mentioned in this article.