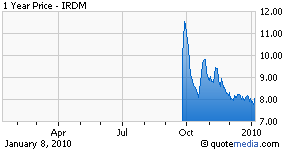 I bought Iridium (NASDAQ:IRDM) today. I had purchased the offering at $10 back in September 2009. At that time it was GHL Acquisition Co., but right after the offering it changed the corporate name to Iridium and the symbol changed to IRDM.

This is a classic pop and flop. Right after the offering the stock was up 15% and then fell, sinking to under $8 in December with tax loss selling. I sold mine on Dec 7, and today I started buying stock back, avoiding a wash sale.

The company is solid but ignored. Easy to understand why. It started as a SPAC (special purpose acquisition company) managed by Greenhill and went public in Feb 2008. The company management arranged to buy Iridium and did a follow on offering to raise money to complete the purchase in September 2009.

Iridium is a communications company offering worldwide services using its 66 satellites. It is the only company offering global communications coverage.
The balance sheet is very clean with low debt. Earnings estimates for each of the next 3 years are above $1.00/share with modest growth.
The PE is under 8.
Greenhill is a solid manager.
The stock is too cheap, I bought some and think there is a lot of potential. Obviously, Greenhill agrees. I expect the stock to rise when it gains research coverage, insiders step in, a positive earnings pattern develops and even a possible dividend is declared.

*** After I bought the stock at $7.85 it ran up to $8.37 then back down to $8.02 and now is $8.25. I have no idea why.

Disclosure: Long IRDM