Phone and tablet accessory maker Logitech (NASDAQ:LOGI) recently reported second quarter earnings. The company beat analysts' earnings estimates by $0.14 and revenue by $29.3 million. Logitech saw quarterly revenue of $532.0 million and earnings per share of $0.20. The good news for investors is the company beat these key numbers without a large product release in the quarter. With the iPad launch moved to the third quarter and new products coming, Logitech looked well positioned to hit new highs to close out 2013.
During the second quarter, tablet accessories and gaming speaker sales increased 36% and helped boost revenue. Here is a look at sales by product category:
| | | |
| --- | --- | --- |
|   | Q2 2014 | Q2 2013 |
| Retail | $464.85 mil | $476.48 mil |
| OEM | $37.53 mil | $36.71 mil |
| LifeSize | $29.59 mil | $34.50 mil |
| Total | $531.97 mil | $547.69 mil |
Two strong accessory items were pointing devices ($130.66 million) and tablet accessories ($34.71 million). Logitech could be in for impressive third and fourth quarter results with new iPads that came out November 1st. Logitech continues to provide accessories for the popular Apple (NASDAQ:AAPL) product.
One of the risks with an investment in Logitech is Apple itself. For years, Logitech has profited where Apple leaves gaps. Logitech sells a keyboard accessory for iPads, because Apple doesn't include it with a basic iPad purchase. There have been rumors of an Apple keyboard accessory. This would of course be bad news for Logitech. The company's ultrathin iPad keyboard cover has sold well and the company also introduced an ultrathin touch mouse in August.
Another area where Apple seems to have left a gap is mobile gaming. Logitech is designing an iPhone game device that turns a phone into a small video game with full controls. Leaked images and a trademark filing have identified the device as the Powershell. The trademark was for "integrated game control device and battery pack for use with computer and digital electronic devices."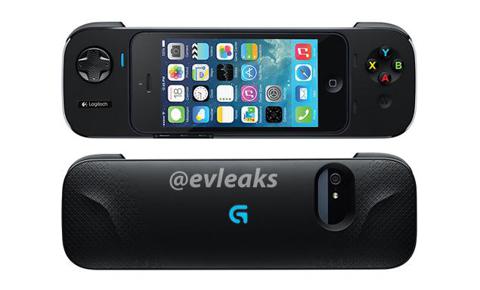 From the picture, you can see that the Logitech accessory transforms a smartphone into a portable game console. Many consumers play games on their phones. It seems there has been a market for a long time to connect gamers with a more practical mobile gaming system. Logitech will hope to take market share away from devices like Nintendo's 3DS and Sony's Playstation Vita.
Logitech's accessory sales may also be helped by a June acquisition. Logitech acquired TT Design Labs, a company specializing in iPhone accessories. The company is now working with Logitech on various products, including the one pictured below from ZDNet.

The good news is Logitech is also at the beginning part of a turnaround. From the second quarter call, "We're ahead of our own expectation so far this year, but it's still early in our first turnaround year." The key in the short term will be the new iPad launch. Logitech said this regarding the newest Apple iPad, "I think it's safe to say we'll be in market very soon and certainly to be before Christmas." So keep in mind that Logitech beat analysts' estimates with delayed releases of several products. This sets up for possible huge beats in the third and fourth quarter of the current fiscal year.
Analysts on Yahoo Finance show an analysts consensus of 0.27 for earnings per share. Revenue is expected to decline 3% to 2.04 billion. In fiscal 2015, analysts see Logitech posting earnings per share of $0.42 and revenue of $2.05 billion. With a share price around $10, investors are paying around 24 times next year's expected earnings per share. While that seems a bit lofty, I believe there is plenty of upside. The shares are being punished due to the possibility of Apple introducing some of its own accessories.
Disclosure: I have no positions in any stocks mentioned, but may initiate a long position in LOGI over the next 72 hours. I wrote this article myself, and it expresses my own opinions. I am not receiving compensation for it (other than from Seeking Alpha). I have no business relationship with any company whose stock is mentioned in this article.