Over the last seven years, the global commitment to clean energy investment has grown at an astronomical rate. The reason for this substantial growth has been simple; wherever clean energy policies are adopted, investment inevitably follows. This has long proven to be the case with any industrial catalyst; whether it has been deregulation, newly discovered resources, or favorable changes to policy, markets grow where they are enabled to grow. In accordance with such, similar events in recent years have provided momentum for the clean energy sector.
Renewable energy however is not without its fair share of skeptics and adversaries. As is the case with any introductory technology, initial reactions are customarily defiant. Change is, at first, rarely embraced. In the United States especially, where amendments to tax policies have supported energy production for a century, the response has proven to be less than expeditious. In some states however, citizens are calling for more responsive reform. There are signs though that many corporate conglomerates are taking matters into their own hands. This bodes well for supporters of clean energy. As history has shown, political action often follows corporate innovation.
Perhaps the most substantial and unexpected corporate entity to support clean and renewable energy has been MGM Resorts International (NYSE:MGM). The multinational entertainment giant operates primarily in a city built on consumption and excess. Yet, they became the first company of their kind to name a "Chief Sustainability Officer", and are proving that alternative energy has a place in even the biggest of big businesses. Moreover, the company's CHP system is already saving them millions of dollars per year in energy costs, and encouraging growing revenues. By their own admission, they are attracting new convention clients to their properties who have been impressed by MGM's commitment to utilizing cleaner resources. MGM is demonstrating that clean energy is not only cost efficient, but also a catalyst for profitability.
This growing interest in clean and renewable energy is showing to be much more than just a passing trend. The more time that elapses, the more it appears that renewable energy sources have a substantial future. The question then becomes as follows; in a world with a never ending appetite for energy consumption, what is the most capable long term solution?
Geothermal Energy
Among the leading candidates for the construction of the world's energy future is Geothermal Energy. Geothermal Energy is a thermal energy stored in the earth. It is essentially a natural and continuous energy which assumes the form of heat, driven from the earth's core, up to the surface. As an energy source, it is nearly inexhaustible. In a report presented by a panel at the Massachusetts Institute of Technology, it was estimated that accessible geothermal energy resources in the U.S. are 130,000 times greater than the nation's total annual energy consumption. It is safe to assume then that demand would not be in danger of outpacing supply.
Furthermore, geothermal power is cost effective, reliable, sustainable, and environmentally friendly. In the event that a stable and safe method of fracking (basically the fracturing of rock by a pressurized liquid) can be developed, approved, and applied, then one could unlock the true potential of geothermal energy by way of Enhanced Geothermal Systems (see below). Since geothermal energy is essentially just continuous heat, this could enable geothermal power plants to be established almost anywhere. That is a luxury that neither wind nor nuclear power could claim for themselves.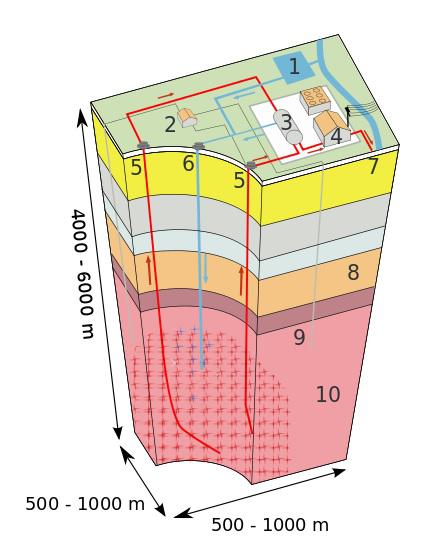 (In the above diagram of a geothermal system 1 is a reservoir, 2 is a pump house, 3 is a heat exchanger, 4 is a turbine hall, 5 is a production well, 6 is an injection well, 7 is hot water/district heating, 8 is porous sediments, 9 is an observation well, 10 is crystalline bedrock)
Investing in Geothermal Energy
When considering a long term investment into geothermal energy one must first examine U.S. Geothermal Incorporated (NYSEMKT:HTM).
U.S. Geothermal Incorporated is a renewable energy company focused on developing, owning, and operating, clean and sustainable electric power from geothermal energy resources. They are a company in possession of highly capable and experienced executives, as well as a company with relatively healthy finances. As of the period ended on June 30, 2013 the company possessed total assets in excess of 240 million dollars against total liabilities of approximately 117 million dollars (25 million current and 92 million long-term).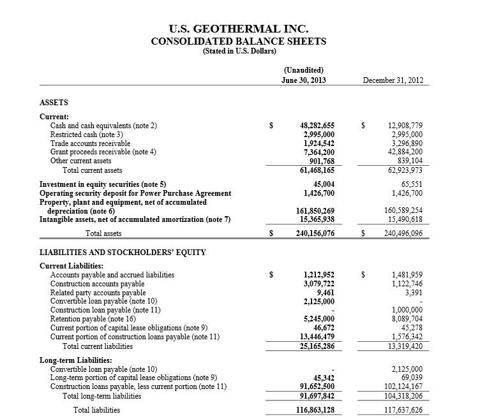 In addition, the company currently generates healthy revenues from plant operations and sales.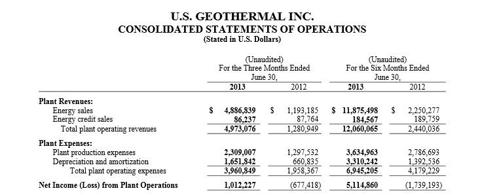 An Overview of U.S. Geothermal Incorporated
The company was first incorporated in 2002 and has always been committed to its principal objective; striving to create enhanced value for shareholders and promoting a clean environment.
The company is led primarily by two men; Dennis Giles and Doug Glaspey. Mr. Giles serves as the companies CEO and Director, a position he has held since 2011. He posseses a Bachelor of Science Degree in Mechanical Engineering, as well as an MBA. In addition to his duties at U.S. Geothermal, he is also an Executive Board Member at the Geothermal Resources Council, and previously served as the Chairman of the Board for the Geothermal Energy Association in Washington. He has over 30 years of experience in management, operations, maintenance, engineering, construction and administration of power and petrochemical plants and their related facilities.
Mr. Glaspey is the Co-Founder, President and Chief Operating Officer of the company. He holds a Bachelor of Science Degree in Mineral Processing Engineering, and an Associate of Science Degree in Engineering Science. His has experience in institutional finance, administration, production management, resource exploration programs, feasibility study analysis, and environmental permitting. He has formed, and served as an executive officer of, several private companies in the United States. These companies include, but are not limited to, Drumlummon Gold Mines Corporation and the Black Diamond Corporation. He has over 34 years of professional experience.
Alongside these two men is a qualified team of executives and directors whose expertise ranges from administration and finance to engineering and product development. This team has developed, or is currently in the process of developing, multiple geothermal projects:
The Raft River Geothermal Project is located in southern Idaho at the site of a former U.S. Department of Energy geothermal installation. The company currently owns and/or leases approximately 8.2 square miles of land with a proven geothermal reservoir capable of producing up to 110 megawatts of power. U.S. Geothermal acquired the project in 2002; construction of a 13MW net capacity power plant began in June 2006, and commercial power generation was achieved on January 3, 2008. The power is being purchased by Idaho Power Company under the terms of a 25 year power purchase agreement.
The San Emidio Geothermal Project is located in Washoe County Nevada, and achieved commercial operation on May 25, 2012. During the second quarter of 2013, the plant achieved 91.5% availability and generated an average of 9.0 net megawatts per hour. Power production totaled 18,039 megawatt-hours for the quarter. Further expansion and drilling for this project, in an adjoining space known as the North Resource Area, began in the fall of 2013.
The Neal Hot Springs Geothermal Project is located in Eastern Oregon near the town of Vale. An annual average 22 net megawatt power plant, consisting of three separate, 7.33 net megawatt modules, has been constructed and is undergoing commissioning. The facility achieved commercial operation status under the terms of the power purchase agreement on November 16, 2012. The power purchase agreement has a 25 year term. Power generated during 2013 has been paid at an average price of 99 dollars per megawatt-hour.
The El Ceibillo Geothermal Project is located 14 kilometers southwest of Guatemala City in the Republic of Guatemala. U.S. Geothermal was granted geothermal energy rights to the project in April of 2010. The concession contains 24,710 acres in the center of the Aqua and Pacaya twin volcano complex. On December 28, 2012 an environmental report titled "Construction and Operation of the Geothermal Electric Plant, El Ceibillo" was submitted to the Ministry of Environment and Natural Resources. This report detailed the potential consequences of developing a 25 megawatt power plant. It was a requirement of the contract that granted the assignment rights. A public review period concluded on January 29, 2013, without any comments or objections received. The Guatemalan Ministry of Environment and Natural Resources issued an environmental license to U.S. Geothermal on September 18, 2013.
These projects collectively represent the future of U.S. Geothermal as well as offer a foreshadowing of things to come. The geothermal plants being built offer clean, efficient, electrical power, contracted for specific durations of time, with managed usage protocols in place. They are fueled by a renewable energy source in a state of constant delivery. Furthermore, unlike coal or natural gas powered plants, the U.S. Geothermal plants produce virtually no emissions. When compared to natural gas, a 100 MW geothermal power generator offsets 190,000 pounds of nitrogen dioxide and sulfur dioxide per year. Additionally, it eliminates 780 million pounds of CO2 emissions. The reduction in emissions, when compared to coal powered plants, is even greater.
Industry Overview and Obstacles
For decades there were three factors that largely prevented the expansion of geothermal energy as a feasible energy source in the United States; location, cost, and politics.
In terms of location, the principal issue has been accessibility. Most naturally occurring sources of geothermal energy, such as volcanoes, hot springs, and geothermal reservoirs are located on the west coast in areas that enjoy an excess of electrical supply. There is no true need in many of those areas for a replacement or supplemental source of electricity. As is mentioned on the company's website, certain areas, such as parts of Oregon serviced by the Bonneville Power Authority, which distributes hydro-power, could already offer the lowest cost electricity in the country. Locations with bountiful natural resources, and environmental surplus, often have more than one option.
As it pertains to cost, prior to recent advancements in technology which have improved the efficiency of geothermal power generation, the cost of developing geothermal reservoirs, building generators, and operating them, was between six cents and eight cents per kilowatt hour. Coal and natural gas were ranging between four cents and six cents per kilowatt hour. Over the last few years, technological advancements have enabled geothermal costs to drop to about five cents per kilowatt hour. Thus, geothermal energy can currently be provided for the same cost as natural gas or coal. However, geothermal energy offers a nearly endless supply and produces far less, almost nonexistent, emissions.
Politically the obstacles have been quite simple; the political action committees and financial supporters of politicians have been hesitant to see alternative energy claim its share of the market. In the instances where exceptions have been made, via tax breaks and supportive fiscal measures, those benefits have gone largely to wind and solar power. However with growing demand among the public for energy resources that are cost efficient, in substantial supply, and environmentally friendly, the politicians will eventually have to grow more flexible and more open to change.
Risks
Geothermal energy as an investment is highly debatable. While the earths geothermal resources are, in theory, more than adequate to supply humanity's energy needs, only a small fraction of that surplus is currently accessible for profitable exploit. Drilling and exploration for deep resources remains very expensive. In addition, many people, even the proponents of geothermal energy, acknowledge that for at least the next decade geothermal energy will remain a supplemental energy option, and not a primary energy alternative. For shareholders, or potential investors, those are not attractive qualities.
Likewise, geothermal is one of the slowest growing sectors in the clean energy space. Wind, solar, and even hydro-power have grown faster in the last decade, and are better known to the public. So it would be misguided for a potential investor to expect the same sort of spectacular growth in geothermal energy that has been seen recently in those other sectors. Expectations here, as an investor, should be congruent with the growth expectations of the industry as a whole.
Potential Rewards
The geothermal energy marketplace is a small one. In fact, other than U.S. Geothermal Incorporated, only two other companies in the sector are publicly traded. Both of those companies, Continental Ridge Resources and North Pacific GeoPower, are traded on the Toronto Stock Exchange. Therefore, there are few competitors, even in the private sector, competing with U.S. Geothermal for market share.
Furthermore, U.S. Geothermal's expansion and success in Latin America is significant. Among the regions where clean energy investment has been supported, and where clean energy has been utilized, Latin and South America is among the highest. Success and growth in their Guatemalan project could lead to considerable expansion in the region. That development, over the next three to five years, could be pivotal to the company's potential progress and profit.
Lastly, much of successful investment is contingent upon entry points. U.S. Geothermal currently carries a PPS of only .46 cents. In recent years, the stock has traded as high as 1.80 per share without any real significant structural changes. Back in late 2007, the stock even traded upwards of four dollars per share. It would not be unrealistic, based on continued growth, fiscal health, and ongoing public demand for clean energy initiatives, to see the stock trading (with support) at twice its current level within 12 months. Beyond that, although largely dependent on the emergence of geothermal energy as a feasible commercial energy source supported by government subsidies, earnings could continue to grow exponentially.
Conclusion
There are two types of long investments; those you buy, and those you watch. The one's that give you a reason to buy have upcoming catalysts, near term growth objectives, and active plans for future revenues. Whereas the ones that you watch are less active. They have interesting long-term prospects, but the potential to be bought exists at a later date. In fairness, U.S. Geothermal, for most investors, is a company to watch. However, that is not the case for all investors.
I am not a passionate advocate for the environment. In fact, I don't have a single environmental cause that I support with any measurable significance. It would be unfair to true environmentalists for me to claim otherwise. However, what I do believe in is the implications that social catalysts can have on the market. I believe that the global movement to utilize clean and renewable energy is going to continue to evolve and grow. After all, if MGM can endorse sustainable energy in the modern day Gomorrah of consumption, then the positive message of renewable resources is truly resonating everywhere. In my mind, that makes future energy efficiency an inevitable candidate for reform.
Consider what Geothermal Energy is; a renewable and endless heat based energy source most accessible in areas of particular landscape. Where there are volcanoes, hot springs, geysers, and tectonic plate fractures, there is reachable geothermal energy. To anyone who has ever been to Latin or South America, you know that such landscapes exist there in abundance. You also know that the political climate in many of those countries is more open to alternative energy sources; assuming they can subsidize and control it of course. Now consider that U.S. Geothermal Incorporated has already made headway in Guatemala. One could deduce that big things exist on the horizon for the partnership between U.S. Geothermal and Latin America.
While one shouldn't discount the prospect of geothermal energy growing in the United States, it is likely south of the border where the growth is poised to move at a considerably faster rate. That is what makes U.S. Geothermal a potential investment right now.
U.S. Geothermal Incorporated is a moderate risk, high reward investment for the long term investor. For the sake of this article specifically, it is best to define "long term". In this case, long term would be a period of time no less than five years. The principal risk is not so much one of loss, but one of stagnation. The principal reward however is one not only of gain, but of growth. The clean energy movement is here to stay, and in U.S. Geothermal an investor has the chance to support a company that has been a part of that movement from the beginning. For the patient and open minded investor, U.S. Geothermal Incorporated is a speculative venture worthy of additional consideration.
Disclosure: I have no positions in any stocks mentioned, and no plans to initiate any positions within the next 72 hours. I wrote this article myself, and it expresses my own opinions. I am not receiving compensation for it (other than from Seeking Alpha). I have no business relationship with any company whose stock is mentioned in this article.
Additional disclosure: Please note that I am an economist and market analyst. I am not, by any means, an energy expert. The technical facets of this article are derived from my research and the corresponding data reviews. All statistics and cost analysis detailed or implied herein are a result of the most relevant and recent data to which I had access.