A Bank Fit For Investment
At the moment, banks may be posing to be one of the best opportunities for investors. The reason being that during the post crisis period, banks have delivered the worst worldwide shareholder returns out of all industries. This caused their prices to fall drastically. Though many banks, like Bank of America Corporation (NYSE:BAC), have started recovering and are back on track, their prices are still depressed due to the shattered investor confidence. This could provide investors with a great opportunity to earn a higher return as the banking sector revives.
Net Interest Yield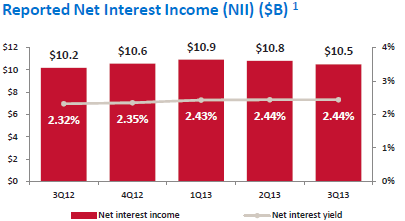 Source: Bank of America Company Presentation
The bank has been able to steadily increase its net interest yield on the back of higher yields earned on discretionary portfolios and increased commercial loan balances. Moreover, the reduction in long term debt by 7.1 billion along with lower rate of 0.1% being paid on deposits in the third quarter of 2013, as compared to 0.19% in the corresponding quarter last year, has contributed to the increasing yield ratio. Long-term debt is expected to continue to decline in 2014 based on scheduled parent company debt maturities of $40B through the end of 2014.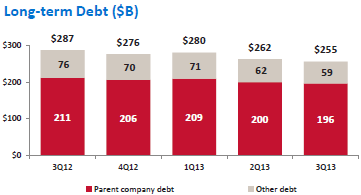 Source: Company Presentation
Non-Interest Income
Surprisingly, the bank's non-interest income comprises of more than 50% of the bank's total revenue base with major contributions being made by its investment and brokerage services, service charges and card income. The increase in long term assets under management to 10.3 billion in the third quarter of 2013 compared to 5.8 billion in the same quarter last year has drastically increased income derived from the bank's investment and brokerage wing. Higher market levels and increased transactional activity also contributed to the increase in income. Conversely, card income has gone down as a result of the bank's exit of consumer protection products. Service charges, contributed by the bank's consumer and banking segment, also make up a significant portion of the non-interest income. Service charges remained relatively unchanged as the net impact of consumer protection products, primarily due to charges in the prior-year period, was offset by the allocation of certain card revenue to GWIM for its clients with a credit card.
Although the uncertainty regarding the quantitative easing and impact of the eurozone prevails, the bank can achieve further growth in its assets under management (AUM) from emerging markets where AUM grew by 16% last year with China being the leader of this double digit growth. Concentrating on emerging markets is likely to provide significant growth in the bank's non-interest income.
Asset Quality Trend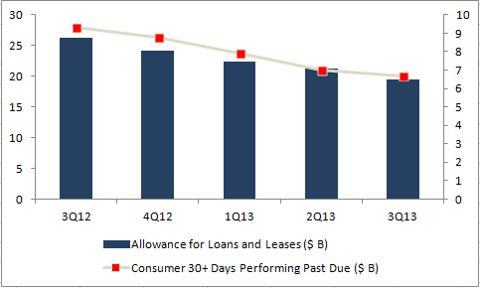 Source: Company Presentation
The bank's asset quality continues to improve as it has already written off a major chunk of the non performing loans in the previous quarters. This may have suppressed its margins in the past but the bank has a cleaner balance sheet now with fewer bad loans. Non-performing assets have plunged to 0.35% of total loans in the recent quarter of 2013 compared to 1.18% in the same quarter last year. In fact, the bank's risk-adjusted margin improved to 8.37% in the third quarter of 2013, compared to 7.66% in the same quarter last year, on the back of historically low net charge-offs. The consumers that have not yet paid their outstanding balances continue to exhibit a decreasing trend and so do the allowances provided for loans by the bank. The bank is heading towards a healthier future with most of the junk wiped out of its balance sheet.
Liquidity position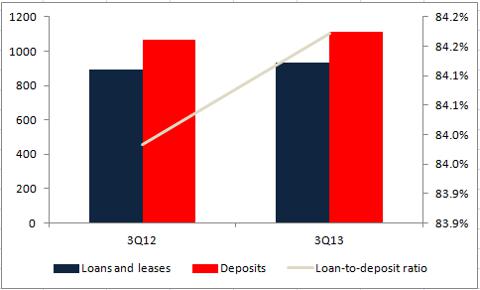 Loan-to-deposit ratio, bank's liquidity statistic, hovered around 84% for Bank of America. The bank is trying to play safe and maintain a liquidity cushion by lending less than deposits at hand so it has the capacity to absorb an unforeseen event or losses.
Basel 3 Regulatory Capital Rules
Banks are one of those financial institutions that are highly sensitive to regulatory risk, as new regulations can inflict material costs. Effective from January 1, 2014 Basel 3 will materially change the bank's Tier 1 common, Tier 1 and Total capital calculations. They are aimed at enabling banks to maintain a strong capital base.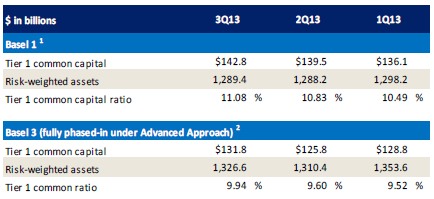 Source: Company Presentation
Basel 3 introduces new minimum capital ratios and buffer requirements, proposes a supplementary leverage ratio, changes the composition of regulatory capital, expands and modifies the calculation of risk-weighted assets for credit and market risk (the Advanced Approach).
Tier 1 Common Capital
To be in line with the international Basel framework, the rule included a new fundamental minimum ratio of common equity tier 1 capital to risk-weighted assets of 8.5%. Considering the quality aspect, common equity tier 1 capital is the most loss-absorbing form of capital. The bank can increase its Tier 1 common capital ratio by one bps on a given date by a reduction in risk-weighted assets of $1.2 billion. Conformance to the Basel 2013 Rules added approximately $37.2 billion in risk-weighted assets and reduced the Tier 1 common capital ratio by approximately 114 bps.
However, Bank of America still maintains a strong footing in this area. In fact, the higher and increasing level of this metric for Bank of America means that it continues to get financially stronger with every passing quarter. This will better equip this bank to continue lending to creditworthy households and businesses even after absorbing unforeseen losses and during recessions.
Proposed Supplementary Leverage Ratio

The statute now also requires the reporting of new minimum supplementary leverage ratio that considers off-balance sheet risk exposures, specifically for large internationally active banks like Bank of America. It is expected that the bank will be able to meet the expected minimum regulatory requirements.
Conclusion
BAC is trading at a P/B of 0.68 as compared to the industry average of 2.88. Considering the fact that the company has significantly improved its asset quality and most of the junk has been wiped out of its balance sheet, the stock should not trade at a discount to its peers. Therefore, I recommend buying this stock.
Disclosure: I am long BAC. I wrote this article myself, and it expresses my own opinions. I am not receiving compensation for it (other than from Seeking Alpha). I have no business relationship with any company whose stock is mentioned in this article.