We already briefly described (here), but new evidence shows that economic policy mistakes are doing real harm to the economy. But these are not the policy mistakes you usually hear about, the 'exploding' deficits and debts, the long term entitlement problem, the endless money printing.
Now, the mistakes are actually of quite a different kind. There is a large gap between what the economy can produce (called potential output), and what it actually produces. Whilst there are some methodological issues attached to measuring potential output, there is little doubt that the economy could produce substantially more if all production factors were employed.
Three economist working at the Fed have taken a shot at this, the result is visible in the graph below: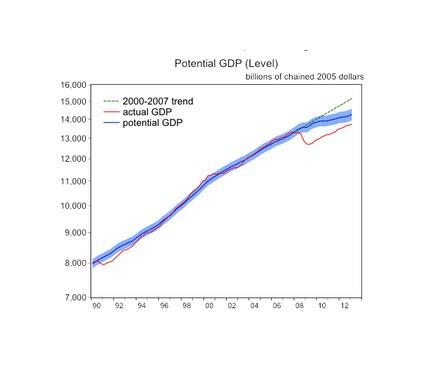 You'll first notice that the 2008-9 recession caused a substantial gap between actual and potential output. That's not a surprise, households were deleveraging, cutting back spending, to repair balance sheets which took a $9 trillion hit from the housing crash. In response to decreased demand, companies cut back production, employment and, investment.
The latter is important in explaining a second noteworthy thing, you see a growing gap between trend output (from before the recession) and potential output. That's a story you don't hear often in the press, and it's a particularly damaging one. It shows the long-term damage the recession and policy mistakes are doing to the potential production capacity of the economy.
How? Well, as long as actual production is way below potential production, there are unemployed production factors (people, plant), and the longer this situation last, the more this is affecting the potential production capacity itself:
Unemployed workers become detached from the labor market, lose skills or motivation (or both) and are discriminated against (the longer you've been unemployed, the more difficult it is to get a new job).
Business has less incentives to invest in new plant, which means less capacity will be build and the existing capacity will age faster and be less productive.
Here is what the authors concluded:
we estimate that potential GDP is currently about 7 percent below the trajectory it appeared to be on prior to 2007.
And if you look at the graph, you see that this breach is growing, not diminishing.
Policy mistakes
The single biggest policy mistake is not keeping demand close to potential output. We hear people arguing that doing so would induce accelerating inflation (insofar the demand stimulus is coming from the Fed) or put public finances on an unsustainable path (insofar the demand stimulus comes from fiscal policy).
The inflation fears are misplaced (we have dealt with that in numerous articles), but monetary policy is also rather ineffective under these circumstances (the Fed can't lower interest rates anymore and the effectiveness of QE is modest at best). This leaves the fears of unsustainable public finances as the main stumbling block.
These fears have actually resulted in fiscal policy being a drag on demand, rather than adding to it, as you can see in the figure below. There is considerable fiscal contraction going on in the US, to such an extent that even the IMF warned against it, calling it "excessively rapid and ill-designed."
We are not arguing that the public finance fears are entirely without merit (we are planning to write a separate article treating this in more detail). However consider also the following:
The U.S. austerity measures are lowering actual output, that is GDP growth is lower than without austerity. That is, austerity in and by itself lowers tax receipts and increases the public debt/GDP ratio
The U.S. austerity measures are lowering potential output. Many people are worried about all that public debt that the next generation will inherit (leaving out of the picture the fact that they will also inherit most of the Treasury bond). However, as is now crystal clear, they will also inherit a reduced production capacity as a result of the damage done to the long-term production capacity by austerity and insufficient demand.
As the authors of the study argue, we can't treat supply as an exogenous variable, it is affected by policy choices, and poor policy choices are doing long-term damage to present and future production capacity.
Disclosure: I have no positions in any stocks mentioned, and no plans to initiate any positions within the next 72 hours. I wrote this article myself, and it expresses my own opinions. I am not receiving compensation for it (other than from Seeking Alpha). I have no business relationship with any company whose stock is mentioned in this article.