During economic recovery, you typically see small-cap investments outperforming large-cap investments. That's been the case since the bear's bottom. In fact, the iShares Russell 2000 (NYSEARCA:IWM) began logging larger gains than its big brother, the S&P 500 SPDR Trust (NYSEARCA:SPY), in March of 2009. (Click to enlarge)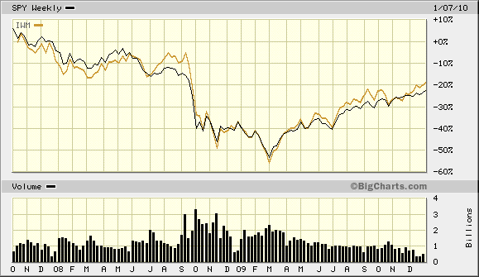 Yet a more skeptical view of the economy looks to things like the well-being of transportation stocks. When the transporters are "taking" more goods to the makers of industrial products (i.e., "industrials")… and profiting from their transporting endeavors… many believe that the economy is reviving.
This is a major component of Dow Theory; that is, when both the Dow Transports (NYSEARCA:IYT) and the Dow Industrials hit higher highs together, you've got yourself a cyclical uptrend.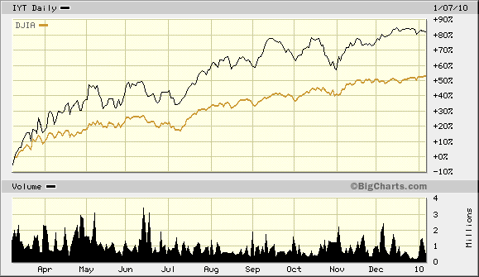 Others believe that the greatest evidence of economic strength in the modern world occurs when there's rising demand for semiconductors. In fact, rising semi share prices often signify widespread improvement in economic conditions.
Consider the sparkling capital appreciation of the NASDAQ. The iShares GS Semiconductor Fund (IGW) in 3 months time… and mostly in the last 5 weeks… has slammed the NASDAQ by nearly 700 basis points!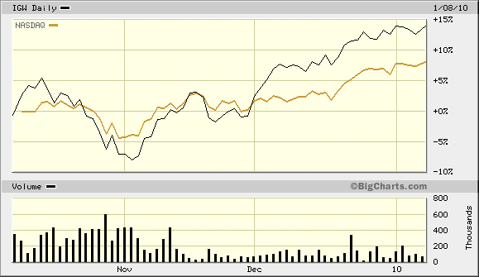 Now for the more somber news regarding investment risks. Everyone expects interest rates across the yield curve to climb in 2010. The only differences of opinion that you'll find deal with the extent of the rate moves.
However, unemployment is still at 10% and Americans lost another 85,000 jobs in December. Expect the dollar to remain in a trading range. Expect the Fed to wait a long time on raising target rates. And expect cautious optimism going into earnings season.
Disclosure Statement: Gary Gordon, MS, CFP is the president of Pacific Park Financial, Inc., a Registered Investment Adviser with the SEC. The company and/or its clients may hold positions in the ETFs, mutual funds and/or index funds mentioned above. The company does not receive compensation from any of the fund providers covered in this feature. Moreover, the commentary does not constitute individualized investment advice. The opinions offered herein are not personalized recommendations to buy, sell or hold securities.