With its once-revered electronics business flagging, Sony Corp. (NYSE:
SNE
) is placing a huge bet this year that 3-D technology will vault the company back into a leadership position in the living room. Will it be successful or will it be another lost opportunity from the former "Walkman King?"
Whether it was Apple (NASDAQ:
AAPL
) with music players, Samsung (
OTC:SSNLF
) with televisions or Amazon (NASDAQ:
AMZN
) with e-readers, Sony has repeatedly been overtaken in businesses where it was once a leader.
The shares are not expensive and trade on a price to sales ratio of 0.4 compared to Apple's lofty 4.9. Historically they have traded in a P/S range between 0.5 to 1.0. However, bad marketing (letting Generation Y slip through its fingers) and a cripplingly strong Yen has left the shares unloved. A weaker Yen this year (a strong possibility) could return the shares to a P/S of 0.8, which would equate to a share price of around $60, or a double from the current price of around $30.
In summary, we agree that no other company has as much to gain, or lose, from 3-D as Sony. However, shorter term the Dollar-Yen exchange rate will dictate this year's price trend in Sony.
A break above $30 would indicate that the Dollar bulls are winning the argument. (Click to enlarge)



Source: Google Finance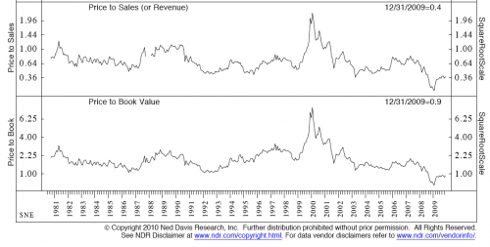 Source: Ned Davis Research
Sony executives predict the 3-D industry will grow to more than one trillion yen ($11 billion) in product sales within three years, more than 10% of the company's current revenue, helping restore profitability to a TV business that has lost money for five straight years.

They say 3-D will eventually make up as much as half of the company's TV lineup, help double its global market share and pull it closer to Korean giants Samsung and LG Electronics Co., who have pushed the one-time television leader to third place in recent years.

The challenge for Sony and the other electronics makers: persuading people to adopt 3-D so quickly after hundreds of millions of households just made the transition to high-definition video. Consumers will have to buy brand new televisions, which, according to some estimates, could cost between 10% and 20% more than the high-definition TVs currently on the market.

"A lot of stars are going to have to align over time before 3-D in the home can start breaking forth in any significant fashion," says Ben Bajarin, consumer-technology analyst at research firm Creative Strategies.

Source: Wall Street Journal
Disclosure: We hold a long position in SNE in our model Master Beacon Portfolio