The stock of Sturm Ruger (NYSE:RGR) has had a heck of a run over the last year due to the gun-buying frenzy that started late in 2012. The start of this frenzy was the Obama presidential victory in November of 2012 followed by the Sandy Hook Elementary shootings in Newtown, Connecticut in December 2012.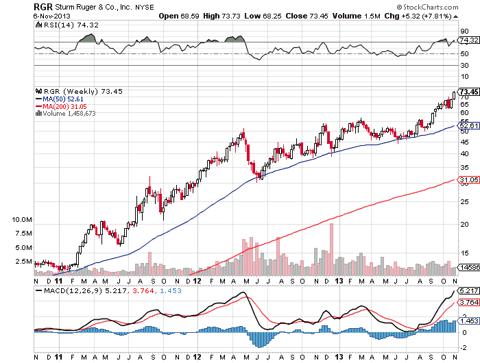 Upon the re-election of President Obama, there was widespread belief by gun enthusiasts that the President would make gun control a key initiative for his second term in office. This belief was then reinforced following the Sandy Hook Elementary shootings. As is shown from the chart of FBI NICs firearm background checks below, gun sales skyrocketed starting in November 2012. In fact firearm background checks were up +49% in December 2012 and +81% in January 2013. But stricter gun control measures never materialized as President Obama recognized in the spring of 2013 that stricter gun control an un-winnable battle with Congress.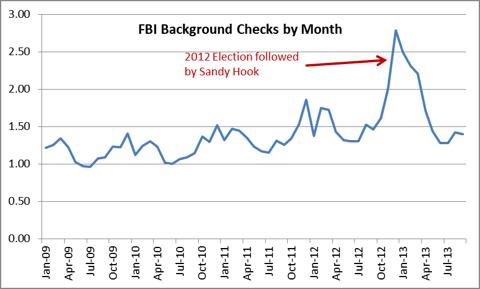 As concerns about stricter gun control faded so did gun sales. During the course of 2013 gun sales began to settle down and started to decline beginning in June 2013, well before the anniversary of the late-2012 buying binge.
Something is Rotten in Kentucky
Any gun stock bull that reads the news headlines will quickly respond, "Now just wait a minute, the NICs background checks from October were actually up, buddy." But sometimes one has to peel the data onion apart to understand it. NICs firearm background checks for October were indeed reported by the FBI as up +5% in October compared to one year ago. But in examining the underlying data, something is out of whack with the data for the state of Kentucky where firearm background checks jumped from 54,000 in September to 204,000 in October. While a lot of guns are sold in the state of Kentucky each year, this data is likely inaccurate. Kentucky is one several states that require "purpose code permits" for weapons. The FBI computers seem to be handling this data inconsistently. In 2013 the Kentucky background checks dropped way off in March only to bounce up in October. Adjusting for the bounce in October, overall NICs firearm background checks likely declined about -5% year over year. The industry trade group, National Shooting Sports Foundation, should report more accurate, adjusted number in the next week.
A Gun in Every Pocket and Full Shelves in the Stores
Rather than parsing through the government's data warehouse, all one has to do to understand that the gun industry has slowed considerably is talk to any Tom, Dick and Dirty Harry in the industry. The hangover from the frenzy is obvious. From small gun shop owners to big-box retailers such as Cabela's or Bass Pro Shops, the story of slowing gun sales is consistent. The following article from the Anniston Star summarizes conditions with small gun shop owners.
Cabela's also recently reported weak gun sales as the basis for a challenging September quarter and a poor outlook for their December quarter (conference call transcript) The company's president offered the following in the most recent conference call regarding the September quarter, "For the quarter, consolidated comp store sales increased 3.9%. The increase in comp store sales was broad based, as sales increased in nine of 13 merchandise subcategories. For the quarter, firearms comped down 2.5%, while we saw solid performance from ammunition, men's apparel, hunting apparel, and fishing." Later in the call, the CFO expanded on the December quarter outlook in response to a question, "…we're anticipating is, as you move forward through this quarter and anniversary the election and then the Newtown tragedy that happened in December, obviously, guns peaked - guns accelerated as we moved through the quarter. So we expect the quarter to be largely impacted by guns and we're actually anticipating it to get worse…"
Even Good CEO's can be Overoptimistic
Michael Fifer is the CEO of Sturm Ruger. He has earned an "A" in running the company thus far. But even the best CEO's can be overoptimistic about their company's growth prospect. Heck, what home building company wasn't optimistic about sales in 2006? In the company's most recent conference Mr. Fifer discusses his views for 2014, "…What I do know is that we've got some exciting new products coming out. We've got the capacity to handle those products on an incremental basis, and so there's potential for good solid growth from Ruger in the coming year, but I have no more idea than you do what's actually going to happen." At least Mr. Fifer wisely hedges his view with the latter part of this comment (conference call transcript).
The following data from the Sturm Ruger 10-Q. provides unsurprising evidence of a dramatic deceleration in the company's business over the last several quarter.
| | | | | | |
| --- | --- | --- | --- | --- | --- |
| | 2013 Q3 | 2013 Q2 | 2013 Q1 | 2012 Q4 | 2012 Q3 |
| Units Ordered | 390,400 | 525,600 | 1,067,500 | 1,069,200 | 318,300 |
| Units Shipped | 553,000 | 577,200 | 502,300 | 467,300 | 425,500 |
| Distributor Inventory | 95,500 | 64,200 | 47,300 | 59,200 | 96,000 |
The table clearly shows that orders by distributors have slowed from over 1 million units in the first quarter of 2013 to less than 390,000. The table also shows that distributor inventory is finally back to the same levels as the third quarter of 2013, prior to the gun frenzy. While Sturm Ruger can continue to fill distributor shelves to maintain its revenue, at some point the distributors will say "no thanks". In fact it appears the build-up of distributor inventory is exactly what the company is planning. The following comment by Mr. Fifer in the conference call details this intention, "We believe that both Ruger and our independent distributors would benefit by having more finished goods and inventory to allow for rapid fulfillment of retail demand. For the 12 months ending September 28, 2013, the distributors averaged approximately 30 inventory turns on Ruger products, which significantly exceeds the six to eight turns that the company deems appropriate for its distributors. At six to eight turns, we believe the distributors should be holding about 300,000 units in inventory." But given that the company is shipping 150,000 more units per quarter than distributors are ordering, the intended build-up of distribution inventory can only sustain the company's current shipment pace for a few more quarters before the distributors say "no thanks, we're full."
In conclusion, Sturm Ruger has had a long string of "beats and raises" of earnings estimates. This is the adrenaline that feeds such a momentum stock. But the question now becomes how much any future earnings beats matter into a period of declining revenue and earnings. The stock currently trades at 19 times 2014 earnings. It is a rare day when a stock sustains this high PE into such a challenging period.
Disclosure: I am short RGR. I wrote this article myself, and it expresses my own opinions. I am not receiving compensation for it. I have no business relationship with any company whose stock is mentioned in this article.