The federal government's Energy Information Administration (EIA) reported an in line decline in natural gas supplies. Stockpiles held in underground storage in the lower 48 states fell by 153 billion cubic feet (Bcf) for the week ended Jan 1. The inventory decline was the fifth in as many weeks. This has finally started to erode the record-high storage amounts, as frigid temperatures continue to chill major gas-consuming regions in the U.S.
Though the heating season officially began on November 1, 2009, net injections have continued through November on a national basis. As a result, gas in storage still remains well above the normal range at this time of the year.
The current storage level, at 3.12 trillion cubic feet (Tcf), is up 10.1% from last year's level and 11.3% above the five-year range (as clear from the nearby chart from the EIA). Current stocks are 286 Bcf above last year's level and 316 Bcf above the five-year average. (Click to enlarge)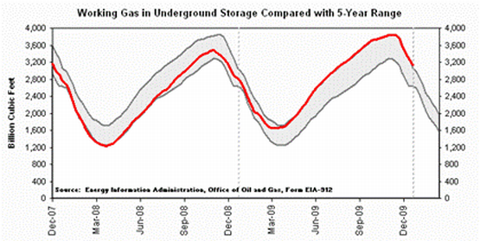 Continued strong domestic production (from a number of unconventional natural gas fields) and recessionary consumption (due to the economic downturn), particularly in the industrial sector, are at the core of the commodity's current woes. Stockpiles have gone on to create new highs this year as the economic downturn eats into demand and natural-gas producers continue to unlock new supplies from onshore natural-gas fields known as shales. Months of mild weather further weakened demand for the fuel to heat homes and businesses.
Following the EIA release, which reflected another week of relatively low holiday demand despite unseasonably cold weather, natural gas futures prices on the New York Mercantile Exchange (NYMEX) fell below the $6.00 per million Btu (MMBtu) level.
However, the commodity has fared extremely well during the past month (Dec '09), giving returns of over 35% on the back of sustained inventory drawdown. Natural gas prices ended 2009 at about $5.50 per million Btu (MMBtu), up more than 100% from their September 2009 lows. This was also helped by the news that oil major ExxonMobil (NYSE:XOM) has decided to pick up unconventional natural gas producer XTO Energy (XTO) in a $41 billion all-stock deal.
Nevertheless, we are not fully convinced about the sustainability of natural gas' recent gains, as the specter of a continued glut in domestic gas supplies (storage levels remain 11.3% above their five-year average) still weighs and the inventories remain higher compared to averages for this time of year. This translates into limited upside for natural gas-weighted companies and related support plays.
The gap between supply and demand is expected to reverse in the coming months as producers bet on forecasts for colder weather and the lagging effect of the sharp drop in domestic drilling activity takes hold.
Until then, we remain cautious on natural gas-focused E&P players such as Chesapeake Energy (NYSE:CHK), EOG Resources (NYSE:EOG), Devon Energy Corp. (NYSE:DVN), and EnCana Corp. (NYSE:ECA). We currently rate shares of these companies as Neutral.
We are positive on Anadarko Petroleum Corp. (NYSE:APC), whose deep and diversified asset base, primarily comprising unconventional resources, provides the company with substantial growth potential over medium-to-long run.
We also maintain our Neutral recommendations for land drillers such as Nabors Industries (NYSE:NBR), Patterson-UTI Energy (NASDAQ:PTEN) and Helmerich & Payne, Inc. (NYSE:HP), as well as natural gas-centric service providers such as Halliburton Company (NYSE:HAL). Although we expect the land rig count to continue with its steady rise during 2010, the large amount of excess capacity in the sector will weigh on dayrates and margins well into the year.
Oil majors like BP Plc (NYSE:BP) that have significant natural gas operations are also expected to remain under pressure until pricing and demand improve further.