One year after the worst holiday shopping season on record, retailers are no doubt breathing a sigh of relief as consumers loosened their purse strings somewhat this year. Things got off to an inauspicious start, as bargain-hunting shoppers held out for the deep discounts they have become accustomed to, and untimely weather dampened prospects for "Super Saturday," which was expected to be the biggest selling day of the season. However, a last minute surge during Christmas week and strong post-Christmas sales propelled retailers to their best month since April 2008.
As we reported yesterday, same-store sales for December increased 3.0% from a year ago, the 4th straight monthly gain after 12 consecutive monthly declines. Overall holiday (November-December) same-store sales increased 2.2% this year, after plunging 5.2% in 2008. While we are a long way from a strong recovery, results over the last few months have shown the first true signs of stabilization in the industry.
Even with a relatively strong holiday season, 2009 will still go down as the worst year on record for retail. The International Council of Shopping Centers reported that fiscal year comp sales declined 2.0% in 2009, on top of a 1.1% decrease a year ago. Since the firm began tracking retail sales in 1992, the weakest year prior to this recession was 2001, when sales increased by 1.0%. However, the firm anticipates economic recovery forces will underpin a sales improvement, projecting a gain of 3-3.5% in 2010.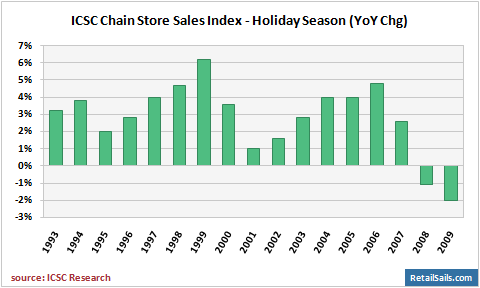 Many analysts worried that retailers would have to resort to deep discounting again to lure shoppers to the stores, but most companies kept tight control over their inventories and were able to sell merchandise at near full-price. This helped drive robust improvements in gross margins, leading several companies including Aeropostale (NYSE:ARO), TJX (NYSE:TJX) , and Macy's (NYSE:M) to raise 4th quarter earnings guidance. As a result, most retailers are much better prepared with right-sized inventories heading into the spring selling season.
Although unseasonably cold weather and snowstorms kept shoppers out of the stores for much of December, it didn't stop people from shopping online. comScore said that total holiday season retail e-commerce sales climbed 4% from a year ago to $29.1 billion, with especially strong growth surrounding Black Friday weekend and the week leading up to Christmas. Several retailers we cover mentioned strong e-commerce sales as a driver for growth in December, including Macy's (+29.4%), Nordstrom (NYSE:JWN) (+30.1%), and the Children's Place (NASDAQ:PLCE) (+54%). Online sales were not immune to the recession, posting 3 consecutive quarters of declines beginning with the 4th quarter of 2008. However, after rebounding with a 1.8% increase in the 3rd quarter this year, it looks like e-commerce gained momentum in the last quarter of 2009.
While online sales only represent about 4% of total retail sales, the e-commerce channel has become an integral part of almost all retailers' selling strategies. Though 2009 will likely be remembered for the awful sales performance, it will also go down as the year in which multi-channel retailing truly began to define a new paradigm for the industry. With social media, mobile commerce, and other fast-moving technologies enabling consumers ever more ways to shop and interact with each other and retailers, multi-channel integration will no doubt be at the forefront in 2010 and beyond.
With the holiday season in the rear-view mirror, consumers no longer have a "reason to shop" and retailers' inventories are lean, so January gains will most likely be muted, with ICSC predicting a flat to 1% year-over-year same-store sales gain. While we can safely say the worst is behind us, consumers are still extremely worried about their own finances. Until the housing and employment market show marked improvement, spending will continue to be weak and competition for discretionary dollars will be fierce.
Over the next several weeks we will highlighting some of the retail winners from 2009, and what to expect from these companies in 2010. While 2009 is a year most retailers want to forget, for some of the stronger companies it presented opportunities: off-price retailers TJX and Ross Stores (NASDAQ:ROST) took market share away from specialty retailers and traditional department stores; teen mall-based retailers Aeropostale and The Buckle (NYSE:BKE) outclassed their rivals and grew throughout the recession; Kohl's (NYSE:KSS) continues to build on its private and exclusive brands, and expanded into new markets by acquiring real estate on the cheap from bankrupt rivals. These are just a few examples of the themes we will be exploring, so stay tuned.
Disclosure: No Positions