In my search for IP monetizing companies I came across a company I had not heard of before. Investors who read my articles are already familiar with names like Spherix (NASDAQ:SPEX), Marathon Patent Group (NASDAQ:MARA) and MGT Capital (NYSEMKT:MGT). One new, compelling story in the IP monetizing sector is the entrance of a new IP player called GlobalOptions Group (GLOI).
Background
On September 18 GlobalOptions Group and Walker Digital Holdings LLC, a wholly-owned subsidiary of Walker Digital, announced that they completed the merger of the two companies. The newly formed entity will manage the patent portfolio created by Walker Digital, the research and development lab by renowned inventor Jay Walker.
GlobalOptions Group, Inc. previously provided risk mitigation and management services, including forensic DNA analysis, proprietary DNA collection products, and related research services to law enforcement agencies, federal and state governments, crime laboratories and disaster management organizations.
What makes this merger so interesting is Jay Walker's involvement. Walker founded Priceline back in the late '90s to commercialize his invention of a new pricing mechanism for perishable inventory, beginning with airline seats and other travel-related services. In the late '90s when Priceline was launched, more than a million airline seats went unused every day, despite genuine (and substantial) consumer demand at lower-than-published prices. Today, Priceline is a Fortune 500 company with a $40B+ market cap and employs thousands of individuals around the world.
Investment Thesis
The Company
GlobalOptions Group intends to change its name to Patent Properties, Inc. The company will continue to develop, commercialize and enforce its intellectual property portfolio, and create a new digitally-driven business system to establish a patent licensing platform.
Patent Properties develops and commercializes the patent and other intellectual property assets created by Walker Digital, LLC.
The Inventor Jay Walker
Mr. Walker - best known as the founder of priceline.com - has twice been named by TIME magazine as "one of the top 50 business leaders of the digital age" and currently ranks as the 11th most patented living inventor, based on U.S. patents issued.
Beginning in 1994, Walker Digital set out to invent and commercialize entirely new business solutions that relied on emerging digital tools to unlock unrealized value for consumers and businesses. The lab created intellectual property to solve enormous and complex problems in multiple industries located at the intersection of human behavior and large-scale digital networks. Over the past 20 years, Walker Digital has invested tens of millions of dollars to create what is now a broad and growing portfolio of inventions.
Patents
All of the patents owned by Patent Properties, Inc. were developed internally by Walker Digital, with Jay Walker as a named inventor on all issued patents and the lead inventor on the vast majority.
The company consists of the current, wholly-owned patent and other intellectual property assets of Walker Digital, which includes:
•377 granted patents
•94 pending patent applications
•19 active litigation matters
•a new patent licensing business - ASPATT - currently in development at Walker Digital
Walker Digital's patents cover inventions in areas such as authentication techniques, digital mapping, photography systems, internet search and advertising, online transactions, among others. They are relevant to a broad array of large and growing industries including e-commerce, gaming, mobile handsets, online services, and financial services, to name a few.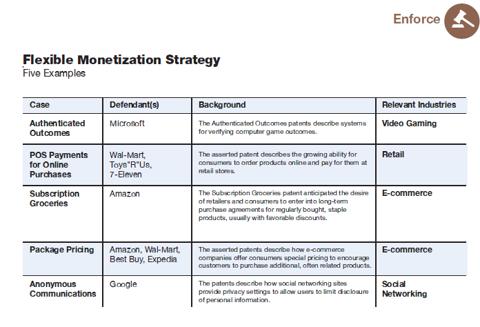 Click to enlarge
Many of Walker Digital's patents were filed in the mid-to-late 90s giving the portfolio a number of early priority dates. The portfolio includes open continuations that will allow Patent Properties to further enhance key patents and grow the portfolio. The company expects to build the portfolio over time as Mr. Walker and his team prosecute active and new patent applications with the Patent and Trademark Office.
The patent portfolio has been licensed by more than 60 companies, including industry leaders in the fields of e-commerce, financial services, video gaming, travel, computer hardware, online services, entertainment and casino gaming.
A list of the company's current patents can be found here , as well as on the Internet website of the U.S. Patent and Trademark Office at uspto.gov, which will also indicate their current status. The various terms of the issued U.S. and foreign patents will expire between 2015 and 2027.
New Patent Licensing System
The company is in the process of developing and commercializing a new patent licensing system. This entirely new, digitally-driven business system offers an alternative to the current inefficient and litigation-based model for patent enforcement and licensing.
According to the World Intellectual Property Report 2011, global royalty and license fee revenues reached $180B in 2009. Yet, a significant number of patents are stuck on the commercial sidelines without any hope of generating a single dollar of licensing revenue.
The World Intellectual Property Organization estimates that intangibles owned by U.S. companies are now worth $14.5 Trillion, paving the way for "new IP market intermediaries" that rely on "collaborative mechanisms."
It is the company's belief that the current process by which inventors try to earn a fair return from patents is dysfunctional and largely inaccessible to most patent owners, while at the same time users of patents are equally unhappy with how the system functions.
Most of the friction in today's systems comes from the need for the court system and a judge to determine with certainty what a specific patent covers - exactly what the property is and where the borders are - and whether another company is practicing precisely what is covered by the patent.
Financials
Since 2011, Walker Digital has generated $65 million in revenues from licensing and litigating its patent portfolio as well as from patent sales. Patent Properties will pursue the previously filed litigation and expects to file additional patent infringement cases before the end of 2013.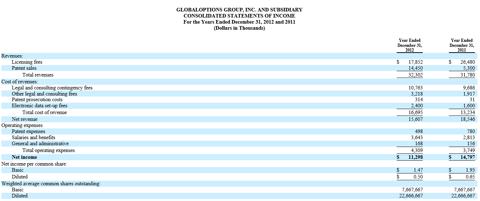 Click to enlarge
Last month the company also announced the completion of an $11.6 million primary private placement from the sale of 3,860,616 shares of common stock at $3.00 per share. Investors also received 50% warrant coverage exercisable for a period of three years at $3.00 per share. The warrants are subject to a call if the stock trades above $6.00 per share for 20 of 30 business days once the underlying shares are registered. The company intends to use its approximate $25 million in cash, which comprises the net proceeds from the private placement plus the cash currently on GlobalOptions' balance sheet, to fund operations.
Under the merger transaction, all of the outstanding membership interests of Walker Digital Holdings, LLC were exchanged for shares of GlobalOptions common stock and shares of a new Series B Preferred Stock of GlobalOptions. On a non-diluted basis, Walker Digital owns approximately 64% of the economic interest and 80% of the voting interest of the newly formed entity, respectively. Walker Digital may also receive an additional 2,166,667 shares subject to certain performance conditions. At the completion of the transaction and the primary private placement, the company has 41,976,130 outstanding shares on a fully diluted basis.
The company has sufficient funding but a significant amount of resources will be used to enforce the company's patents.
Final Note
Patent Properties, the proposed new name of GlobalOptions Group is a company to watch closely going forward. Right now it is a thinly traded stock, with a market cap on a fully diluted basis of more than $120 million.
The company offers a unique approach to the current patent litigation system. The introduction of an IP marketplace in the nearby future will serve the commercial interests of all parties - patent owners and patent users alike. The new system will be designed to live entirely outside the courtroom and will not require any changes to the law or to the Patent and Trademark Office process.
Risks
Jay Walker has significant experience as an inventor. The internal development of new inventions or intellectual property that Patent Properties will seek to monetize would likely require significant capital and would take time to achieve.
The failure to obtain or maintain intellectual property rights for the company's inventions would lead to the loss of investments in such activities, which would have a material and adverse effect on the company.
Disclosure: I have no positions in any stocks mentioned, and no plans to initiate any positions within the next 72 hours. I wrote this article myself, and it expresses my own opinions. I am not receiving compensation for it (other than from Seeking Alpha). I have no business relationship with any company whose stock is mentioned in this article.