By Guy Adami
We mortified some but educated many by writing about Hans Christian Andersen and the opportunities in the solar space on Dec. 18. On that day we highlighted First Solar (NASDAQ:FSLR), JA Solar (NASDAQ:JASO), and Trina Solar (NYSE:TSL) as three ways to participate in the sector. Since then enough things have happened to warrant an update.
On Dec. 21, First Solar and NRG Energy (NYSE:NRG) announced the start of commercial operation for the photovoltaic solar project in California. Of course, the very next day Sen. Dianne Feinstein (D-Calif.) introduced legislation to protect 1 million acres of land in the Mojave Desert. Not surprisingly, the headlines generated by Feinstein's bill were not exactly bullish for the solar names.
Regardless of whether her bill passes, chances are that very few solar or wind plants will be built in the protected area. Clearly, she fears for the safety of the Joshua Tree. (For those keeping score at home, Las Vegas takes up residence within the Mojave Desert as well.)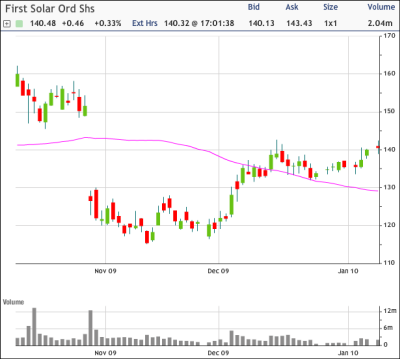 Later that day, Wedbush Morgan analyst Christine Hershey wrote a cautious piece on First Solar. She pointed out the risks to various solar projects FSLR had in the United States and said four of them had been terminated in California by the Bureau of Land Management. The terminated projects range in capacity from half a gigawatt to one gigawatt.
Hershey also said FSLR recently withdrew its application for a 150-megawatt project in San Luis Valley, Colo. She noted that about 70% of First Solar's revenue comes from Germany and is worried that a change in tariff policy could lead to a drop in orders.
However, she did leave her EPS forecast at $6.28 for this year. Placing a 20 multiple on the stock gets you to her price target of $125.
Fast-forward to today and we have UBS chiming in on First Solar. UBS believes that the concerns over the Bureau of Land Management report are overblown. The financial firm said the agency did not reject four of First Solar's plans for development based on merit, but as a follow-up to the company's no-go decision. UBS reiterated its "buy" rating and price target of $150.
FLSR closed at $135.67 on Dec. 18. Today we find the shares trading on either side of $141. It is worth pointing out that the UBS note was written not only in response to Wedbush Morgan's report from December but also to a Hapoalim Securities piece on Jan. 4. Hapoalim said its research indicated that a significant percentage of solar pipeline projects acquired from Optisolar had either been rejected by the Bureau of Land Management or will not receive U.S. grants. Hapoalim has a price target of $90 on the shares.
While that saga plays out, let's take a look at the other names we've been watching. JA Solar closed at $5.73 on Dec. 18 and is currently trading around $6.50 after making a 52-week high of $6.95 yesterday. The company will be presenting at a Needham Growth Stock Conference in New York City on Jan. 12.
Trina Solar has continued its incredible run in the few weeks since we wrote our piece on the sector. TSL closed at $51.53 on day that article ran and yesterday made a new 52-week high of $59.88, challenging the $60 level for the first time since the fall of 2007.
At any rate, after all this news in the last couple of weeks, I thought it was worth revisiting the shares we highlighted last month. As I like to say, folks, forewarned is forearmed!
Disclosure: I do not have positions in any of the stocks mentioned.
(Chart courtesy of tradeMONSTER)