Just like Avatar is a bad Sci-Fi movie in 2-D and a phenomenon in 3-D, December's employment data can be very different if you're wearing the right glasses.
The December employment report was certainly a surprise result, with 85,000 jobs being loss versus the consensus estimate of a 10,000 job gain. It all goes to show that these days, much of the economic data we see needs to be taken with a grain of salt. I'd have to chalk up much of the surprise 4,000 job increase in November (revised from a loss of 11,000 jobs), and subsequent 85,000 job loss in December, to miscalculations of seasonal adjustments in the employment data.
During November and December there are typically big changes among companies, particularly in retail and trade/transportation, to acquire enough manpower to handle the holiday shopping season. It seems as though there was a surprising amount of pre-hiring for Black Friday and the Christmas season in November, causing the BLS (Bureau of Labor Statics) to under-compensate for the seasonal adjustment, while hiring trailed off in December, causing an over-compensation. The adjusted versus non-adjusted retail and trade/transport job changes are as follows:

Click to enlarge
Notice that in December there were actually 300,000 jobs gained between the two industries while it was recorded as a 47,000 seasonally adjusted job loss. Similarly, the volatility in today's economy likely led to difficult calculations for construction and other industries that slow down in the winter.
Therefore, November was probably not as good as the data made it look, and December was not as bad. For simplicity's sake, we are inclined to scrap the last two months' results and say we lost approximately 40,500 seasonally adjusted jobs on average each in November and December. Looking at it this way, one could say that the last two months have been significantly better than the rest of 2009.
Perhaps the market stopped buying into these reports months ago, but nevertheless, the sour December result could set us up for some surprises in the coming months. For select staffing names, that could equal beating the consensus. Staffers deal largely with temporary hiring, which have showed large gains over the past three months. Some staffers have already shown clear signs of improvement and 2010 is looking much better than 2009 for them, even if we haven't quite started gaining jobs just yet.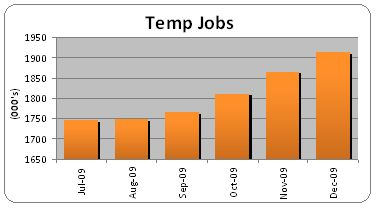 KForce (NASDAQ:KFRC)
This relatively small staffer is not only well positioned within strong industries, but management is also executing well, leading to improving profitability. Just as medical care lost little demand throughout the recession, Kforce's Health & Life Sciences segment has and should continue to be a consistent performer, aside from a modest speed bump resulting from consolidation in the pharmaceutical sector later in the year. Meanwhile the stabilizing financial sector has turned that segment from a big loser to a winner. Meanwhile, the Company got the green light from the Department of the Interior to participate in government business, following a review in December. Other highlights include:
• Revenue (-9.0% y/y, above consensus)
• Debt (cut to $12.8 million from $24.9 million in 3Q)
• SG&A (down to 26.9% of sales in 4Q from 27.5% in 3Q)
TrueBlue (NYSE:TBI)
This one isn't for the faint of heart. During the recession, TrueBlue was extremely troubled since its business deals mostly with blue collar jobs like construction and manufacturing, which were among the hardest hit sectors of the job market. In addition, TrueBlue has an extremely leveraged income statement (modest revenue growth can lead to big EPS gains and vice versa).
As conditions have begun to improve, TrueBlue's top and bottom lines have grown by leaps and bounds. This has all been achieved with very little improvement from construction jobs. With a turnaround in construction, look for more boosts to sales and improved gross margin. Other factors that can help TrueBlue include continued increases in manufacturing activity, a weak dollar driving goods production for exports, and employment opportunities from the Government's stimulus plan, which the TrueBlue is actively seeking. Highlights of its third quarter include:
• Revenue (+15.3% q/q)
• SG&A (down to 22.8% of sales from 25.7% q/q)
• The Company has more than $100 million of available liquidity and no debt
Disclosure: none