A critical part of managing a long-term dividend portfolio is establishing (and adhering to) an exit strategy. In our opinion, "Buy and Hold" is not a viable strategy. A proper exit strategy should not only establish a plan to exit a losing trade, but it should also include rules about taking profits on a winner. Managing a long-term dividend portfolio is a constant balancing act between maximizing your income and protecting your capital base. Many dividend investors focus solely on the income number and they leave their hard-earned capital in the hands of Mr. Market. Selectively taking profits when you can will give your capital base some long-term stability and it will help protect you from Mr. Market's mood swings.
Generally speaking, we want to let our winners run. But there are times when a stock rallies (and valuations expand) significantly over a short period of time and its prudent to take some chips off the table immediately. A good rule of thumb that we use for taking short term gains is to sell a stock that has increased over 5 times its dividend yield in a 6-month period. For example, if a stock has a dividend yield of 4.0% and it rallies over 20% within a 6-month period ... it's a good time to take some profits. The theory is that if you can lock in 5 years of dividend payments in a 6-month time frame, you should do it. You can then reallocate this capital into a dividend stock that is trading at a more reasonable valuation to replace the lost income.
Profit Taking Candidates
As previously discussed, we maintain a Buy Zone Watch List of stocks that we want to buy. We also maintain a Profit Zone Watch List of stocks that we feel are overvalued and that we consider to be good profit-taking candidates.
That said, we recently scanned our entire dividend stock universe and came up with a list of 12 dividend stocks that investors should consider cashing in right now. These profit-taking candidates meet the parameters below:
Parsimony Rating > 60
Dividend Yield (at 6-month low) > 2.5%
Yield (Profit) Multiple > 5.0x
Current P/E Premium (vs. 3yr Avg. P/E) > 20%
We will highlight each of these stocks over the course of a four-part series. Since these types of stocks are often referred to as "hot" or "on fire," we thought that it would be fitting to separate this group based on some sort of heat index. The first thing that came to mind was the Scoville heat rating of peppers. Below is a schedule of the entire series. If you aren't familiar with the peppers below, we are going from least spicy (poblano) to "burn your tongue off" spicy (habanero).
Part 1: Poblano (stocks #10-12)
Part 2: Jalapeño (stocks #7-9)
Part 3: Cayenne (stocks #4-6)
Part 4: Habanero (stocks #1-3)
The Jalapeños
The 12 stocks on our "Ring the Register" list have an average yield (profit) multiple of 10.1x (over the past 6 months) and are currently trading at a 36.6% premium (on average) to their respective 3-year average P/E multiple. In other words, these stocks have had significant short-term runs and we consider them to be overvalued. Note that the yield (profit) multiple is the (1) percent chg. from the 6-month low price divided by (2) the dividend yield at the 6-month low date.
This article highlights the Jalapeños (stocks ranked #7-9). The tables and charts below summarize some of the key data points that we look at when analyzing our dividend stocks.
#9 Lockheed Martin (NYSE:LMT)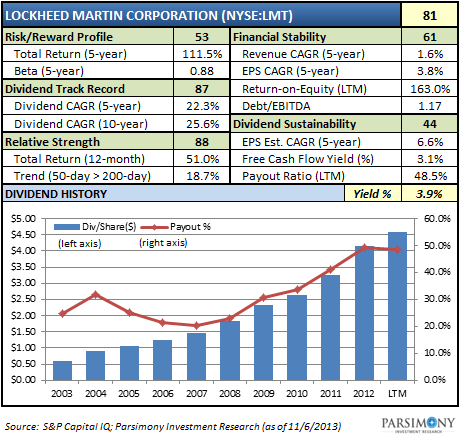 LMT probably has exhibited some amazing dividend growth for investors over the past 10 years, with a compound annual growth rate of 25.6%. In addition, LMT has a very respectable dividend yield of 3.9%. That said, the stock has gotten a little bit ahead of itself.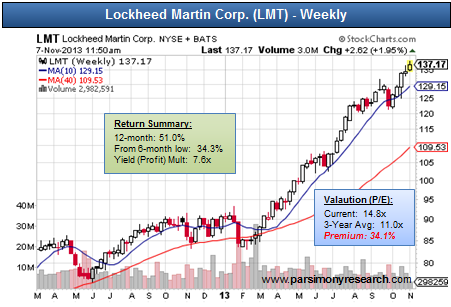 As shown in the chart above, LMT has rallied significantly in 2013. LMT is up 34.3% from its 6-month low and it is currently trading at a 34.1% premium to its three-year average P/E. Now is probably a decent time to take some profits in LMT.
#8 Bristol-Myers Squibb (NYSE:BMY)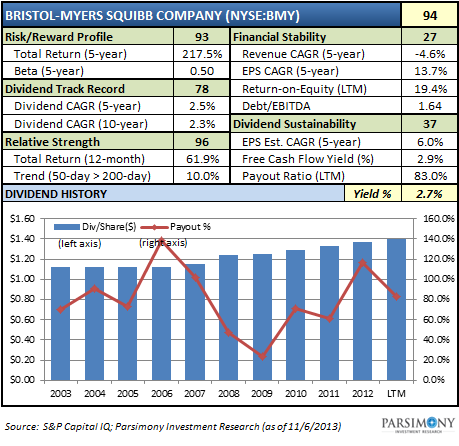 While BMY's dividend growth rate has been relatively modest over the past 5 years (2.5%), the company has delivered shareholders a total return of 218% over that time period. BMY is a decent long-term investment, but the valuation is a bit rich at current levels.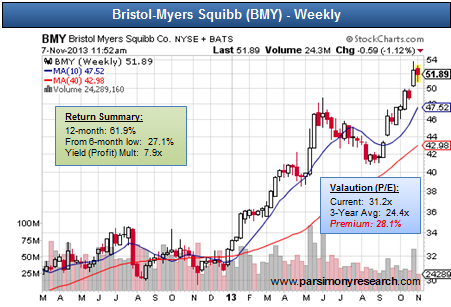 As shown in the chart above, BMY has also rallied significantly from its November 2012 low. BMY is up 27.1% from its 6-month low and it is currently trading at a 28.1% premium to its 3-year average P/E.
#7 Safeway (NYSE:SWY)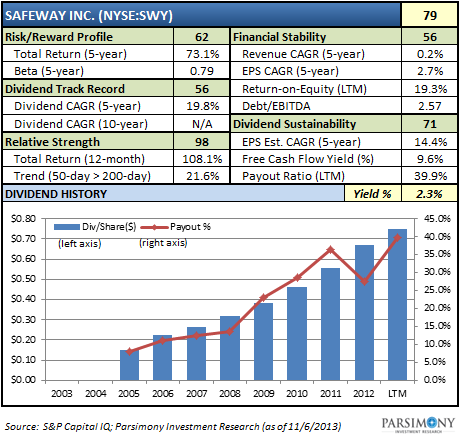 SWY started paying a dividend in 2005 and investors have been rewarded with some very strong dividend growth since then (5-year CAGR of 19.8%). SWY also has a modest payout ratio (40%), so there is plenty of room to grow dividends in the future.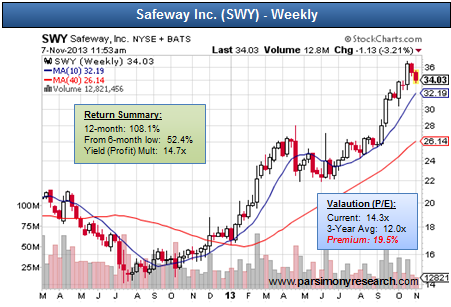 As shown in the chart above, SWY is up 108.1% over the past 12 months and up a whopping 52.4% from its 6-month low. SWY is currently trading at a 19.5% premium to its 3-year average P/E.
Summary
While this is not an exhaustive list of profit taking candidates, this series should give you an idea of what to look for in your own portfolio. Obviously, your decision to take profits will depend on your specific investment strategy and your cost basis on each stock. That said, we believe that it is prudent to take some chips off the table when a stock becomes relatively overvalued due to a significant short-term rally in price.
Sometimes even good stocks get overvalued and we recommend that investors have a process in place to rebalance their portfolio when appropriate.
Disclosure: I have no positions in any stocks mentioned, and no plans to initiate any positions within the next 72 hours. I wrote this article myself, and it expresses my own opinions. I am not receiving compensation for it (other than from Seeking Alpha). I have no business relationship with any company whose stock is mentioned in this article.