Introduction
While sales of Windows Phones are increasing, its global market share in Q3 2013 was just a mere 3.8%. Compared to Apple's (NASDAQ:AAPL) 13% and Google's (NASDAQ:GOOG) 53%, it is clear that Microsoft (NASDAQ:MSFT) has a lot of room for improvement.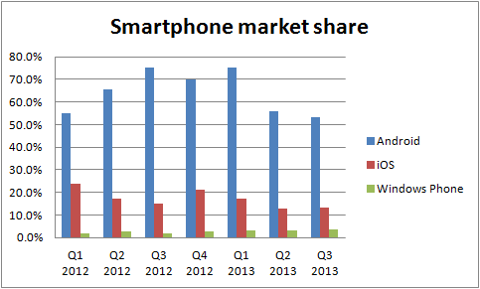 Source: IDC.com
In this article, I will give you my two cents on how I believe its market share will fare over the next 12 months. Obviously there are many variables to consider. In order to keep the article at a reasonable length, I will constrain myself to only assess the impact of the following three factors;
Impact of the poor app selection
How the Nokia acquisition will impact Windows Phone sales
Surface RT as a potential ecosystem-booster
Microsoft's app problem
Windows Phone OS is quite inferior to iOS and Android in terms of app selection. Optimists could have hoped that Microsoft's acquisition of Nokia would make developers more interested in creating apps for WP. However, as Bloomberg recently reported, this doesn't seem to be the case.
I have seen others argue that Microsoft is only temporarily behind in the "app-race" due to Apple and Google's head start. They point to the fact that it took Apple 2 years to get 200,000 apps. Windows Phone roughly matches that speed as it has been 2 years since the first Lumia phone was released and today there are 170,000 apps in Windows Phone's marketplace.
However, that comparison ignores the fact that iOS back in 2008 was up to a somewhat slow start. But after it reached 10,000 apps, it started to grow at a much faster pace. For WP this was quite the opposite, as growth has slowed down after a decent first year.
In the below graph, I have compared the amount of Windows Phone apps to iOS apps. Q1 here represents October 2008 for Apple and March 2011 for Microsoft. Thus, this graph shows how each OS fared after reaching 10,000 APPS.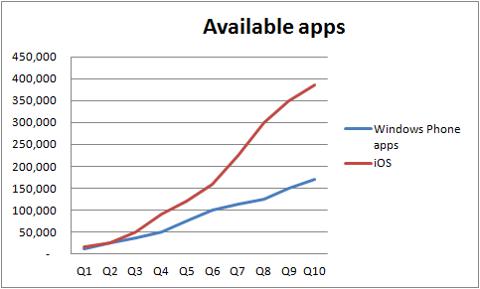 Source: en.wikipedia.org/wiki/App_Store_%28iOS%2...-60
Clearly, WP isn't performing too well, and convincing developers to create more apps for Microsoft won't be easy. This could easily result in a vicious circle where consumers won't buy a Windows Phone due to poor app selection, which makes developers even less interested in creating apps for WP.
If we look isolated on the effect that the poor app-selection will have on WP over the next year, it should put a downwards pressure on its market share. I estimate that the market share will decline to 3.3% if Microsoft's makes no WP-related strategically changes. Using IDC's market size forecast, a 3.3% market share implies sales of 39M Lumias over the next year.
However, as I will argue in the next part of the article, I believe the "no changes"-assumption is unrealistic.
Windows Phone economics makes price-discounts likely
Basic economics tells us that if the price of a good is reduced, demand should increase (ceteris paribus). In the below graph, I have designed what I believe to be an approximate estimate of the relationship between prices and unit sales of Lumia phones. Note that the 39M sales forecast (from above) implies an average selling price of $198, which is equal to Lumia's ARPU from Q3.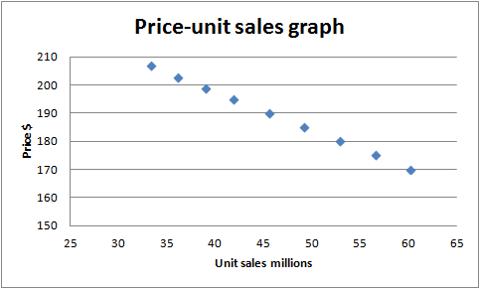 In the scenario where sales of Windows Phone have no impact on Microsoft's other businesses, Microsoft should select a price which maximizes WP earnings. Given the current cost structure - average cost of producing one Lumia is $161 - the optimal price is $211. Since that is quite a bit higher than the average selling price of $198 in the most recent quarter, one could be inclined to think that Microsoft will increase the prices on its Lumia phones.

However, I am quite certain that Microsoft won't increase prices. The contrary is actually a lot more likely as its other businesses benefit from higher Windows Phone sales. Microsoft can therefore afford to trade off a small loss in earnings as long as it results in increased synergy effects.
In the table below, I have attempted to quantify how the synergy affects impact earnings. According to my estimations (below table), if Microsoft selects an average selling price of $190 instead of the" optimal" selling price of $210, the combined earnings of its other businesses should increase by $151M. If that estimate is correct, then there is definitely a positive tradeoff for Microsoft by lowering prices.

Therefore, I expect Microsoft to reduce prices a bit further, which will offset the downside of the poor app selection. To be more precise, I believe Lumia's market share will increase to 3.9%, which on an annual basis will result in sales of 45.5M units.
Can Surface RT also boost Windows Phone sales?
Surface RT has been a big disappointment. In my opinion this is due to a poor strategy of trying to be both a laptop and a tablet at the same time. Further, the tablet was priced too expensively when initially launched which made them even less attractive among consumers.
But one way in which Microsoft can increase sales of both its tablets and its smartphones, is to make it possible to use the same apps on both platforms.
According to rumors, Microsoft is working on it at the moment and a couple of years from now and it could make app development more attractive. However, I would be a bit careful on relying on Surface-rumors in my WP-sales forecast. The 2nd generation of the Surface's have received quite mediocre reviews, and I don't see the platform-implementation as a near-term catalyst.
Nevertheless, if Microsoft can meet my sales expectations of 45.5M Lumias, then it is definitely moving in the right direction. Further, it will also make the WP user count high enough to attract app-developers which should end the vicious cycle.
Disclosure: I have no positions in any stocks mentioned, and no plans to initiate any positions within the next 72 hours. I wrote this article myself, and it expresses my own opinions. I am not receiving compensation for it (other than from Seeking Alpha). I have no business relationship with any company whose stock is mentioned in this article.