For income hungry investors, PIMCO's High Income Fund (NYSE:PHK) has received a lot of hype in recent years. This article's purpose is to summarize the performance of PHK and four alternative funds that are comparable investment vehicles in the Closed-End Fund universe.
Betalyst Note: When considering which CEF is the best income vehicle for your portfolio, consider the fund manager, relative distribution rate (compare funds of the same strategy), asset allocation, expense ratios, and other factors, which are applicable at the time of investment. Net Asset Value Premiums and Discounts should not always be the primary indicators of buy/sell decisions, which should be one of the key takeaways from this article.
(Source: All quotes, data points, and figures came from, and are available to anyone at, Morningstar.com and Yahoo Finance.)
PHK - PIMCO High Income Fund - 11.88% Distribution Rate
Quote Snapshot
Market Cap: $1,522.5mil
Distribution Rate: 11.88%
Total Leverage Ratio: 22.63%
52-Week Range: $9.88 - 13.08
Premium/Discount: +52.54%
Current Market Price: $12.35
NAV: $8.07
PIMCO's High Income Fund (Parent Company AllianzGI) has been brought up, and commentated about, several times on Seeking Alpha (receiving both positive and negative press) over its staggering 12% (rounded up) distribution rate. Before diving into the details, PIMCO pays out this distribution at a monthly rate to investors and has maintained that payment for several years (achieving a rather impressive track record and consistent stream of payments to investors). Based on Morningstar.com's website, PIMCO's PHK has paid out this distribution rate mainly from Fund Income and a marginal amount of Capital (Return of Capital). Below is a chart of the fund's distribution amount and composition in the last five years (source: Morningstar.com).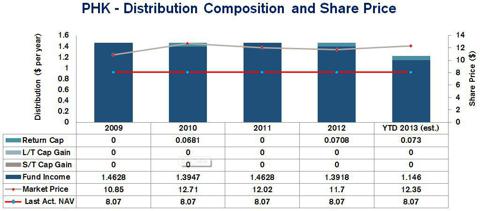 So, how is PIMCO achieving these returns? The answer is very simple: Risk and Leverage. In fact, Morningstar.com says this fund takes on a lot of risk, accompanied by a high leverage ratio, which is how that 12% distribution rate is made and paid out every month to investors. PHK's asset allocation has a Bond composition of 98.31%, making its exposure relatively high to interest rate swings and advantageous during low interest rate environments. Even on high leverage and risky position management, the fund has had a solid track record and many investors have identified that. In fact, the fund premium to NAV is 52.5%, which is one of the highest premiums in the CEF industry. Some reasons why the premium is as high as it currently is due to the fact that investors have identified that the distribution rate is worth the share purchase on such a substantial NAV premium given the brand of the fund manager (PIMCO), fund's parent company (AllianzGI), distribution track record, and fund competitors (the industry does not have that many CEFs paying out 12% per year in dividends on a monthly basis). All this being said, the sophisticated investor should know that a CEF's premium (over NAV) and distribution rates are all relative variables when considering to buy into a specific CEF. The next three comparable CEFs share similarities and differences, and will build a better view of where other funds stand vs. risk/leverage, premium/discount and distribution rate.
Betalyst View: PHK's price should go up to decrease the Yield Ratio (dividend divided by price) to become more comparable to the following three CEFs. Additionally, the distribution rate (dividends on a monthly basis) will remain strong and forward-facing in the near future.
NCZ - AllianzGI Convertible & Income Fund II - 11.54% Distribution Rate
Quote Snapshot
Market Cap: $628.9mil
Distribution Rate: 11.54%
Total Leverage Ratio: 31.47%
52-Week Range: $7.37 - 9.10
Premium/Discount: +4.99%
Current Market Price: $8.85
NAV: $8.42
NCZ (managed by the same parent company as PHK, AllianzGI) is a very comparable Income Fund to PHK. But before jumping into NCZ, let's look deeper into the fund's leverage utilization and asset allocation. The leverage ratio at NCZ is higher than PHK, with a lower Distribution Rate to Leverage Ratio (Distribution Rate divided by Leverage Ratio). Meaning the leverage attained at NCZ is less utilized when it comes to distributions. NCZ's asset allocations include 44.25% bonds, 52.85% other (not bonds, stocks, or cash), and 2.91% cash - making this fund relatively safer than PHK during interest rate swings. Unlike PHK, NCZ has managed to maintain its distribution rate composition with only Fund Income in the last five years, paying out no Capital Returns to investors (view chart below, source: Morningstar.com).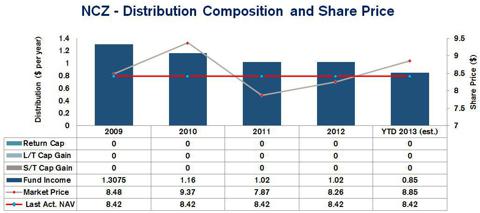 What makes NCZ less popular by market capitalization (compared to PHK's $1,522.5mil market cap)? Lower distributions, less brand manager prestige, and higher leverage are just some considerations, but overall, it might be as simple as publicity since the fund's parent companies are the same.
Betalyst View: If you own PHK, NCZ would be a great addition to your portfolio to diversify against any interest rate swings while maintaining that staggering distribution rate. Buy NCZ if you like and plan to hold PHK.
NCV - AllianzGI Convertible & Income Fund - 11.09% Distribution Rate
Quote Snapshot
Market Cap: $795.1mil
Distribution Rate: 11.09%
Total Leverage Ratio: 32.03%
52-Week Range: $8.69 - 9.30
Premium/Discount: +4.62%
Current Market Price: $9.72
NAV: $9.31
NCV is like NCZ's slightly quieter best friend - same fund manager, similar premium to NAV, distribution rate, market cap, and similar leverage ratio. Also comparable to NCZ, the asset allocation, made up of 44.50% bonds, 53.42% other, and 2.08% cash, but where does NCV differ and why does it distribute a lower rate even though the funds appear to be almost identical? That is completely up to the market (the investors to decide) when investing.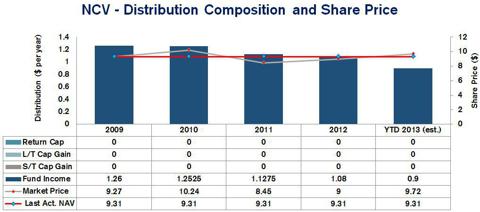 Betalyst View: From a Yield Ratio perspective, the price of NCV should actually go down (currently overbought) to yield about the same amount as NCZ (the price of NCV should go down if investors are rationally chasing income funds and buying the most efficient CEF option). Between NCZ and NCV, NCZ is the most efficient income option.
GPM - Guggenheim Enhanced Equity Income Fund - 10.58% Distribution Rate
Quote Snapshot
Market Cap: $172.8mil
Distribution Rate: 10.58%
Total Leverage Ratio: 31.25%
52-Week Range: $7.92 - 9.55
Premium/Discount: -2.99%
Current Market Price: $9.06
NAV: $9.35
GPM is a bit different than the last three CEFs mentioned - GPM launched in 2005 and had a rough patch in 2009, returning capital to investors due to net losses. However, since 2009, GPM has managed to change its distribution composition and turn net losses into Fund Income payments and in 2013, short-term capital gains on trading (View Distribution Composition chart below). GPM pays its distribution quarterly, unlike PHK, NCV, and NCZ, which are distributed monthly.
GPM's asset allocation is made up of 139.87% US stock, 3.07% non-US stock, -1.76% cash, -40.18% other. The 139.87% of US stock in the portfolio is almost completely composed of 5 ETFs, which are SPDR S&P 500 (NYSEARCA:SPY), PowerShares QQQ (NASDAQ:QQQ), Technology Select Sector SPDR (NYSEARCA:XLK), Financial Select Sector SPDR (NYSEARCA:XLF), and Energy Select Sector SPDR (NYSEARCA:XLE). GPM's ETFs are made up of 52.18% large cap stocks, 35.39% mid cap, and 12.34% mid-small cap companies, tracking the largest companies in the technology, industrials, energy, communication, financial services, and healthcare sectors.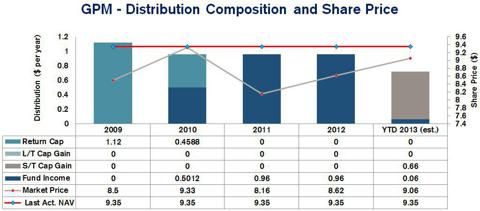 In summary, GPM has made its fund income (income, short-term gains) trading popular ETFs and utilizing leverage to generate more than the average investor's return (obviously there is some skill involved in achieving the payouts that investors receive). Compared to the last three funds, GPM is completely different in portfolio and distribution composition, giving an investor a different exposure type while maintaining that 11% income stream (assuming market conditions remain consistent). GPM also charged a 1.73% expense ratio in 2012, which is understandably higher given the portfolio management of the fund (active trading).
Betalyst View: If you own PHK and are trying to get exposure to the equity large caps in the US markets, GPM is a good contender for your exposure search. GPM is also trading at a discount to NAV by 2.99%, while sustaining its distribution level, which in this case is a buy indicator from an income fund perspective.
Disclosure: I am long PHK, NCV, NCZ, GPM. I wrote this article myself, and it expresses my own opinions. I am not receiving compensation for it (other than from Seeking Alpha). I have no business relationship with any company whose stock is mentioned in this article.