The biotechnology sector has been one of the best performers this year. The gains are being driven by investors' expectations that several smaller biotech companies with disruptive technologies will see substantial growth. While this has meant that several smaller biotechnology companies are stretched in terms of valuation, there are still some undervalued companies with huge potential out there. One such company that is Exact Sciences Corporation (NASDAQ:EXAS).
Based in Madison, Wisconsin, Exact Sciences has all the attributes to become a major player. The molecular diagnostics company has a product that has shown significant potential and is close to regulatory approval. The company is already developing a strategy to commercialize its product. It has a capable management team, with an excellent track record. More importantly, Exact Sciences shares are undervalued, offering an excellent buying opportunity.
Overview
Exact Sciences is focusing on the early detection and prevention of colorectal cancer. The company has developed a screening test for colorectal cancer called Cologuard®.
Cologuard is a non-invasive, stool-based (OTC:SDNA) screening test. The test has been designed to detect DNA markers that have been shown to be associated with colorectal cancer.
Why a Test Like Cologuard is Needed Right Now?
Colorectal cancer is the second deadliest form of cancer in the U.S. It is the leading cause of cancer deaths among non-smokers. According to the National Cancer Institute (NYSE:NCI), around 143,000 new cases of colorectal cancer are estimated in the U.S. in 2013. Colorectal cancer are expected to cause around 51,000 deaths in the U.S. While colorectal cancer is the second most deadly form of cancer, it is also the most preventable. If colorectal cancer is detected in early stages, a patient is more likely to have a complete recovery. Treatment costs can also be significantly reduced if colorectal cancer is detected early.
However, this is where the big problem is. The most widely used screening for colorectal cancer currently is colonoscopy. But, colonoscopy is an invasive procedure. As a result, around half of the people in the U.S. for whom screening is recommended do not undergo screening. Due to lack of compliance most cases of colorectal cancer are diagnosed at a late stage, making treatment expensive and the possibility of survival lower. There is therefore a significant unmet need for a screening technology that is non-invasive, patient friendly and accurate. Cologuard is perhaps the answer.
Cologuard Has Huge Potential
Cologuard has been designed to detect pre-cancerous lesions or polyps, and each of the four stages of colorectal cancer. In April this year, Exact Sciences reported that preliminary analysis showed that Cologuard met or exceeded all primary and secondary endpoints in 10,000-patient clinical trial. Cologuard showed 92% sensitivity for the detection of colorectal cancer and 42% sensitivity for the detection of pre-cancerous polyps, which included 66% sensitivity for polyps equal to or greater than 2 centimeters.
The data suggests that Cologuard has the potential to become a powerful preventive tool against colorectal cancer. Cologuard has several advantages over other screening options, including the fact that it is non-invasive and is affordable when compared to colonoscopy. As a result, this will lead to higher compliance and ultimately early detection of colorectal cancer in most cases.
In the U.S. alone, Exact Sciences estimates that the potential market for Cologuard will be more than $2 billion once the test is approved by the FDA. The company expects the global market opportunity for Cologuard to be over $3 billion.
Commercializing Cologuard
Cologuard certainly has huge potential, and Exact Sciences is now focused on getting the screening technology approved. In June, the company submitted the final module of the premarket approval (NYSEARCA:PMA) application for Cologuard to the FDA. In a recent conference call, Kevin T. Conroy, CEO of Exact Sciences, said that the company expects the FDA advisory committee meeting to review Cologuard to take place in the first quarter of 2014. A positive review from the advisory committee will raise the possibility of an eventual approval of the screening test. Conroy further said during the conference call that the company has already responded to the questions posed by the FDA through its interactive review process and recently hosted the agency for the first of the 2 inspections required for the approval.
Exact Sciences believes that a positive national coverage and a favorable reimbursement rate from the Centers for Medicare & Medicaid Services (NYSE:CMS) for Cologuard will be key to achieving commercial success. This is because of over 50% of the company's target patient population is covered by Medicare. A positive coverage decision from CMS would therefore lead to faster adoption of the test following the commercial launch. In the recent conference call, Conroy said that the company expects to make a national coverage decision submission to CMS during the first quarter of 2014.
Conroy also said recently that the buildout of the company's clinical lab is expected to be complete in December. The lab will have the ability to process 1 million tests annually once complete.
Exact Sciences has also made some key executive appointments to boost its commercial team as it hopes for a FDA approval sometime next year.
Capable Management Team
Exact Sciences has a unique technology, and it also has a management team that is capable of commercializing such a technology. Led by Conroy, the senior management team at Exact Sciences has an excellent track round.
Conroy became the CEO of Exact Sciences in April 2009. Prior to his current role, Conroy served as President and CEO of Third Wave Technologies Inc., a molecular diagnostics company providing DNA and RNA analysis products to clinical, research and agricultural customers. In June 2008, Third Wave signed a definitive agreement to be acquired by Hologic Inc. (NASDAQ:HOLX) for $580 million. Third Wave was sold at a significant premium. Conroy certainly has a track record of creating significant value for shareholders. When you combine this with what Exact Sciences has to offer, there is enormous potential to generate significant returns in the long-term.
Another very capable senior executive serving Exact Sciences is Maneesh K. Arora, who is the COO of the company. Before joining EXAS, Arora served as the CFO of Third Wave Technologies.
Strong Cash Position
At the end of the third quarter of 2013, Exact Sciences had $147.8 million in cash, cash equivalents and marketable securities. The company's cash position has been boosted by the completion of a secondary offering earlier this year in which it raised $73.4 million in net proceeds.
Undervalued Shares
Although Exact Sciences has progressing smoothly towards commercialization of Cologuard, the company's shares have gained just a little under 3% even as the Nasdaq Biotechnology Index has gained over 45%. The performance of EXAS shares has been disappointing, but this also means that the stock is attractively valued at current level.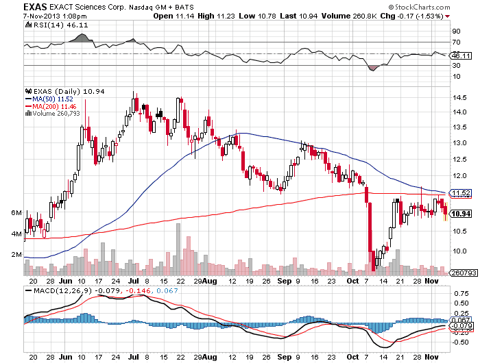 Source; stockcharts.com
The chart shows that EXAS recovered from a sharp decline in April to climb to around $14.5. However, the stock once again saw a pullback, with sharp dip in October. The sharp pullback, the first in April and the second in October, was due to pressure from short sellers.
However, Exact Sciences is moving closer to commercialization of Cologuard, the company has sound strategy to ensure faster adoption of the screening technology once it is approved, there is significant unmet need for a screening technology that is accurate, non-invasive and affordable, and finally the company has sufficient cash on its balance sheet. Given these factors, I don't see any reason to short EXAS shares. In fact at current level, EXAS shares are a huge bargain.
Even if Exact Sciences achieves sales of $200 million by end of 2016, and given the average P/S ratio for biotechnology sector of 6, the company's shares could reach around $17 per share. That is around 50% upside potential from current level. And remember this is under a conservative scenario. The company has already laid out a strategy that will ensure faster adoption of Cologuard. Citing a market research study, CEO Conroy said in a recent conference call that 96% of the physicians interviewed by the company said that they are likely to prescribe Cologuard for some or all of their patients.
Risk Factors
The biggest risk facing Exact Sciences of course is regulatory. The company's outlook depends on the FDA's approval of Cologuard. Even if Cologuard is approved, the commercial success of the screening test will depend on a positive national coverage decision and a favorable reimbursement rate from the CMS. These are two near-term risks faced by Exact Sciences.
Finally, a very high percentage (22.90% as of October 15, 2013) of Exact Sciences shares has been shorted. This could put downward pressure on EXAS shares in the near-term. Having said that, the stock also has a very high short ratio (15.80 as of October 15, 2013). This also makes EXAS a perfect candidate for a short squeeze.
Conclusion
While there are certain risks involved with Exact Sciences, as with any small biotechnology company, the results of the 10,000-patient clinical trial have been very encouraging and suggest that Cologuard is likely to approved, especially given the need for an accurate and non-invasive clinical test. Given Cologuard's potential, and the capability of the management team, Exact Sciences is well-positioned to create significant value for shareholders in the long-term.
Disclosure: I am long EXAS. I wrote this article myself, and it expresses my own opinions. I am not receiving compensation for it (other than from Seeking Alpha). I have no business relationship with any company whose stock is mentioned in this article.