James Byrne is an an independent RIA who heads Kansas City, Missouri based Grand Street Advisors. James has worked in the investment community for 20 years. Prior to establishing his firm, James cut his teeth on the Institutional Fixed Income Arbitrage Trading Desks on Wall Street at some of the largest global financial institutions.
We asked James to share his highest conviction portfolio holding and he selected a China-based alternative energy company.
• • •
What is your highest conviction stock position in your fund - long or short?
Our long position in A-Power Energy (NASDAQ:APWR) is our highest conviction holding.
Tell us a bit about the company and what it does.
A-Power is engaged in clean, renewable energy: Wind Turbines, Smart Grid Technology and Solar Energy.
Can you talk a bit about the industry/sector? How much is this an "industry pick" as opposed to a pure bottom-up pick?
While the transition towards clean renewable energy has been talked about for decades, the move in earnest has begun globally only recently. With the emerging economies competing more aggressively for supplies of oil, and given the finite supplies available, this move was inevitable. This company is domiciled in the hot bed of green investing, China, but is operating globally. Most recently, A-Power signed contracts for a 600MW Wind Farm in Texas and 150MW Biomass Power Plant in Thailand with potential addons available. The company has many opportunities it continues to work through to build on its bulging backlog. So from both a top down and bottom up analysis I find A-Power a compelling opportunity.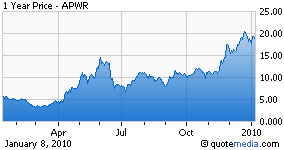 Can you describe the company's competitive environment? How is this company positioned vis a vis its competitors?
A-Power had started out as a smart grid player in China in the small to mid size markets, where it operated virtually uncontested. The contracts were generally overlooked as not big enough for the larger players, so A-Power positioned itself well as a unique service provider. Recognizing the advantage of providing a one-stop shop and acknowledging the global opportunity, A-Power acquired a Japanese thin film solar company, Evatech, and built out a government-supported, state of the art facility to manufacture wind turbines.
Can you talk about valuation? How does valuation compare to the competitors?
For a company that is expected to grow top line revenues 65%+ and earnings 40%+, it trades close to 34x. Many of the firms competing in this area are larger and more mature with growth rates closer to 12-15%, so their PE ratios are more closely aligned to the rate of expansion.
What is the current sentiment on the stock? How does your view differ from the consensus?
The company is really undercovered right now, which leaves the opportunity as the company successfully executes its business strategy and delivers on their order backlog, which has been a bit of a stumbling block in the past, so institutional awareness should rise.
Does the company's management play a role in your position? If so, how?
Yes - CEO Jinxiang Lu and COO Jon Lin have done an exceptional job in identifying the global opportunity moving decisively to build out the company and at the same time effectively market the capabilities of all the company's new parts.
What catalysts do you see that could move the stock?
The closest mover would be the announcement of the first delivery of the recently assembled wind turbine.
What could go wrong with this stock pick?
What could go wrong is in the execution. The company has many moving parts from recent acquisitions and in the past has made some mis-steps. Should A-Power face delays on delivery of their wind turbine orders, investors may begin to lose confidence and look for an exit.
Thank you, James.
My pleasure.
Disclosure: James Byrne's fund is long APWR