"If I knew I'd live this long, I would have taken better care of myself." -Mickey Mantle
When it comes to income investing, many utilize U.S. utilities for their source of stable and reliable dividends that increase slowly over time. While utilities got pinched in this summer's "taper" sell-off, a general sector recovery has been steadily underway.
A General U.S. Utility Recovery Is Underway
By measuring the U.S. utility performance by the Utilities Select SPDR ETF (NYSEARCA:XLU), which tracks the Utilities Select Sector Index, one can note the sector's recent strength. With an October rally, the XLU has lifted itself above most of the 2013 closing prices.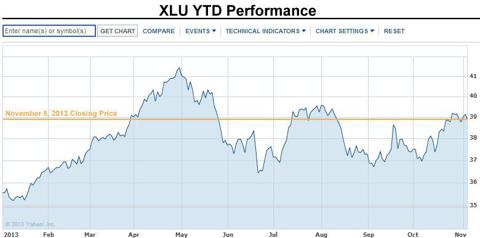 The XLU is up 11.28% YTD, not including dividends, with the 2012 closing price of $34.92 notated with the red line on the chart above.
Finding Stability & Income In The XLU
While utilities generally do not advance as much as the general stock market in bull markets, they fare much better in down markets as their services are always in demand. For this reason, utilities are seen as stable income investments that reduce volatility in the equity allocation of an investment portfolio.
Another benefit of investing in utilities is the fact they offer above-market dividends. While the S&P 500, as measured by the SPDR S&P 500 Index ETF (NYSEARCA:SPY), has a TTM yield of 1.92%, XLU yields nearly twice that at 3.77%.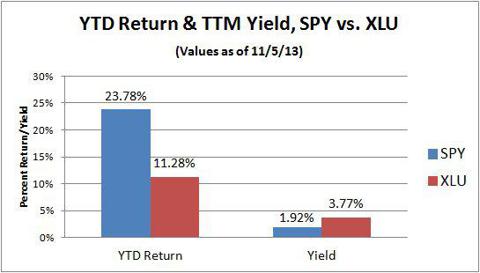 Over the past 10 years, the market as a whole was crushed during the 2008-2009 price drops resulting from a lack of liquidity in the marketplace. As noted in the chart below, the XLU stayed in positive territory since November 5, 2003, while the SPY did showcase approximately one-year of performance in negative territory. While past performance does not guarantee future results, this does showcase the reduced volatility utilities maintain in general market terms.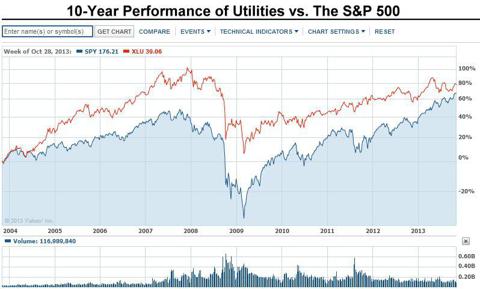 Choosing A Utility Fund
There are three major ETFs that track U.S. utility indexes, which have very similar returns over the last decade. In addition to XLU, the other two large utility index ETFs are the Vanguard Utilities ETF (NYSEARCA:VPU) and the iShares U.S. Utilities ETF (NYSEARCA:IDU).
In regards to fund size, XLU does dwarf its peers with over $5 billion in assets. In the following charts, the best fund(s) per category will be highlighted in red.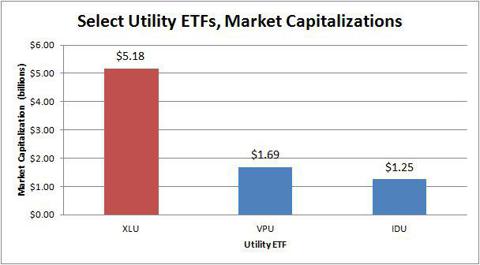 While each fund holds over $1 billion, one could measure average volume to determine liquidity. Once again, XLU dominates with over $400 million in shares traded each day.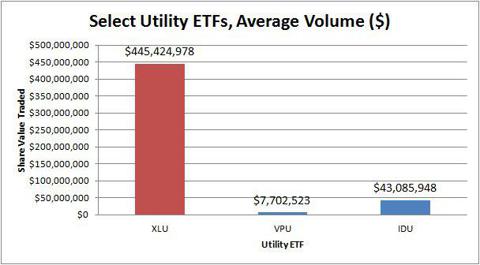 VPU, which trades less than $8 million per day, does have sufficient liquidity for the income investor however. In this regard, one could look at the expense ratios to determine which investments would be the most prudent. All three funds are low-cost index ETFs, however IDU somehow gets away with much more in fees than its peers.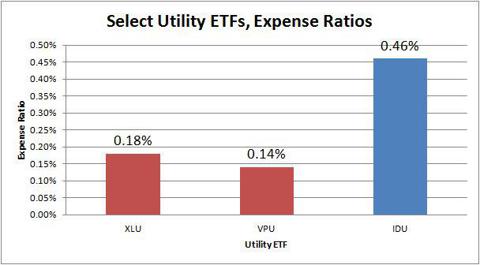 Along with the increased cost in management, IDU cannot compete with either fund on a yield basis. In terms of the TTM yield, XLU is the clear winner, with VPU a close second.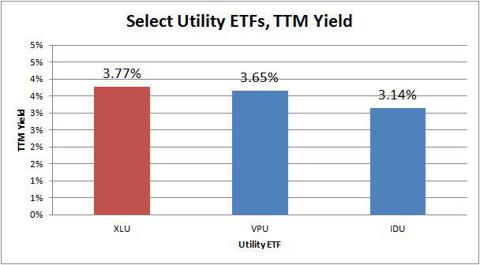 For investors looking for more diversification, VPU offers 79 holdings in the index it tracks, while XLU is less diversified at 31 holdings.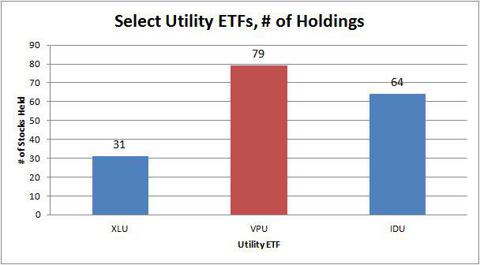 On a 5-year annual return, VPU has outpaced both IDU and XLU.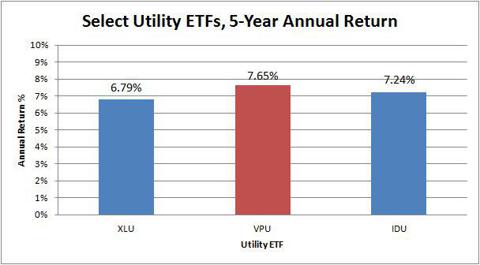 ETF Option Conclusion
With three excellent funds to choose from, XLU is the clear winner in terms of market participation with heavy leads in both fund size and volume. While it is less diversified than its peers, the yield is higher and the expense ratio is near rock-bottom.
The lowest-cost fund is Vanguard's option, VPU, which only charges .14% versus XLU's .18% and IDU's .46%. VPU also has the most diversity and the best 5-year track record with 7.65% average annual gains.
IDU comes in the middle of the pack regarding the 5-year annualized return, however the returns are very close to each other and the fund is uncompetitive in terms of yield and management costs. In this regard, XLU and VPU look to be the best options for the income investor.
Looking For Yield In Individual Utilities
With the XLU yield coming in under 4%, investors can look to single-utility purchases to increase the aggregate yield of the utility portion of the income portfolio.
One utility stock that yields more than the XLU is Southern Company (NYSE:SO). Based in Atlanta, Georgia, this public electric utility stock operates in Florida, Georgia, Alabama and Mississippi. The company market capitalization is $36.5 billion.
In terms of dividends, SO has a history of raising the dividend in the 2nd yearly distribution paid in early May. Without assuming a dividend increase, SO easily outpaces the utility ETFs in terms of yield.
While most utilities are up on the year, Southern Company has reached a price setback on YTD performance recently. With investors now concerned with declining stocks in an otherwise up year due to tax-loss selling, SO could reap further declines in the weeks ahead.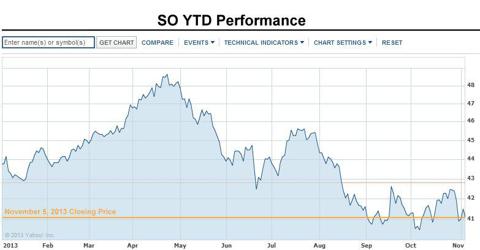 On a 5-year basis, SO has a compound annual return of 5.46%. If the shares were at their 52-week high the return would be 9.12%. With a lower stock price, the annual return has suffered yet it remains very close to its utility index ETF peers.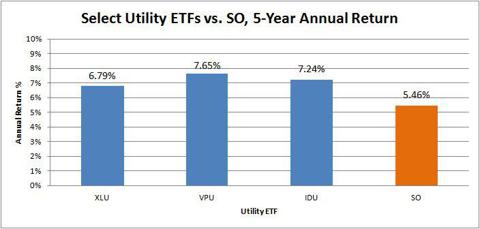 Conclusion
The utility space is often one of comfort for the income investor, as it reduces volatility in the equity portion of the investors portfolio while offering above-market yields. There are three U.S. utility index ETFs which have various benefits, with XLU and VPU leading the pack and yielding 3.77% and 3.65%, respectively.
The above-average utility sector yields can be further enhanced by the selection of one or more individual utility companies that yield over 4%. Southern Company, a $36.5 billion regulated electric utility that covers much of the south, is one option that has recently lost favor with investors. With a yield close to 5% and a likely dividend raise coming in May 2014, Southern Company is trading at an appealing level to income investors.
With tax-loss selling a threat, investors should caution the risk of short-term losses in SO, or look into the next few weeks as a potential buying opportunity.
To learn more about the threat of tax-loss selling putting pressure on select REITs with over $5 billion in market capitalization, please read 4 Big Reits That Could Drop And Pop On Tax-Loss Selling.
To learn more about levering utilities to enhance income, which includes one closed-end fund suggestion that trades at a discount to NAV, please read Leveraging Utilities For Stable Equity Income.
Disclosure: I have no positions in any stocks mentioned, and no plans to initiate any positions within the next 72 hours. I wrote this article myself, and it expresses my own opinions. I am not receiving compensation for it (other than from Seeking Alpha). I have no business relationship with any company whose stock is mentioned in this article.