By Matt Darrah, chief investment officer of MD Capital Management and contributor to The Manual of Ideas
Executive Summary
Negative Invested Capital Business: (1) The company operates a subscription business model where customers pay for a full year of a program at the beginning of the year, but the company is able to pay its suppliers over time. (2) The company's extensive historically database of information acts as a barrier to new entrants, and will help t

he company maintain its current level of pre-tax cash flow over a long periods of time.

Management Team Focused on Delivering Value to Shareholders: Management consistently distributes nearly all free cash flow to shareholders through share buybacks and dividends.
Attractive Valuation: (1) Recent stock price implies a 15% normalized free cash flow yield. (2) T

he company's expected earnings decline in 2010 concerns the Market.
Is Corporate Executive Board a Good Company?
Corporate Executive Board Co. ("EXBD" or the "company") provides benchmarking data regarding corporate best practices to business executives and professionals worldwide. Approximately 70% of sales are generated in the United States. The company distributes its information through various case study profiles, executive forums where executives meet to discuss their issues, and benchmarking datasets.
For instance, the CFO of a Coca-Cola (NYSE:KO) might subscribe to the CFO Executive Board and/or the Finance Leadership Board. If the CFO wanted to determine the optimal organizational structure for his accounts receivable department, he could review (i) a case study profile of another company that has a top performing AR department, (ii) review EXBD's organizational structure database, or (iii) discuss with other executives in the network. Customers provide information about their company's best practices in exchange for receiving the benchmarking data and best practices from other EXBD customers. EXBD was founded in 1979, and is headquartered in Arlington, VA.
Historically, the company's customers bought increasing amounts of benchmarking data by subscribing to more programs in order to ensure that their firms were at the forefront of their industries. However, the recent recession forced many executives to reduce expenditures, and thus the company is expected to experience a 23% revenue decline in 2009.
The fact that 25% of the company's revenues are generated from customers in the financial services industry exacerbated this decline. Since the company's customers pay in advance, EXBD can fairly accurately forecast revenue growth and declines. The primary predictor of future revenue is "Contract Value", which represents the annualized revenue that results from the current subscriptions in place.
As an example, let's say one of EXBD's programs has 100 subscribers priced at $40,000 per subscription. The Contract Value would equal $4MM for that particular program. Contract Value has continued to decline throughout 2009, as customers continue to cut cost, but the rate of decline is slowing.
This decline in contract value means that 2010 revenues will likely decline again. However, based on the slowing rate of decline and customer calls, I believe that revenue growth will return in 2011, allowing the company to generate a more typical amount of free cash flow.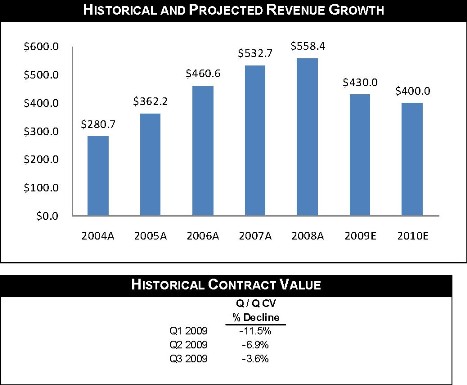 The company obtains the information it publishes from its customers. The fact that EXBD operates the largest network of companies providing benchmarking data to each other provides another barrier to new entrants, as a new competitor would need to replicate the company's expansive network, which includes 80% of the Fortune 500 (largest 500 companies in the U.S.).
As of December 31, 2008, the company employed approximately ~2,430 people, none of which belong to unions. The company spends capital expenditures on replacing/modernizing information technology (few growth related capital expenditures necessary).
The company has consistently operated with negative capital requirements, as the company operates a subscription business model where customers pay in advance for a year long service, but pays vendors over longer, commercially standard terms. Further, the company requires little infrastructure to provide its service, except for information technology.
Below I will discuss the factors that will allow the company to continue earning at least its current level of free cash flow over long periods of time. Note that the economic slowdown has materially impacted free cash flows, but prior to the recession, free cash flow did not fluctuated much historically.
The corporate best practices benchmarking industry that distributes information like EXBD is characterized by limited price competition and two major firms, Corporate Executive Board and Advisory Board Company. Consulting firms also provide similar benchmarking data, but only when being used for a project. Thus, EXBD's data is typically used when a consulting project is unnecessary or prior to engaging a consultant to obtain benchmarking data in a more cost effective manner.
The market possesses high barriers to entry with no new companies entering the market since the 1979 due to the difficulty of replicating the historical results of surveys conducted to obtain benchmarking data and the extensive networks developed by incumbent industry participants. The company owns data regarding best practices dating back to 1979 (its inception), which no new entrant can replicate. The company has developed over 300,000 corporate best practices, 1,500 benchmarking datasets, and 11,500 analytical tools. The company's only major competitor focuses on the healthcare segment, so direct competition on price is limited. Historically, the company has grown by successfully cross selling other EXBD products into an existing customer's organization. For instance, a customer's finance department may subscribe to the Finance Leadership Board, and after having success encouraged the marketing department to subscribe to the Marketing Leadership Council. The company incurs little additional cost when selling a program to one more incremental customer, because the cost of developing a program is fixed.
Thus, every new subscription the company sells is very profitable. While the company counts approximately 80% of the Fortune 500 as customers, a very large untapped addressable market of smaller, mid-sized business exists. Thus, not only does the company possess a moat with regard to its existing customers, but also has strong growth opportunities.
Risks to Cash Flows
The largest risk I am concerned about regarding owning EXBD is that the decline in revenue during 2009 was a not a as a result of the recession, but a secular decline in demand for the company's products. Based on calls I made to customers, EXBD's clients still find the company's products valuable, but like most companies during the recession had to make cost cuts, and information resources like EXBD's products were cut as opposed to additional headcount reductions.
As the economy recovers and corporate purse strings loosen, I believe the company will be able to return to its historical level of free cash flow. However, that will likely take place during 2011.
Does Corporate EXBD Have a Good Management Team?
The EXBD management team is lead by Thomas Monahan. He was promoted to Chief Executive Officer in 2005. Prior to becoming CEO, he was general manager of EXBD. Prior to EXBD, Thomas was a senior consultant at Deloitte and Touche. Thomas has returned substantially all free cash flow to shareholders through dividends and share buybacks during his tenure, as the company does not require large amounts of capital to grow. Thomas owns $1.2MM worth of EXBD common stock or ~2x his base salary, ensuring that he will continue to keep a shareholder mindset.
Can EXBD Be Bought at a Cheap Price?
After examining the past several years' free cash flow, I believe that normalized pre-tax equity free cash flow is ~$105MM. At Thursday's closing price of $22.82, EXBD's market capitalization less net cash and marketable securities is ~$718MM, which means the stock has a 15% pre-tax equity free cash flow yield.
If EXBD trades at a 7% pre-tax equity free cash flow yield, which would be appropriate for this high quality business with compelling growth prospects, the stock will rise to ~$46, making the stock a compelling buy at $22.82. Further, the company has a 1.9% dividend yield at $22.82 per share.
Disclosure: Author holds a long position in EXBD