On Tuesday, November 5, Sturm, Ruger & Co. (NYSE:RGR) announced very solid results for Q3 2013 when the company reported EPS of $1.44/share and revenue of $170.9 million. These results surpassed EPS estimates by $0.23/share and revenue estimates by $16 million. In the wake of Tuesday's solid earnings announcement, I wanted to highlight a number of the reasons why I remain bullish on shares of Sturm, Ruger & Co.
Recent Performance & Trend Behavior
On Wednesday, shares of RGR, which currently possess a market cap of $1.42 billion, a beta of 0.33, a forward P/E ratio of 18.45 and a current dividend yield of 3.15% ($2.32), settled at a price of $73.45/share. Based on their closing price of $73.45/share, shares of RGR are trading 11.01% above their 20-day simple moving average, 18.27% above their 50-day simple moving average, and 38.02% above their 200-day simple moving average. These numbers indicate a short-term, mid-term and long-term uptrend for the stock which generally translates into a moderate buying mode for most near-term traders and longer-term investors.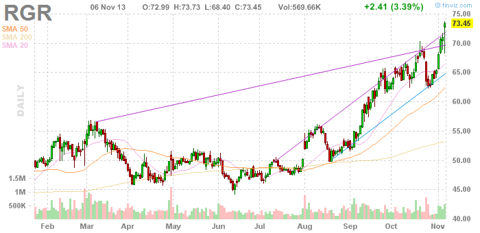 24-Month Dividend Behavior
Since November 9, 2011, the company had actually increased its quarterly dividend seven times in the last 24 months, prior to Tuesday's dividend announcement when it announced a quarterly dividend of $0.58/share. The company's forward yield of 3.15% ($2.32) still makes this particular firearms play a highly considerable option, especially for those who may be in the market for a higher-yielding stream of quarterly income.
Investors should keep in mind that the company's dividend varies by quarter and for Q3 2013 the company's dividend is roughly 40% of net income, even though the declaration of $0.58/share represented a 10.7% decrease versus Q2 2013.
Recent Expansion Plans
On Tuesday September 3, Sturm, Ruger & Co. disclosed its first major expansion in over 25 years when the company announced that it had finalized the purchase of a 220,000 square foot manufacturing facility in Mayodan, North Carolina. According to Rich Duprey, "Sturm, Ruger & Co. anticipates operations at the new facility will begin during the first quarter of 2014." Given the fact Sturm, Ruger & Co. currently offers its customers more than 30 different product lines, this expansion, in my opinion, will not only allow the company to facilitate its current firearms demand, but also allow for the creation and implementation of additional product lines.
Risk Factors
According to Sturm, Ruger and Co.'s most recent 10-K, there are a number of risk factors all investors should consider. These factors include but are not limited to potential Changes in government policies and firearms legislation could adversely affect the company's financial results, business disruptions at one of the company's manufacturing facilities which could adversely affect the company's financial results, and lastly the transition to a new enterprise resource planning ("ERP") system could cause disruption to the company's operations.
Conclusion
For those of you who may be considering a position in Sturm, Ruger & Co., I'd keep a watchful eye on a number of catalysts over the next 12-24 months as each could play a role in the company's long-term growth. For example, near-term investors should focus on the company's recent trend behavior and long-term investors should pay close attention to any growth related to the company's recent expansion in North Carolina as well as the impact any increase in quarterly net income could have on the company's dividend behavior over the next 24 months.
Disclosure: I have no positions in any stocks mentioned, but may initiate a long position in RGR over the next 72 hours. I wrote this article myself, and it expresses my own opinions. I am not receiving compensation for it (other than from Seeking Alpha). I have no business relationship with any company whose stock is mentioned in this article.