Top Line Cash Payers are a doubly conservative way to seek high income in an oil and gas uptrend. The five stocks in our group have low to slim levels of debt, and the top line arrangement means none or reduced exposure to operating and capital costs. The oil price uptrend has been proceeding most of the year. The natural gas outlook is getting new life from a fresh burst of strong winter demand and a rousing endorsement of long-term prospects from ExxonMobil's (NYSE:XOM) proposed acquisition of XTO Energy (XTO). Refining our analysis of Top Line Cash payers, we raise our estimate of Net Present Value (NPV) for Cross Timbers Royalty Trust (NYSE:CRT) to $34 a unit from $28, prompted by higher than expected natural gas volume since April 2009. At the same time we lower our estimate of NPV for Sabine Royalty Trust (NYSE:SBR) to $45 a unit from $55, prompted by lower than expected oil and gas volume in recent months. Those changes reverse a decrease in NPV for CRT and an increase for SBR that we made in the springtime (see charts Debt-Adjusted Volume per Unit and Net Present Value per Unit, below). Our current buy recommendation among the five stocks is Dorchester Minerals (NASDAQ:DMLP). Any of the four unrated stocks ranging in McDep Ratio from 0.75 to 1.03 could be suitable in an income and small cap segment of an energy portfolio.
While we expect lower McDep Ratio stocks to outperform higher McDep Ratio stocks, differences in structure may be more dominant at times. CRT and DMLP are more concentrated on natural gas while Freehold Royalty Trust (OTCPK:FRHLF), SBR and Permian Basin Royalty Trust (NYSE:PBT) are more concentrated on oil.
Only DMLP and FRHLF have debt, but the levels are modest (see Table 2). Selecting stocks by the McDep Ratio neutralizes the direct effect of financial leverage.

While the structure of revenue royalty defines a top line cash payer, the degree of top line participation ranges from 32% for PBT to 100% for SBR. "Royalty" traditionally refers to an arrangement that pays a fixed percent of revenue from oil and gas production to the royalty owner. We call that top line cash to differentiate from arrangements that may be a percentage of profits. Full concentration on top line cash helps make SBR a less volatile stock than PBT, for example.

Revised estimates of present value result in a more logical alignment of reserve life with unlevered cash flow multiple for SBR and CRT. Recent misalignment of those multiples helped signal the need to reconsider estimated NPV.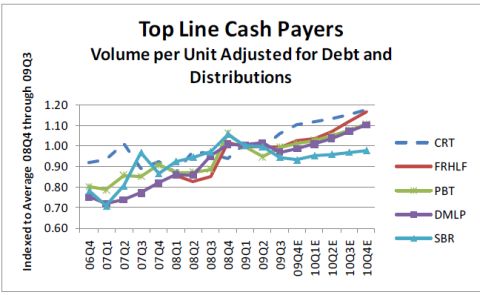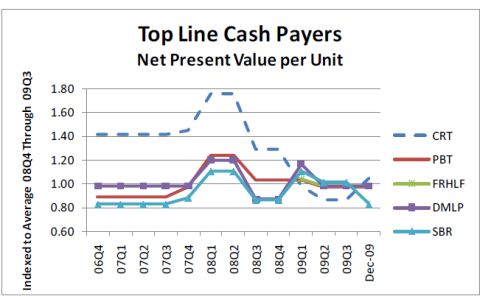 Originally published on December 18, 2009.