Johnson & Johnson (NYSE:JNJ) is a holding company involved in a wide range of activities in the healthcare industry through its Consumer, Pharmaceutical & Medical Devices, and Diagnostic business segments. The company has a long record of growing earnings and dividends for its investors, including an 8.2% increase announced earlier this year.
As the federal reserve continues to hold interest rates at historic lows, investors have flocked to dividend stocks and other income-oriented securities that provide higher yields. So it is no surprise that Johnson & Johnson's stock is up almost 33% year-to-date in 2013.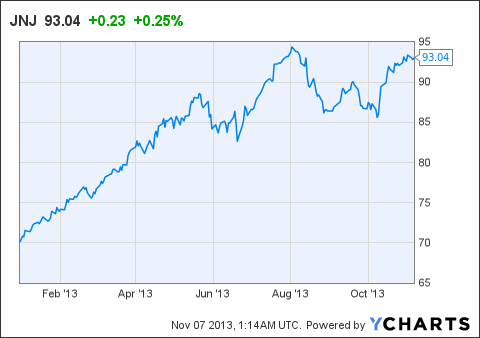 However, Johnson & Johnson may now be overvalued at current prices, especially for dividend investors who are valuing the income and income growth potential of the company.
Included below are Johnson & Johnson's historical dividends for the past decade:
| | | | |
| --- | --- | --- | --- |
| Year | Dividend | Dividend Growth | Payout Ratio |
| 2003 | $0.93 | -- | 38.5% |
| 2004 | $1.10 | 18% | 38.6% |
| 2005 | $1.28 | 16% | 36.9% |
| 2006 | $1.46 | 14% | 39.0% |
| 2007 | $1.62 | 11% | 44.6% |
| 2008 | $1.80 | 11% | 39.3% |
| 2009 | $1.93 | 7% | 43.9% |
| 2010 | $2.11 | 9% | 44.1% |
| 2011 | $2.25 | 7% | 64.6% |
| 2012 | $2.40 | 7% | 64.2% |
| E2013 | $2.59 | 8% | --- |
Johnson & Johnson has provided solid dividend growth over the past 10 years (and longer!), however, the annual growth seems to have slowed in the last half of the past decade. Dividends grew at a compounded average annual rate of ~11% for the entire period, but only 7.5% for the past 5 years.
Furthermore, the payout ratio has grown dramatically in 2011 & 2012 compared to where it had been. And despite this increase, dividends continued to grow below double-digit. So we have a much less conservative dividend payout ratio (in the mid-60s) WITH slowing dividends.
Return On Equity & Future Growth
In addition to looking at historical growth and payout ratios for the dividend, analyzing Johnson & Johnson's return on equity performance may also provide some clues as to what future dividend growth may look like.
On average, Johnson & Johnson has provided an average ROE of 23% over the past 5-years (2008-2012).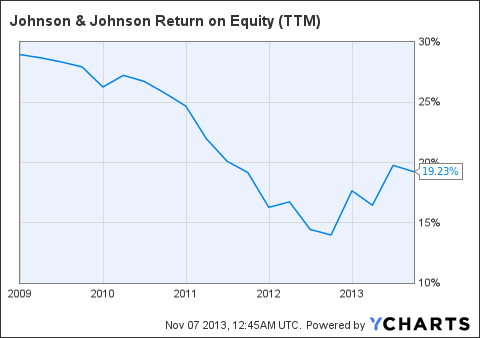 TTM) Chart">
JNJ Return on Equity (TTM) data by YCharts
It is interesting to note the decline in ROE over the past few years, although it does seem to be stabilizing. This appears to overlap with the significant increase in Johnson & Johnson's dividend payout ratio in 2011 & 2012.
Using the current payout ratio (retention rate = 36%) and ROE, would indicate earnings/dividend growth of ~8% going into the future. This appears to reinforce the growth rate we have seen over the past several years.
Dividend Discount Model
Using the dividend discount model, I determined the value of the company based on its future dividend payments. In performing this valuation, I made several assumptions.
First, I used 8% as my discount rate, based on the long-term average return of the stock market
Next, I used Johnson & Johnson's declared Q4 2013 dividend ($0.66) to estimate the full FY13 dividend ($2.59), and used this as the base to apply future growth rates to
I applied an 8% growth rate for the next five years (2014-2018) and a 6% growth rate for 2019-2023
Finally, I assumed a 3% perpetuity rate after 2023
Based on these assumptions, I calculated that Johnson & Johnson's intrinsic value is ~$74 per share. At the current price of $96 per share, the stock is 30% above its intrinsic value and appears to be extremely overvalued. Therefore, despite Johnson & Johnson's long history of providing great total returns, the current stock price does not appear to be an attractive entry point for dividend investors.
This does not necessarily mean that Johnson & Johnson is a bad company for income-oriented investors. Instead, investors may want to be cautious when deciding whether to buy a new position or add to an existing position in their portfolio, and perhaps wait for a pull back in the price.
Disclosure: I have no positions in any stocks mentioned, and no plans to initiate any positions within the next 72 hours. I wrote this article myself, and it expresses my own opinions. I am not receiving compensation for it (other than from Seeking Alpha). I have no business relationship with any company whose stock is mentioned in this article.
Additional disclosure: The opinions in this document are for informational and educational purposes only and should not be construed as a recommendation to buy or sell the stocks mentioned or to solicit transactions or clients. Past performance of the companies discussed may not continue and the companies may not achieve the dividend growth as predicted. The information in this document is believed to be accurate, but under no circumstances should a person act upon the information contained within. We do not recommend that anyone act upon any investment information without first consulting an investment advisor as to the suitability of such investments for their specific situation.