Equity Futures: Dow +40.00. S&P +5.10. NASDAQ +7.50. Japanese Nikkei +63.00. German DAX +17.00.

European Trade: European markets posted relatively strong gains around the opening bell, mainly helped by the raw materials sectors, but gave up some ground as the market moved towards the U.S. open. The major regional cash indexes moved approximately 0.50%, while the S&P futures added 0.4%, to reach a fresh new 15-month high.

Overnight markets were lifted after a news report coming from China showed that exports and more importantly, imports increased from one year ago. This is an important sign in the financial market, since it is widely believed that Chinese demand is helping the global economy recover. Chinese exports rose 17.7% from one year ago, while imports surged an impressive 55.9%.

The Chinese Trade Balance report had a strong influence in the commodity market, since China's main imports are raw materials. Overnight, gold added $19.60, crude oil $1.20, while copper, which is an industrial metal, gained $7.50. In turn, the shares of the companies that deal with the extraction or production of commodities advanced, since higher prices mean higher incomes.

The major regional indexes in Europe advanced approximately 0.80%, helped by these raw materials companies. This was best seen in the U.K. FTSE index, which has a strong exposure to commodities. The FTSE index gained as much as 1.10%, before moving to a plus 0.55% read, Germany's DAX rose 0.45%, while Italy's MIB added 0.65%. In emerging Europe, shares slightly outperformed their mature pears, with Hungary's BSE gaining 1.40%, while Romania's BET advancing 1.35%. Russia, which is not situated in the European continent, but has similar trading hours, advanced a huge 5.65% following an extended 10-day holiday.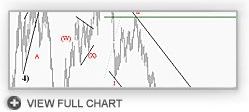 S&P Technical View: TheLFB Member Charts
4 Hour Chart Flows: Mixed Price Points: 1135-1140 Looking for: An ending diagonal (reversal pattern)

Momentum: The S&P futures market confirmed a Long momentum read on Nov 11th and built a solid near-term support base around 1095. The 1125 area will be a major resistance point to battle this week. The moves to test and hold support are impressive, and are backed with global equity markets that are also looking bullish.

Elliott Wave: S&P futures again reached new highs recently around 1139, (on very thin volume and momentum reads), after breaking through the previous 1135 top. Technical traders will now be looking for a turning point between the 1135-1140 areas, where a potential top of a red wave c of a larger wave 5) may be hit.

Overall, we are looking for an ending diagonal pattern, which indicates a turning point. If that is the case then we can expect a technical decline in the equity market in the first part of 2010, which may attract Usd buyers if risk aversion finally hits the market.

Sector Moves: Basic resources companies added 2.00% in Monday trade, while the oil & gas sector rose 1.60%. These two sectors were driven by the news that Chinese imports and exports increased from one year ago. Also helping the commodity market was the dollar index, which lost 0.60% overnight.
Turning to individual companies, Heineken (HINKY.PK) advanced 4.25% after it announced that it will buy for $7.7 billion Femsa's (OTC:FMXUF) beer unit. Air France-KLM (OTC:KLMR) added 4% after unconfirmed rumors said that the company will invest huge amounts of capital to improve the overall services provided to its customers. Also an unconfirmed report said that Allianz SE (OTCQX:AZSEY) is looking to bid for Swiss Life Holding. Allianz lost 0.5%, but Swiss insurer surged 8.40%

Upcoming Economic Moves:
08:30 EST Cad House Starts Exp. 161K, Prev. 159K
10:30 EST Cad Bus. Outlook Survey
19:30 EST Aud Home Loans -0.4%, Prev. -1.4%

Crude oil was recently trading at $83.85 per barrel, higher by $1.10
Gold was recently trading up by $19.60 to $1158.50.
Disclosure: No positions