Remember a few years ago when the Wall Street black hole story of the day was the plethora of news about the implosion of small-cap China-based companies and the term "reverse merger" became a noose around the necks of small-cap China investors? In fact, it got so bad that the Securities and Exchange Commission issued an Investor Bulletin on the topic. Here is an excerpt:
In recent months, the SEC has suspended trading in a number of reverse merger entities: (1) Heli Electronics Corp. (HELI); (2) China Changjiang Mining & New Energy Co (OTCPK:CHJI); (3) RINO International Corpora­tion (OTC:RINO); (4) Advanced Refractive Technologies, Inc. (OTC:ARFR); (5) HiEnergy Technologies, Inc. (OTC:HIET); and (6) Digital Youth Network Corp. (OTC:DYOUF)...
The bulletin went on to explain why trading in each of these companies was suspended. The specific reasons varied but the underlying theme was "…because questions had arisen regarding the accuracy and completeness of information contained in XYZ's public filings". It became the game of the day for short sellers to pile on and tarnish any China-based company that came public through a reverse merger. With all the bad actors out there it was a game that was easy to play and in most cases the short side was correct.
Although the dust has long since settled and the muddy waters have cleared from this unfortunate era, there is at least one company that is still paying the price of being unduly tarnished and that may represent an opportunity to astute investors. China Green Agriculture (NYSE:CGA) is grossly undervalued given it earnings per share and the undeniable strength of its balance sheet and it can only be described as the Rodney Dangerfield of the agriculture sector. It gets no respect.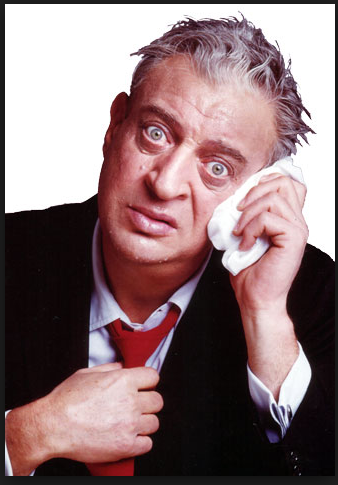 As a result of the toxic environment for China-based reverse mergers back then and unrelenting short seller attacks, the S.E.C. came knocking on CGA's door. On January 12, 2011, the company announced that it had fully responded to an informal investigation by the SEC and denied all allegations of impropriety. Wall Street analysts abandoned the company and without their support the shares plummeted and never fully recovered.
The year is now 2013 and since the dark times for CGA, the company has successfully dismissed a shareholder lawsuit without giving up any material compensation and came out clean with the S.E.C. Here is an excerpt from a recent conference call on the topic:
On September 3, 2012, we received a letter from the staff of the US Securities and Exchange Commission notifying us that the staff had completed its investigation with the company and that it do not intend or recommend any enforcement action against the company. It is good news for both CGA and its investors. With the termination of SEC investigation, an aggregate amount of $500,000 stock purchase by the executive, we are committed to grow the company's business and thrive to increase the enterprise value for shareholders.
So what we are left with is a legitimate fertilizer company in a high growth market that is regularly adding new products and distributors, a company with solid and consistent earnings: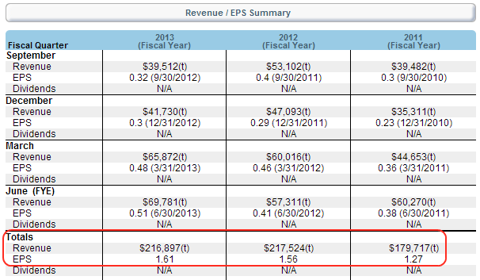 …and most strikingly, a company selling at a forward P/E ratio less than 3. The following StockValueCompare chart illustrates how CGA's valuation compares to an industry leader, Agrium (NYSE:AGU), and the stock price that CGA would be selling at if valued using the same valuation metrics of Agrium.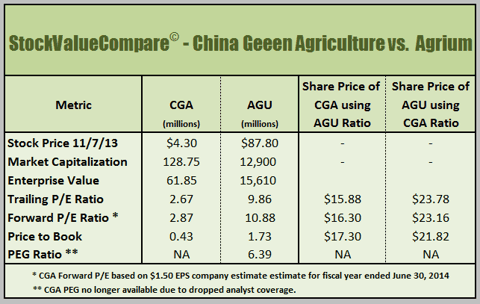 CGA has gone through three independent audits, an SEC investigation and a couple of shareholder lawsuits since their credibility was challenged. In the last few months, the shares have shown signs of life and with an earning call coming up soon, the shares could soon see some interest.
Investors can view this CGA presentation that gives a great overview of the company and do all the due diligence necessary to make their own investment decision. However, even if you assume little or no EPS growth the numbers do not lie and I have recently picked up some shares in my personal account. CGA shares are dirt cheap and only Rodney Dangerfield could explain why.
Disclosure: I am long CGA. I wrote this article myself, and it expresses my own opinions. I am not receiving compensation for it (other than from Seeking Alpha). I have no business relationship with any company whose stock is mentioned in this article.
Additional disclosure: These are the personal views of Wall Street Titan and should not be relied upon for your investment decisions. All investors should always do their due diligence.