With the close of 2009, BlueCut has yet to experience any vision that can provide insight into 2010's developments. That being said, the quarterly comments will be kept short. The 4th quarter activity involved trading around core positions, and adding short exposure in the financial and gaming space. The target allocation continues to be 45-55% net long. Aside from fantasy football trash talking, the holiday season has been spent reviewing the Compression theme that many of the positions are built around.
First, there is something that needs to be touched on… the term "normalized". Aside from it being pretty clear that we live in anything but normal times, this term seems to be wildly accepted as a valuation crutch when DCF results are unpleasant. It is particularly amusing to consider how reactionary the Street has become with earnings estimates. With our objection noted, back to the topic of Compression.
The shock to our economic system that has occurred over the past two years accelerated inevitable change, and structural winners and losers will emerge as this period of change continues to quickly unfold. We see compression everywhere we look: margins, market share, sales, resources, CAPEX, borrowing demand, lending capacity, inflation expectations, etc. To illustrate our line of logic we present two industries this quarter: retail real estate and coal.
Retail Real Estate
Recently, Kroger (NYSE:KR) cited deflation and competition as major contributing factors to their earnings miss. A long time bear on retail REITs, this supports our retail thesis and indicates it may be developing much quicker than expected. This thesis examines the derivatives of the U.S. consumer emerging from "The Great Recession" with a focus on cost savings over convenience in retail and grocery purchases.
As background, with the view that Wal-Mart (NYSE:WMT) is Goliath with an uzi, we do not invest in retailers who are in their way. This is hardly a unique viewpoint, but their domination of retail and grocery is both powerful and inevitable. The question arises; who suffers as Wal-Mart compresses margins and their competition's market share? High cost structure grocery and electronics stores will have difficulty, and ultimately die a slow financial death. However, their landlords could hit the financial E.R. much sooner, as their business models are built on leverage, foot traffic, stable cash flows, and infinite demand for specialty retail space. It should be noted that the majority of the 'anchor' tenants in these properties pay little rent, but their traffic supports premium rents for the surrounding retail space. The recent scurrying to roll out debt maturities via the capital markets is sign that the 'stabilization' industry management teams are looking for may not be in the near future. In fact, we are of the opinion that the light at the end of the tunnel is most likely a train.
Retail REIT management teams are hoping 2010 provides a bottom in lease rates. The odds are not in their favor. Reis, Inc. (commercial real estate data provider) indicates that neighborhood and community shopping centers returned more space to the market in just the second quarter of 2009 than they did in all four quarters of 2008. If tenants are releasing space, it is at a discount that continues to move against the landlord. Figure 1 shows the deterioration in these spreads. Figure 2 shows reported occupancy, with reported being the key verb here. These figures compare Regency Centers (REG) with the rest of the strip shopping center space. While Regency has development and geographic company specific issues, it is representative of the group. Finally, online sales trends (Figure 3) will certainly serve as a headwind for rent prices of physical space.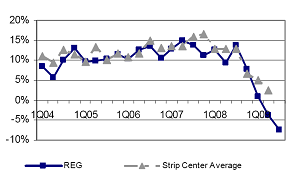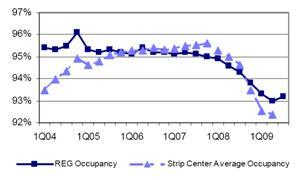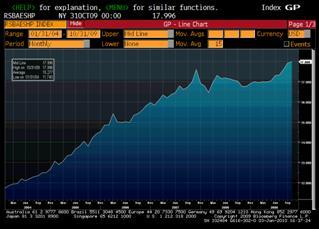 As we will continue to discuss this year, retail REITs face secular trends that will compress demand, leasing rates, and ultimately the cash flow delivered to investors thru the REIT structures.
Coal
Infrastructure is compressing the supply of the commodity in China. Chinese power production continues to be increasingly dependent on coal (Figure 4). In response, there has been a significant rise in both the price and the amount of imported coal into the country (Figure 5). The story in India is similar, where power demand is expected to grow at a compounded rate of roughly 8%. While alternative energy is a nice political issue to discuss, in reality we are 10 years away from in being able to provide adequate supply. Chinese coal consumption in the electricity sector will increase 50% by 2015 and another 50% by 2030.
Combine electricity demand with a spike in steel production and the result is bottlenecked coal supply in a country with a thirst for coke. The shortage is driving up oil prices as the resource is trucked to its destination.
Domestically, the outlook for spot prices and the producers could not have been worse six months ago. While metallurgical prices were seeing a bid on steel demand out of China, coal-to-gas switching by utilities was resulting in stockpiles of thermal coal. Our view is that there is still upside to current expectations for thermal. Combined with the above mentioned Chinese steel and power demand, we see rising natural gas prices causing a reverse of the coal-to-gas switching. Secondly, the production cuts will support prices by lifting the supply pressures. We are beginning to see this develop, as thermal prices are recovering.
Demand for metallurgical coal, Asian electricity demand, and fluctuations in the global economy will wiggle this volatile commodity. However, the move is higher.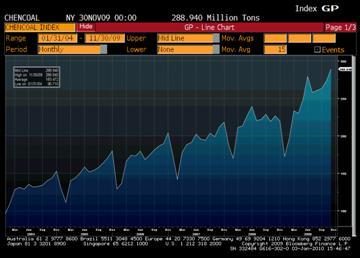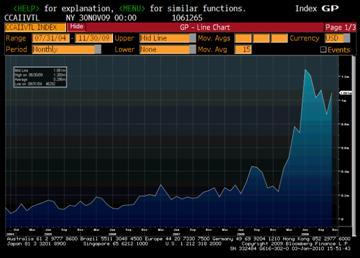 Positions
As stated, we are short REG. The company's development exposure, occupancy trends, and bad debt are all understated. While the balance sheet appears healthy, we see downside to FFO estimates when it becomes evident that rents are not stabilizing. We are not optimistic that they will be able to maintain sufficient operating income to pay the dividend.
With respect to the coal sector, core positions are held in CNX, BTU, MEE, and JRCC. CNX and BTU have low cost structures and international exposure. Additionally, CNX's stake in CXG provides shale gas exposure. Massey and James River have the potential to generate high double digit free cash flow yields. The huge upside in cash flow generation will move coal multiples and earnings estimates much higher than where the Street is today. The portfolio is positioned accordingly.
The largest position change in the portfolio this quarter was the short sale of WYNN. This is based on valuation, a commoditized business model, and management interests. We have posted a research summary on kaChing.com.
We will begin a monthly update, in addition to quarterly comments for 2010.

Disclosure: Short: REG, WYNN Long: CNX, BTU, JRCC, MEE