By David Urani
Alright, it's the hottest IPO since Facebook (NASDAQ:FB) and it's finally here. Twitter (NYSE:TWTR) began trading this morning, and with great fanfare as it's popped all the way above $45, more than 70% from the underwritten IPO price of $26. It's going to draw obvious comparisons with Facebook and on the whole you'd have to say this is a much smoother debut. When Facebook made its entrance it plunged but TWTR is having much better success (so far).
It all starts with the underwriters, and in the case of Goldman Sachs and Twitter, they took the more humble road by pricing it at $26 per share, or $14.4 billion. That was below what the market was willing to pay for it, so all the original shareholders of Twitter made out with their windfalls while the public market investors appear to be left with some gains as well, with the stock appreciating all the way above $45 at the open. In contrast Facebook's underwriters set the IPO price too high to start with, as the original Facebook investors milked everything they could get and ran away with some serious profits while the market was left with a brick of a stock that proceeded to tank for the next three months.
And that's the dilemma we're faced with. TWTR has certainly left a good taste in the mouth of the public market, up 75% from the IPO price but now it has to stay here and that's another story. Like Facebook upon its debut you could say Twitter is very highly valued right now. It's worth approximately $32 billion at the moment and that's quite a lot for a company that's still running at losses. Of course, Twitter is sure to start making profits one of these days, perhaps in 2015, but even then it will still be a long way from fulfilling the immense promise of riches being priced into the stock here.
Considering it has negative earnings, price-to-earnings is out the window as far as valuing this stock so perhaps price-to-sales is a better way to look at it. Well, it's running at about 32 times next year's sales (estimated to be $1.1 billion) and that's also pricey. By comparison right now FB is priced at 11 times 2014 sales. That said, Twitter as of the second quarter was growing revenue at more than 100% so the potential for that momentum to continue and yield fantastic revenue growth for years down the road is being priced in. Still, the company is being valued at $32 billion now and as of this year it's still only expected to pull in $638 million of sales, much less convert any of it into profit.
Don't get me wrong, I think Twitter is a fantastic company and I love what it's done to the way we communicate and consume media. And revenue growth has indeed been impressive so far. But a great company and a great stock can be two different things, especially when the price of that stock is looking so far into the future as TWTR is.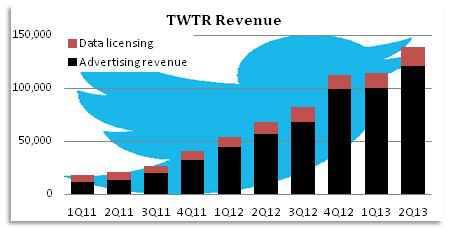 For comparison's sake, I've found a couple of other companies you probably know that carry a market cap around $32 billion, Yahoo (NASDAQ:YHOO) and General Mills (NYSE:GIS). Yahoo is perhaps the more comparable of the two given it's also an internet stock and Twitter (when finally profitable) will likely carry profit margins more similar to those. Meanwhile General Mills is a company we all know and come across every day as the maker of Cheerios and other food staples and it gives you the sense of scale we're dealing with here at a $32 billion valuation.

It's clear Twitter doesn't yet bring in near the sales the other two do but at the same time it's in the middle of a massive growth spurt and one day you could see it at least catching up to Yahoo. Income is ultimately the better benchmark for companies' valuations, and unfortunately Twitter still has none, which makes the comparison a little more tricky. And as you can see, despite GIS's massive revenue its tight margins rake in a comparable net income to YHOO, thus their similar market caps. So at some point down the road certainly Twitter is not going to have to pull in $19 billion of revenue like General Mills, as it should have a healthy profit margin like other big internet companies along the lines of Yahoo. But you would at least expect it to need to triple or quadruple over its estimated 2014 sales of $1.1 billion and that's going to take years, even when expected to increase by more than 70% next year.
Of course, by the time you see this article TWTR's price could be something entirely different, as I'm not necessarily expecting this one to sit still for a while.