Frontier Communications (NYSE:FTR) has been a terrible investment over the last few years. The following chart highlights the misery for a company that has cut the dividend 60% (from $1.00 to $0.40) over the years due to a persistent revenue bleed and the acquisition of 4.8 million access lines from Verizon in 2010.

Click to enlarge
Is the worst over? Frontier Communications released 2013 third quarter results on November 5. There number one priority is to stem the revenue declines and by default improve customer retention. So how are they doing? Based on the continuing revenue challenge ahead this article will limit the discussion to the following:
Revenue trend
Customer retention
Effects on FCF estimates (and by default the dividend)
Conclusion
Based on the trends, which is shorthand for measuring management's performance, we can derive some insight into the safety of the dividend. Dividend safety is a priority for FTR investors and their biggest worry given the previous cuts.
REVENUE TREND
Business revenue: 2013 has not been a good year for business revenue after a large drop in Q1 and a downward trend through Q3 due to declines in wireless backhaul revenue. The trend based on past performance is not pretty however management made some predictions that would drastically change the direction. CEO Maggie Wilderotter said the following on the Q3 conference call:
This quarter, we achieved stability in small business revenues for the first time since 2010. Carrier excluding wireless backhaul and small, medium and enterprise, improved over second quarter results. The one remaining headwind is our wireless backhaul revenue decline, but that was anticipated. Once we fully work through the transition in wireless backhaul during the first half of 2014, we expect the business segment to be well positioned to deliver sustainable sequential revenue growth. After three solid quarters of revenue improvement, we believe we have turned the corner in successfully mitigating revenue decline and in moving closer to our objective of growing revenue.
FTR suffered a huge credibility blow over past statements about the safety of the dividend before cutting it so investors may be skeptical when management paints a brighter picture. Both trends are depicted below, one based on history and the other approximated for management expectations. We'll also look at how each trend effects FCF later.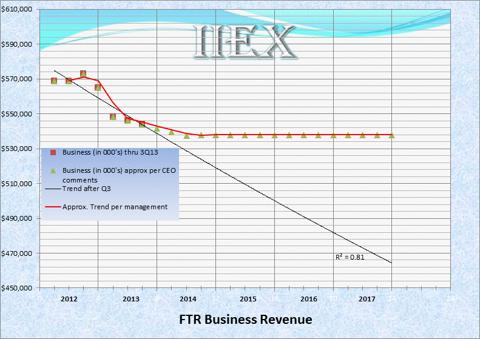 Click to enlarge
Residential revenue: We'll start by comparing the trends based on results through 2Q13 to the trend generated using the most recent quarter (3Q13). The graph measures management's efforts to bend the curve upward.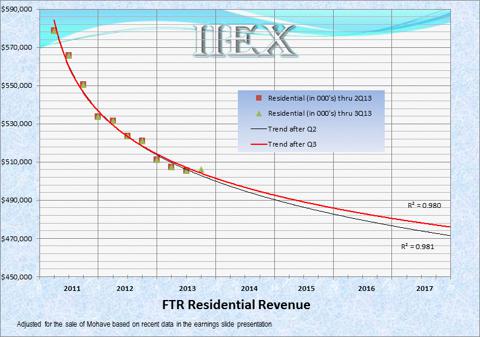 Click to enlarge
The good news is the residential trend is improving. Residential revenue improved sequentially from Q2 by 0.12%. One quarter a trend doesn't make but this is the first positive increase in years.
CUSTOMER RETENTION
This metric is the one to watch; turning customer retention positive will mark a major turnaround. FTR has been pushing against huge headwinds over the years as wireless continued to replace land lines as illustrated with the following FCC data: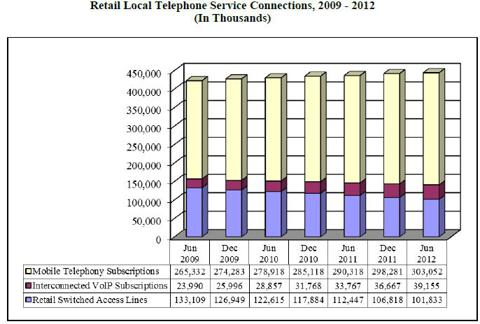 Click to enlarge
This data also shows opportunity - growth in VoIP. Another way to think of VoIP is broadband, better speeds for video, etc. In short customer retention is dependent on FTR's ability to grow the broadband subscriber count. This is the reason why tracking access lines is no longer a reliable indicator. FTR made a conscious decision to stop reporting access line losses and focus on customer count. Management gave its rationale on the Q3-2012 conference call:
In the past, up until this last quarter, we sold a Simply Broadband product, but it included a free access line. So if you looked at the numbers for us in the third quarter for Simply Broadband and if you added a free access line, the net access line losses would have been around 85,000 to 90,000 for the quarter. So we actually would have seen continued improvement, but we made a conscious decision as a company because our customers expect to buy broadband on a stand-alone basis, to not provide a free access line just because we could do that ... we have to get away from focusing on access lines because they're really not a good measure for our business. We are moving many customers away from access lines, both residential and business, especially with the rollout of VoIP products and big data products… We're really focused on customer accounts and average revenue per customer.
Although residential revenue increased, customer retention continues to trend down but the rate of change is improving. Total customer losses over Q2 was 0.77% vs. 1.56% over the same period in 2012 and 2.36% in 2011.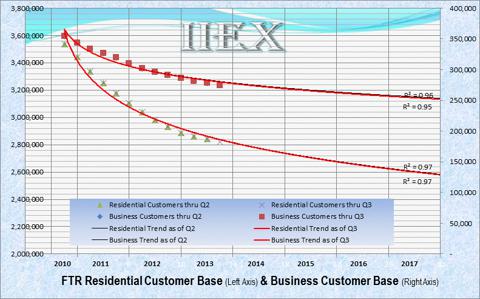 Click to enlarge
ARPC (Average monthly residential revenue per customer) offset the dollar effects associated with the decline in the residential customer count, accounting for the overall revenue increase for residential. Business ARPC also improved but the main issue with business is the wireless backhaul issue noted earlier.
Broadband is the catalyst for growth. Data from the FCC points to continued growth in both fixed and mobile connections, emphasis on fixed: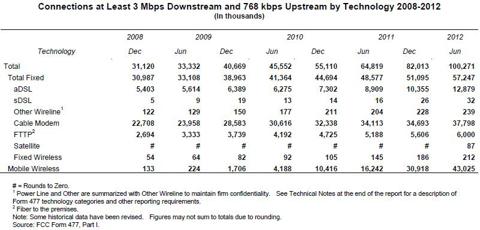 Click to enlarge
2013 data was not available at the time of this writing but the trends are obvious.
Increasing broadband subscriber growth will improve customer retention. FTR's recent progress is encouraging, showing a marked improvement over the last two quarters: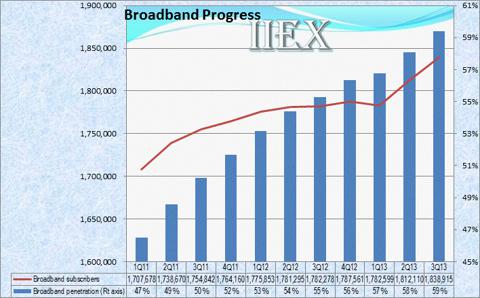 Click to enlarge
Broadband penetration (defined as broadband subscribers divided by total customers) continues to increase but more importantly shows room for growth.
EFFECTS ON FCF ESTIMATES
The above trends determine FCF; the metric that will indicate whether the dividend is safe or in jeopardy. Using the above data we can forecast FCF and the sustainability of the dividend. We'll develop FCF based on the business forecast from management then compare this to the trend based on performance only. Developing an income statement summary from the above data yields: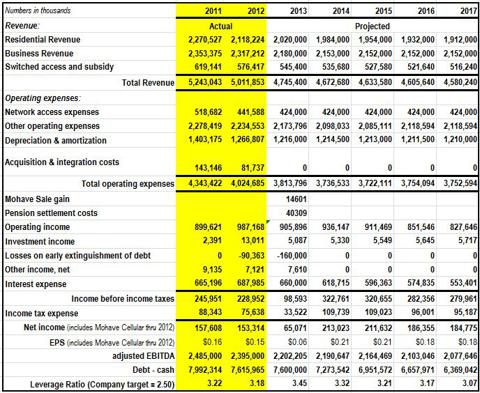 Click to enlarge
The next step is the FCF analysis incorporating data from the income statement: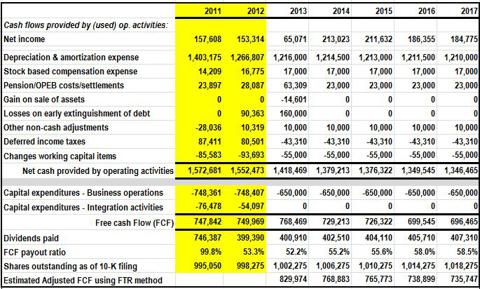 Click to enlarge
The dividend payout remains well below available FCF (defined as Net cash provided by operating activities minus Capex) for the foreseeable future: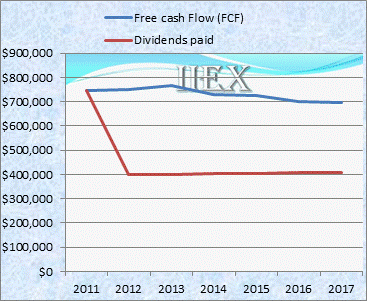 Comparing FCF based on the current business trends in the event management's comment regarding business growth in late 2014 does not materialize as they expect yields: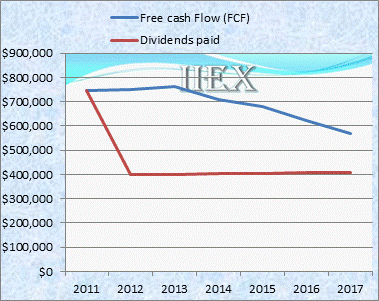 The point of this exercise is to show the dividend is safe but raises questions about long-term sustainability.
CONCLUSION:
The signs are encouraging.
Customer revenue is one of the strongest quarter-over-quarter performances since 2010.
Achieved stability in small business revenues for the first time since 2010
Carrier excluding wireless backhaul and small, medium and enterprise, improved over second quarter results.
Broadband subscribers increasing; driving higher ARPC.
Leverage ratio trending lower after 2013.
Customer trends flattening out over time.
Last but not least, the dividend is safe for the foreseeable future and still sporting a high yield.
The largest headwind is the wireless backhaul issue. This headwind is built into the above analysis through the first half of 2014, the timeframe management believes it will take to work through this issue.
It appears the worst is over assuming the wireless backhaul issue unfolds as expected. In any event FTR seems better positioned for improvement going forward compared to any time over the last few years.
Disclosure: I am long FTR. I wrote this article myself, and it expresses my own opinions. I am not receiving compensation for it (other than from Seeking Alpha). I have no business relationship with any company whose stock is mentioned in this article.