The last 30 days sure have been interesting for shares of Corning (NYSE:GLW).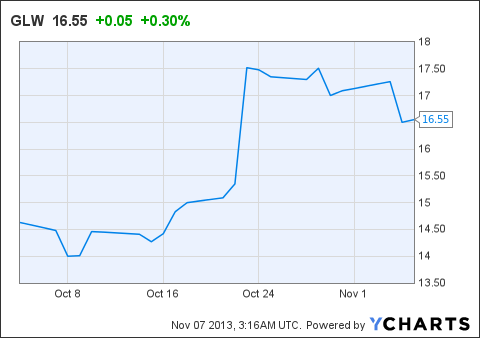 The company gave up some of its gains from an announced Samsung (OTC:SSNLF) deal, shortly after Apple (NASDAQ:AAPL) announced a deal with one of its main competitors.
The new deal
Apple signed a multi-year supply agreement with Corning competitor GT Advanced Technologies (GTAT), who will begin producing sapphire glass components at a facility secured by Apple in Arizona.
Sapphire materials are already being used by Apple, like in the iPhone 5s fingerprint scanner, for instance. It's also used in the lens covers of smartphone cameras. The reason analysts and investors are worried, however, is because of concerns that Apple will ditch Corning's Gorilla Glass to use sapphire for iPad and iPhone screens instead, especially since the stuff is harder and more scratch resistant.
History rhymes
Fears of Apple using sapphire for its iPad and iPhone screens are a little blown out of proportion in my opinion, and these fears aren't exactly new. In a press release from May, Corning VP Jeffrey Evenson explained rather clearly why his company has a big advantage over its closest competitors:
"Discussion seems to center around sapphire as an obvious solution for a cover material. What would people say if someone invented a cover that was about half the weight, used 99 percent less energy to make, provided brighter displays, and cost less than a tenth of sapphire? I think they'd say that sapphire was in real trouble. It so happens that we at Corning already invented that cover - and it's called Gorilla Glass."
Corning further explained in the press release, during a Q&A session, as to why sapphire (which isn't really glass at all, but a crystalline material) is economically unfeasible for smartphones:
Today, we believe that the cost to fabricate a sapphire cover - without any profit - exceeds the all-in price of Gorilla Glass to a customer by more than a factor of ten. While innovation is always possible, the basic physics of sapphire creates a high barrier for cost reduction. Forming sapphire takes over 4000 times longer than glass, and sapphire's hardness, which provides its scratch resistance, makes it much more expensive and difficult to machine. We estimated that billions of dollars would need to be invested to create sufficient sapphire capacity for even a small percentage of mobile phones.
Is Gorilla Glass replaceable?
The excerpts from the above press release were before the Apple and GT Advanced Technologies deal of course, but analysts such as Brian White of Cantor Fitzgerald, currently echo Corning's sentiments from May. White says that sapphire "is much more expensive than Gorilla Glass, heavier, and has other shortcomings."
According to MarketWatch, White also explained that sapphire's harder-to-scratch nature might have scored GT a deal with Apple for other reasons. Besides using it for its more expensive, less price-sensitive devices, Apple may have plans for sapphire in the future-- namely smaller devices. Or as White said, "For example, we believe the widely discussed but yet to be launched 'iWatch' could be a strong candidate for sapphire."
While there's always the threat of Gorilla Glass being replaced, it doesn't seem very realistic at the moment. Besides, it's not like Apple is limited to using one supplier only. Why couldn't it continue to use sapphire for fingerprint scanners and such, while continuing to utilize the cheaper Gorilla Glass for its screens?
Corning's big deal
Gorilla Glass is found in over 1.5 billion devices, many of them not iPhones, which is another reason why I think the sell-off related to the recent whims of Apple was over-dramatic. Samsung, for instance, uses it for its Galaxy line of mobile devices.
Before the Apple and GT deal was announced, Corning shares rallied on news that it was buying out its stake in its LCD joint venture with Samsung. The companies also agreed to a 10-year LCD display glass supply agreement, which is estimated to add roughly $2 billion to Corning's annual sales. $350 million in annual profit is also expected to be added from it.
Samsung also receives convertible preferred shares (face value of $1.9 billion) and will make an additional $400 million investment in Corning by subscribing to new convertible preferred shares. Samsung will own a 7.4% stake in Corning if the shares are converted at $20 after seven years. Corning can also force the conversion if shares rise above $35.
A big plus for Corning was also revealed by the company's CFO, who explained that:
"What we're able to do here is take a land-locked asset which could only serve Korea, and also an asset which could only serve liquid crystal display technology, and instead transform it to be able to serve any market with any specific glass products."
This is key, because it means that Corning can expand production of its higher margin products like Gorilla Glass in its now fully-owned operation.
Growth potential in the auto industry
Gorilla Glass also has implications outside of just mobile devices. It is lighter and thinner, but also stronger, than most conventional glass types. This is why Corning thinks it would be perfect for car windshields. An expansion into windshields is lucrative, because bigger pieces of glass means bigger profits for Corning.
BMW's i8 is the first car to be fitted with Gorilla Glass. Only the rear window will be fitted with the glass, however, which BMW says is for sound-dampening purposes. The glass will consist of two 0.7mm layers, with an acoustic sheet in the middle, and will also contribute to making the car lighter. It's a small start, but a start nonetheless into a new lucrative source of growth.
This isn't Corning's first foray into the auto industry, either. For forty years, the company has been involved with vehicle emission controls. Launched in 1973, its Environmental Technologies segment now generates about 12 percent of its overall annual revenues, and produces things like catalytic converter parts.
Valuations and fundamentals
Gorilla Glass is not only much more economically feasible for screens than sapphire, but is also used in just about every other mobile device besides just the iPhone. It's part of the Specialty Materials segment, which only made up about 15% of sales last quarter, but this segment could also grow rather quickly if Gorilla Glass infiltrates the auto glass industry.
Currently the Display Technologies segment is by far the largest, and the 10-year LCD supply deal with Samsung should help it out tremendously while the faster-growing segments catch up. Perhaps Corning investors, as of now, should be more worried about LCDs than Gorilla Glass.
Corning announced its third-quarter results on October 30th. Its five segments reported the following:
| | | | |
| --- | --- | --- | --- |
| | Sales (millions) | As a % | |
| Environmental Technologies | $225 | 10.68% | |
| Display Technologies | $689 | 32.73% | |
| Telecommunications | $650 | 30.87% | |
| Specialty Material | $326 | 15.48% | |
| Life Sciences | 215$ | 10.21% | |
Overall core sales were up 10% year-over-year, with earnings up 18%. Core gross margin was also encouraging-- increasing 2% y-o-y to 44%.
The company also indicated, however, that its fourth-quarter would "be sequentially lower due to normal seasonal declines in our non-display businesses. This decline will be larger than normal due to a more significant downturn in optical fiber sales volume."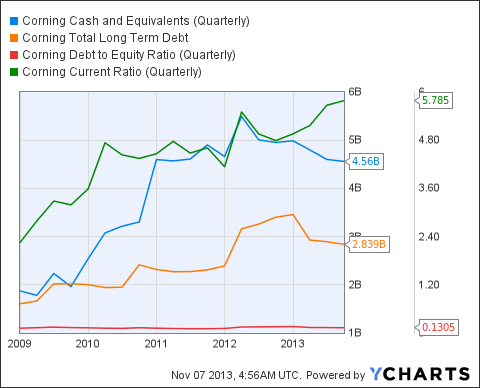 GLW Cash and Equivalents (Quarterly) data by YCharts
Corning's balance sheet is about as strong as it gets, with much more cash than debt. It is also rewarding shareholders with a rapidly increasing dividend, supported by a low payout ratio: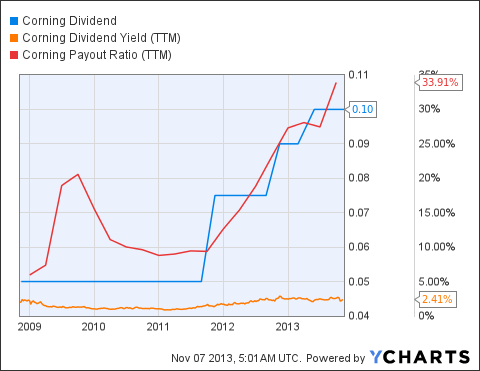 GLW Dividend data by YCharts
The bottom line
Trading at 13.7 times earnings, Corning currently looks fairly valued. Going forward, however, the company looks cheap at just 10.7 times forward earnings. Especially if the company is correct in asserting, in relation to the earnings boost from the Samsung deal, "When combined with our newly announced share repurchase program, Corning should see approximately 20% accretion in fully diluted earnings per share." Shares dropped because of the Apple announcement, but it's my opinion that this was an overreaction. Corning offers solid value at current levels.
Disclosure: I have no positions in any stocks mentioned, and no plans to initiate any positions within the next 72 hours. I wrote this article myself, and it expresses my own opinions. I am not receiving compensation for it (other than from Seeking Alpha). I have no business relationship with any company whose stock is mentioned in this article.