On Wednesday, November 6, Calumet Specialty Products (NASDAQ:CLMT) announced that it had signed a 15-year deal with TexStar Midstream Logistics to build, own and operate a 30K bbl/day crude oil pipeline system to supply at least 10K bbl/day of Eagle Ford crude oil to CLMT's San Antonio, Texas refinery.
According to Calument's press release, "The partnership expects to significantly reduce its cost to transport crude oil to the San Antonio refinery, where it currently receives crude oil deliveries by truck, as a result of the agreement".
In the wake of Wednesday's announcement, I wanted to not only highlight the company's most recent quarterly results but also note a number of the reasons why I remain long on shares of Calumet Specialty Products.
Recent Quarterly Earnings
On Wednesday, November 6, Calumet Specialty Products Partners reported EPS of -$0.54/share and revenue of $1.51 billion. These results missed EPS estimates by $0.63/share although they actually surpassed revenue estimates by $160 million.
According to the company's earnings related press release, "the Partnership's performance was adversely impacted by a significant decline in both fuel and specialty products margins as compared to the prior year period. Sales prices for gasoline, lubricating oils and asphalt did not keep pace with a rapid escalation in the price of crude oil during the third quarter 2013, resulting in a year over year decline in gross profit". In order for the company's gross profit to demonstrate a significant improvement over the next 12-18 months, I think we'd need to see somewhat of a rise (rather then a continued decline) in the price of both gasoline and other specialty products.
Recent Performance & Trend Behavior
On Wednesday shares of CLMT, which currently possess a market cap of $1.97 billion, a beta of 0.49, a forward P/E ratio of 15.18, and a current dividend yield of 9.66% ($2.74), settled at a price of $28.36/share. Based on their closing price of $28.36/share, shares of CLMT are trading 3.65% below their 20-day simple moving average, 2.25% below their 50-day simple moving average, and 12.31% below their 200-day simple moving average.
Although these numbers indicate a short-term, mid-term, and long-term downtrend for the stock which would generally translate into a moderate selling mode for most near-term traders and longer-term investors, I actually think shares of CLMT are pretty attractive at $28.36/share and would look to add to my current position at their current price point.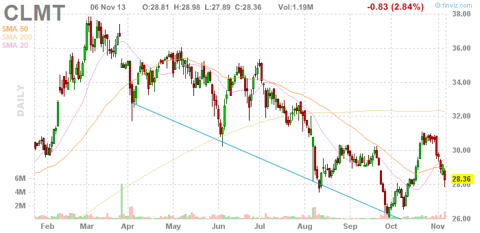 24-Month Dividend Behavior
Since November 2, 2011 the partnership had actually increased its quarterly dividend seven times in the last 24 months, prior to its most recent quarterly dividend of $0.685/share which was in-line with the partnerships previous distribution. The company's forward yield of 9.66% ($2.74) still makes this particular oil & gas play a highly considerable option, especially for those who may be in the market for a higher-yielding stream of quarterly income.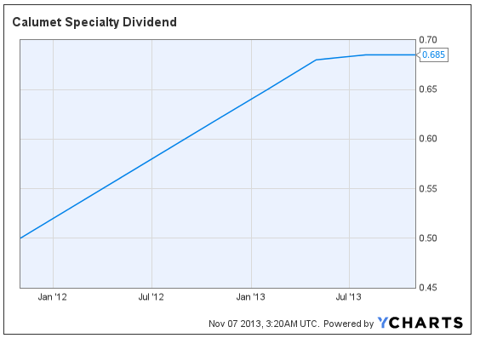 Risk Factors
According to Calumet's most recent 10-K, there are a number of risk factors all investors should consider. These factors include but are not limited to not having sufficient cash from operations to enable the partnership to pay the minimum quarterly distribution following the establishment of cash reserves and payment of fees and expenses, the fact that hedging activities may not be effective in reducing the volatility of our cash flows and may reduce our earnings, profitability and even the partnerships cash flows, and lastly, financing arrangements may contain operating and financial provisions that restrict our business activities as well as certain financing activities.
Conclusion
For those of you who may be considering a position in Calumet Specialty Products I'd keep a watchful eye on a number of catalysts over the next 12-24 months as each could play a role in the company's long-term growth. For example, near-term investors should focus on the partnership's recent trend behavior, while long-term investors should pay close attention to any growth related to the company's recent agreement with TexStar Midstream, as well as any improvement in the price of fuel or specialty products that could improve margins over the next 12-18 months.
Disclosure: I am long CLMT. I wrote this article myself, and it expresses my own opinions. I am not receiving compensation for it (other than from Seeking Alpha). I have no business relationship with any company whose stock is mentioned in this article.