In another recent article, I have shown how cheap Deere (NYSE:DE) is currently, at least compared to historical standards. The present article will focus on Deere's future, trying to show that there is a high probability of rising profits over the coming years which has not yet been priced in by the stock market.
Presently, Mr. Market does not like Deere's stock; it has lagged all major indices over the past year or so. Analysts forecast stagnating or slightly falling profits for the next few years. Here's Morningstar:
We currently forecast a 7% decline for Deere's farm equipment segment top line (compared with a 14% drop in 2009), a product of lower volume offset by positive price realization. However, our 5-star price (roughly $61 per share) considers a downside scenario in which the company's results suffer materially in a low-cash-receipt environment. Here, we project two years of revenue declines, combined with operating margins in the farm machinery segment falling back to levels seen before 2008. Our downside case suggests fiscal 2014 earnings per share falling to roughly $6.50 (compared with $7.89 in our base scenario and our $8.80 2013 estimate).
While I don't dispute these estimates (I could not come up with anything more precise or better founded), I believe investors should not focus on the next two or three years. The near future does not matter so much, if you can be sure about the long-term success of a business. Whenever I find a solid company with a long history of innovation, shareholder-friendly management, stagnating consensus estimates and falling stock price, I smell the exciting fragrance of value.
As I laid out in my first article on Seeking Alpha, in my analysis I focus on the difference between information and knowledge. Everybody has access to information (10-Ks, press releases, etc.), but this does not mean everybody understands this information correctly. (By the way, this is the biggest flaw in the efficient market theory.) Combining data in a creative way and thinking accurately through business dynamics usually provides insights not available to everybody else.
Some of my readers may have noticed that generally I don't provide much of the usual stock and background data in my articles. I suppose that serious investors know where to find them. This is just information. My objective as an author is to provide knowledge.
Now, when people talk about Deere's business, they will inevitably come up with the strong correlation between corn and stock prices. (See the above mentioned Morningstar article for an example.) Or they talk about investment cycles. Yet I don't believe this is what we should focus on. Cycles come and go, corn goes up and down, winter will come each and every year, yet farming is still a good business. And selling innovative equipment to farmers, too.
What I am totally missing in research reports on Deere is its international expansion: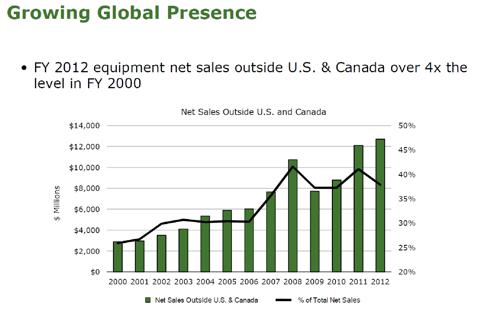 Obviously this 35%+ of sales is distributed over many small markets.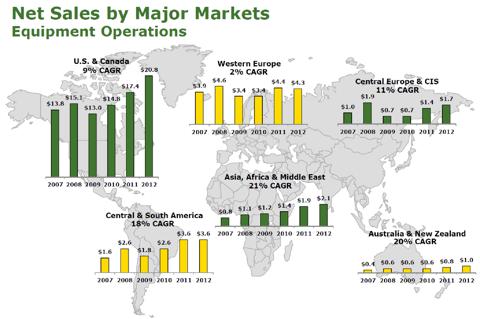 No single international market is material for Deere's results and margins are relatively low. - So far, at least.
Here is an excerpt from Deere's latest 10-K: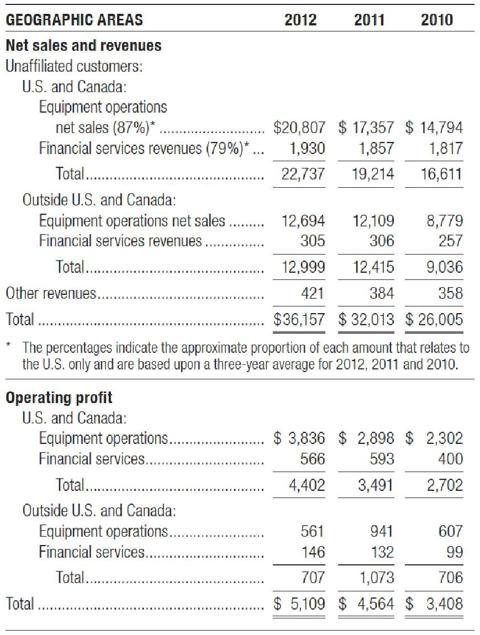 While in the US/Canada segment, Deere's operating profits were 19.36% of sales, internationally the margin was only 5.4%.
For 2018, Deere has indicated a goal of $50 billion of sales. Most of the growth will come from international markets, hence five years from now, probably about half of Deere's sales will be abroad compared to 1/3 right now.
What will happen once sales grow in markets which currently are still not material for Deere's results? Scale matters, operating leverage will come into play and margins will expand and probably strongly. If Deere achieved only a 12% operating margin on its prospected international sales of $25 billion plus the current 19% margin on sales of another $25 billion in the US/Canada, total operating profit would grow to $7.75 billion. That's 52% more than now. I believe this is a rather conservative estimate, as in 2010 Deere already achieved an operating margin of 8.6% on its international sales. So there would be even room for a slightly decreasing margin in the home markets.
Now factor in share repurchases of about 2% of shares outstanding/year, bringing diluted shares outstanding down to about 355 million in 2018. 2012 net income was $3.065 billion, thus we can estimate that Deere's 2018 net income could reach $4.650 billion, bringing EPS to about $13. (Please note that this would mean only a very slightly increased average net margin compared to 2012.) With this EPS, even at the current low P/E multiple, the stock would provide more than decent returns. If you factor in dividends and a small multiple expansion, prospective returns grow north of 15%/year.
If you think it will take longer to achieve these results and Deere might reach an EPS of $13 and a PER of 13 only in 2020, this would still mean a double over 7 years and will probably still beat the market.
Disclosure: I have no positions in any stocks mentioned, but may initiate a long position in DE over the next 72 hours. I wrote this article myself, and it expresses my own opinions. I am not receiving compensation for it (other than from Seeking Alpha). I have no business relationship with any company whose stock is mentioned in this article.