Vanguard Natural Resources LLC (NYSE:VNR) is an oil and gas E&P company that focuses on the development of mature, long lived oil and natural gas properties. VNR attempts to generate stable cash flows that it can distribute to its shareholders/unit holders. It attempts to grow its distribution over time. It has grown the dividend roughly 46% since its IPO (about 5 years ago). The dividend/distribution is currently $2.49 per year (8.7% annually). It is a limited liability company that behaves as an LP for distributions/dividends and tax purposes. It has no general partner and no IDRs. This last is very good for investors. It pays its distribution/dividend monthly; and investors will need to file a K-1 form for this stock.
Production was 35,250 Boe/d in Q3 2013. This was up about 45% from the year ago quarter. However, it was down 3% sequentially from 36,477 Boe/d in Q2 2013. The year-over-year increase was mostly due to 2012 acquisitions and VNR's new Permian Basin acquisition, which closed in April 2013. Production for Q3 2013 was approximately 64% natural gas, 24% oil and 12% NGLs (natural gas liquids). However, revenues were still 64% from oil and 11% from NGLs. Natural gas prices are still down, and they are expected to remain relatively low for the next year of two. Once LNG (liquefied natural gas) exportation starts, prices are expected to increase.
With its high amount of production/reserves in natural gas (64% of production in Q3 2013), VNR will assuredly do better once natural gas prices do begin to rise sustainably and more permanently. In the meantime, VNR is making do with decent hedges on its natural gas positions (see graph below).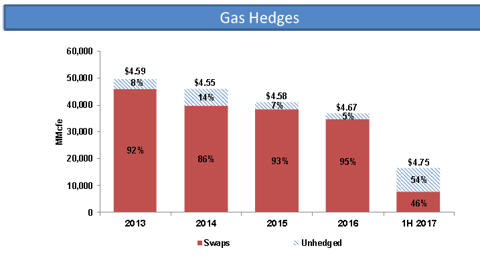 VNR is 100% hedged for oil for the rest of 2013 at $92.51 per barrel and it is 93% hedged for oil in 2014 at $93.11 per barrel. This should make its near-term income very safe. The table below describes VNR's NGLs hedges, which is something few companies have. That is, it is an advantage.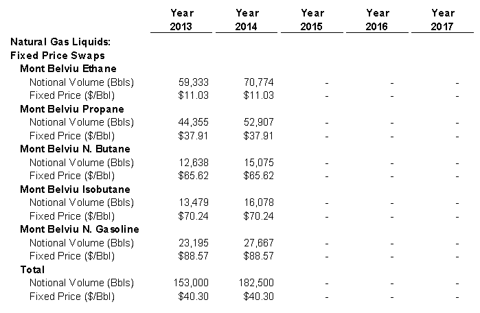 The following chart shows the "Economic Outlook of Natural Gas" from Risked Revenue Energy Associates.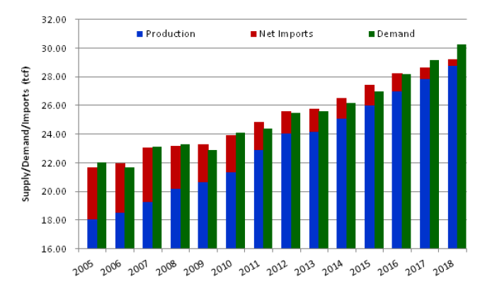 As investors can see, natural gas demand is already exceeding US production. By 2017 (and afterward) demand is expected to exceed both production and imports. VNR's profit metrics should improve measurably as 2017 approaches. Again the start of LNG exportation currently scheduled for late 2015 will likely give natural gas prices a boost.
The small decrease in production from Q2 2013 to Q3 2013 was due to expected declines in VNR's Oklahoma gas properties. Also some pipeline operators forced VNR to shut in or flare gas in some of its Permian fields due to capacity issues. Even with these capacity issues, VNR revenues increased 4% in Q3 2013 over Q2 2013. Some of the pipeline problems have already been resolved. VNR expects the rest to mostly be resolved in Q4 2013.
VNR does not expect to see much pick up in Q4. A lot of the new wells being drilled will not come online until Q1 2014. Capex will be the highest of the year. Plus VNR has not made any recent acquisitions, and it is keeping natural gas well development to a minimum with natural gas prices relatively low. When natural gas prices strengthen in the future (VNR expects them to), VNR will do more natural gas field development. Keep in mind that VNR usually buys proved fields. The acreage is generally already held by production, even though a lot of drilling may still need to be done to realize a field's full potential.
Some may ask why VNR did not do a deal recently. It tried. It made many bids, but it was outbid in all cases. The company does not feel there is anything wrong with the strategy. They only want to do good deals that are immediately accretive to earnings. They believe that just making the company bigger will just make it harder to grow earnings from a bigger base. They are trying to keep the stockholders'/unitholders' interests as their primary concern, and this seems to be working as a long-term strategy. The chart below compares VNR's dividend/distribution growth to the dividend/distribution growth of other energy MLP companies since VNR's IPO.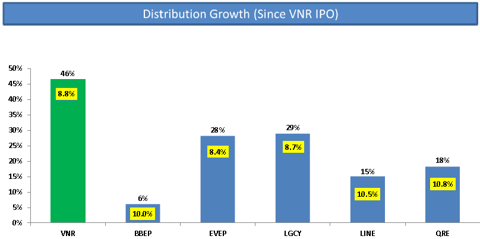 As you can see VNR may not have the highest current dividend/distributions, but has shown much better dividend/distribution growth than its peers. It intends to keep this advantage through a very disciplined approach, and that means walking away from deals if they are too expensive.
VNR is planning to provide guidance about potential deals and about Capex development in its Q4 and full-year earnings reports. The Q3 2013 news is a bit disappointing, but not overly so. VNR's discipline is impressive, and it reeks of good management. As long as a few good deals get done next year, I do not see any big problems with the current report. If you are a long term investor, VNR is a great buy with its 8.7% annual dividend.
The two-year chart of VNR provides some technical direction for this trade.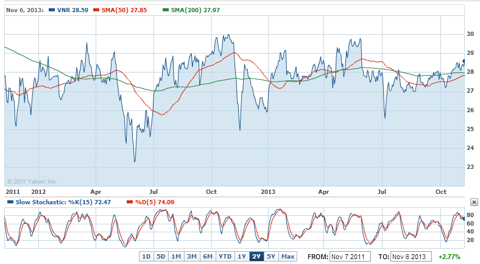 VNR has been in a very jerky consolidation pattern for two years. The most recent report is unlikely to see it push out of that range. Look for it to keep consolidating throughout Q4 2013. The slow stochastic sub chart shows that VNR is very close to overbought levels for the near term. It may be wise to hold off buying it until the stock price cycles down. It seems likely it will do this in the not too distant future. About $26 seems a likely price to think of buying in or beginning to buy in. Of course, after I say this, the stock will go up quickly with a market rally. The ECB did cut rates to 0.25% the morning of November 7, 2013. This extra QE by the ECB should help markets rise near term. The US GDP growth rate was also more positive than expected at +2.8% for Q3 2013. VNR looks like a particularly good buy at $26 or below with its 8.7% dividend and the safety provided by its hedges. If investors do not want to target a particular price, they can try to average in. To do this investors probably want to use at least a six-month time period. This way you could buy some now in case of a Thanksgiving and/or a Christmas rally. VNR has an average analysts' recommendation of 1.9 (a strongish buy).
NOTE: Some of the fundamental financial information above is from Yahoo Finance.
Good Luck Trading.
Disclosure: I have no positions in any stocks mentioned, but may initiate a long position in VNR over the next 72 hours. I wrote this article myself, and it expresses my own opinions. I am not receiving compensation for it (other than from Seeking Alpha). I have no business relationship with any company whose stock is mentioned in this article.