"Have you seen Associated Banc-Corp this morning? Worst stock in the Russell 1000 already down about 10%. A number of things went wrong here…" — CNBC's Squawk on the Street 1/11/2010
Green Bay, Wisconsin based regional bank Associated Banc-Corp (ASBC) was scheduled to report its fiscal fourth quarter performance on January 20th. However, they surprised investors with an early morning release. As it turned out, it was not the kind of announcement ASBC shareholders were hoping to see. The bank lost $180.6 million in the quarter ended Dec. 31 or $1.41 per share, and the quarter swung the entire fiscal year to a loss of $161.2 million. Analysts had predicted the bank to earn three cents per share in the quarter and obviously the market was disappointed by this outcome, which was largely due to bolstered reserves and charge-offs.
Associated come under the direction of a new CEO in August, Philip Lynn, who vowed to take a "hard look" at the company's balance sheet in order to get in front of credit issues. While necessary, that hard look into the quality of ASBC's more than $23 billion in assets appears to have been less than inspiring. The company has taken major strides to strengthen the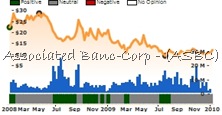 balance sheet that is highly leveraged to CRE loans, and in the quarter Lynn increased the money set aside for loan losses by six-fold. The provision for losses now totals $395 million, up from just $65 million a year ago. The company was also required to charge-off nearly $234 million of their loan portfolio, with greater than 70% of those bad loans related to CRE loans. There could be more trouble ahead as $1.12 billion of their loan portfolio were non-performing at year's end. This increase to loss provisions was not a surprise as Fitch downgraded the company's credit in December because of their low coverage of loan-loss provision to non-performing loans.
In addition to Associated's attempts to account for any further weakness in their loan portfolio, they also plan to bolster capital through a $400 million secondary offering. An offering of this size will undoubtedly be highly dilutive to existing shareholders, as the current market value of the company is under $1.5 billion. Associated will also cut their dividend for the second time this year, this time it will be slashed 80% from 5 cents per quarter to just 1 cent.
The moves the bank announced Monday and the wretched quarter do not inspire a lot of optimism towards the bank or the quality of their assets. Clearly, they are nowhere near ready to pay back their TARP loans of about $525 million, and instead are actively seeking more capital. It could be a painful process to get the bank back on more stabile footing and that could take some time. In fact, we are surprised that the stock is only trading 7% lower in late day trading. Coming into the week, we had placed our Fairly Valued rating on ASBC shares, but the poor results, susceptibility to risky CRE loans, and their dividend cut and shareholder dilutive capital raise may cause us to downgrade Associated Banc-Corp in an upcoming report.